Astronomers have discovered an object — 2015 TG387 — that could help in the hunt for a hypothesized Planet Nine in the distant reaches of the solar system.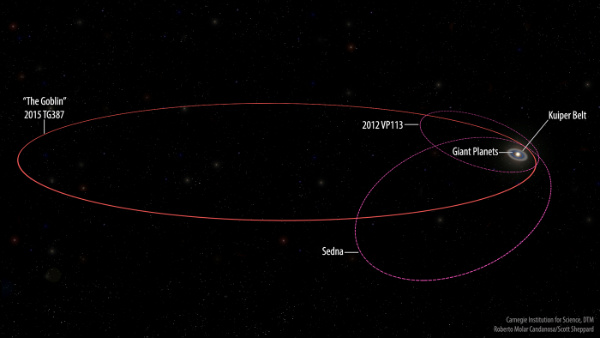 A newly found body in the extreme backwaters of the solar system incrementally bolsters the case for an undiscovered planet lurking far from the Sun.
Designated 2015 TG387 and nicknamed "The Goblin" by its discoverers, this object resides in the inner Oort Cloud, a region beyond the Kuiper Belt that until now harbored only two other known bodies: the dwarf planet Sedna and the less well-known 2012 VP113.
This far-flung body keeps its distance from the Sun, never coming closer than about 65 astronomical units (a.u.), or just under twice Pluto's closest approach. However, that's downright cozy compared to how far out it goes. A highly elongated orbit takes 2015 TG387 out to a whopping 2,300 a.u., much farther away than its two comrades in the inner Oort Cloud.
The team of Scott Sheppard (Carnegie Institution for Science), Chadwick Trujillo (Northern Arizona University), and David Tholen (University of Hawai'i) discovered 2015 TG387 in images acquired in mid-October 2015 at the 8.2-meter Subaru Telescope in Hawai'i. At the time, it was about 80 a.u. from the Sun. Since then, the observers used other telescopes to track the object and refine its orbit. They estimate that the body is 300 km wide, roughly the width of Saturn's moon Hyperion.
The International Astronomical Union's Minor Planet Center announced this discovery on October 2nd. A detailed report has been submitted to the Astronomical Journal.
Extrapolating from the three objects now known in the inner Oort Cloud, the team estimates that this largely unexplored region of space might harbor roughly 2 million bodies wider than 40 km. That puts the projected mass of this ensemble on par with that of the Kuiper Belt.
The bodies in the inner Oort Cloud, along with a smattering of other objects well beyond Neptune, are so remote that they are immune to the gravitational machinations of the known planets. That makes them unique probes for unknown forces at the limits of the solar system. For example, their aligned orbits suggest that a ninth planet, several times as massive as Earth, awaits discovery out there. While 2015 TG387 doesn't make or break that case, the team's simulations indicate that its orbit is at least consistent with a planet's presence.