The editors of Sky & Telescope report experiences from last weekend's Northeast Astronomy Forum (NEAF) in Suffern, New York — one of the busiest years ever for the world's biggest astronomy trade show.

Sky & Telescope's editors have just returned from the Northeast Astronomy Forum (NEAF), the world's largest astronomy trade show. Hosted and organized by the non-profit Rockland Astronomy Club, NEAF consists of two days of exhibitions, talks, goodies, and much more. In addition to the exhibition floor, which held booths from 120 vendors and exhibitors, there was a full slate of experts lecturing on recent developments in astronomy and space exploration (see the livestream here), beginners' classes, a solar-observing field, and a special children's area. Many NEAF attendees also attended the Northeast Astro-Imaging Conference (NEAIC), a two-day meeting featuring workshops and lectures by both amateur and professional astroimagers.
As in years past, Sky & Telescope had a booth on the main exhibition floor, and our editors spent the weekend talking to our readers, while also making some time to explore all NEAF has to offer. Here are some of our impressions of the event:
Reconnecting with Readers at NEAF
NEAF arrived at a good time this year: After a long, cloudy winter, getting together with other amateurs reminds me that this season can't last forever and clear summer skies are just around the calendrical corner.
Last year's big buzz was the upcoming total solar eclipse; this year, we had the fun of checking out all the creative eclipse T-shirts while swapping stories of our trips to and views of the event. More formally, Vince Coulehan and Don Bruns gave talks in the main NEAF theater to wrap up the eclipse experience for an attentive audience. And of course, there was plenty of solar observing to be hand in the main courtyard.
NEAF also provides the best opportunity of the year, outside of star parties, to connect with our readers. Or perhaps I should say, "reconnect."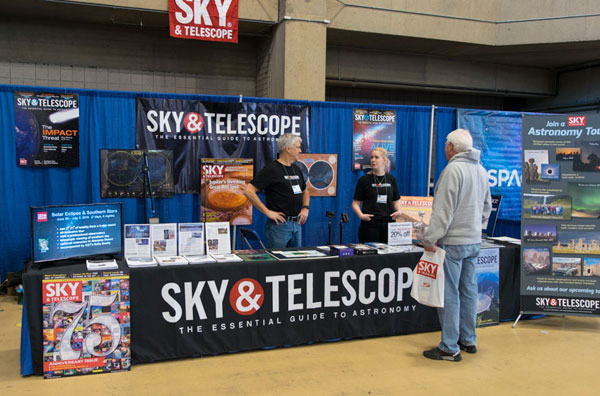 One of the great pleasures of the weekend was picking up conversations that I started last year, the year before, or even the year before that. I never expected to see Richard Francis and Huguette Lacoste of GersAstronomie and Le Bourdieu Observatory again after saying farewell to them in 2016, but here they were again in 2018. When people travel from Europe specifically to attend NEAF, it tells you something about the quality of exhibits and presentations at the trade show. I spent some time catching up with the news at the Astronomical League and dropped in on a few vendors like Willmann-Bell and Springer to see what's up in the book world right now.
Reconnecting is fun, but it's also rewarding to see so many new faces and hear so many new voices (that's a shout to you, Columbia High School Astronomy Club). NEAF gives me a chance to meet some of our contributors in person for the first time, but it also gives potential new contributors a chance to sound us out. I fielded a number of informal pitches this weekend, and I'm excited about bringing some of these ideas to the pages of Sky & Telescope in the near future.
There was a lot of high-end equipment on display (see below), but one modest gadget got a lot of attention this weekend: Celestron's new NexYZ 3-Axis Universal Smartphone Adapter. Let's face it — people love to take quick photos of the eyepiece view. The potential as an outreach tool is great for this adapter, or for any robust, easy-to-use phone adapter, really. Like any observer, I drool over the scopes that cost as much as a luxury vehicle, but I'm pleased to see manufacturers also making improvements to small-ticket items like this.
— J. R. Johnson-Roehr, associate editor
Telescopes, Mounts, and More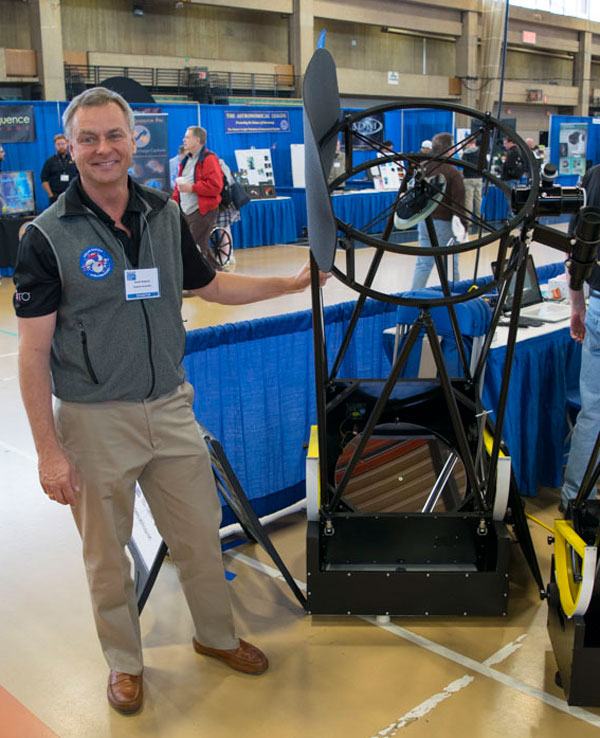 There were so many attendees at NEAF this year that I sometimes had a hard time navigating the showroom floor! Some highlights of my visits to this year's vendors included Celestron's new 36-cm Rowe-Ackermann Schmidt Astrograph riding atop their beefy CGX-L Equatorial mount, while Explore Scientific rolled out several new mounts and a 20-inch Dobsonian telescope. Our friends at Meade showed off their flagship LX-series telescope systems, as well as their line of Coronado solar hydrogen-alpha scopes and filters. Lots of mounts were on display at iOptron's booth, including their new, heavy-duty CEM-120 mount, as well as a new series of truss-tube Ritchey-Chrétien astrographs. Industry heavyweights PlaneWave Instruments and Software Bisque also have attendees up-close demonstrations of their robotic mounts and astrographs.
Not to be outdone, Sky-Watcher USA showed off their fleet of mounts and Stargate Go To Dobsonians (reviewed in our April issue). Speaking of big Dobs, New Moon Telescopes took the prize for the largest scope on the showroom floor with a massive 36-inch that seriously dwarfed everything in its vicinity. Teeter Telescopes was no slouch either, displaying a full contingent of attractive, custom-built Dobsonians.
Several manufacturers specializing in cameras and gear for astrophotographers, including Atik, Finger Lakes Instrumentation, SBIG, Starlight Xpress, QHYCCD, and several newcomers, treated attendees to a first look at the new astronomy cameras with CMOS technology, which has been driving down the costs of large detectors. Another hard-to-ignore imaging trend was the growth of cameras with built-in computers and wireless app camera control, such as those from Astrel Instruments, ZWO Optical, and iNova.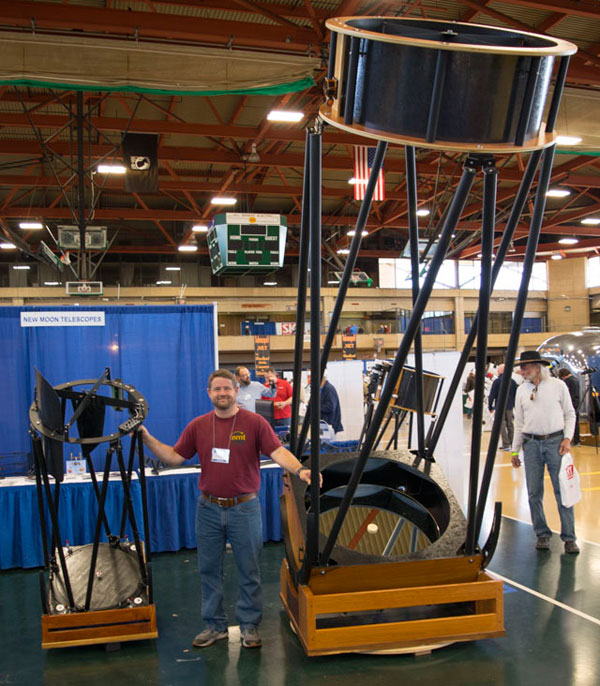 Fans of refractive optics were not disappointed either; several vendors, including Vixen, Oberwerk, and newcomer Outdoor Sport Optics were stocked with binoculars small and large. Astro-Physics unveiled its newly redesigned 92-mm f/6.65 Stowaway apochromat, and William Optics showed off several apo's with built-in Bahtinov focusing masks in their lend caps. Takahashi and Stellarvue of course were no slouches either, with their FOA 60 ortho-apochromat, and SVQ-86 astrograph, respectively.
There was so much new equipment to see, so my sincere apologies to those not mentioned.
— Sean Walker, equipment editor
A New Experience
NEAF was thrilling. I have never seen so many telescopes and binoculars and other gizmos and gadgets in one place! One could really feel the buzz in the space, the buzz of the enthusiasm of hundreds of people, united in the pursuit of their passion.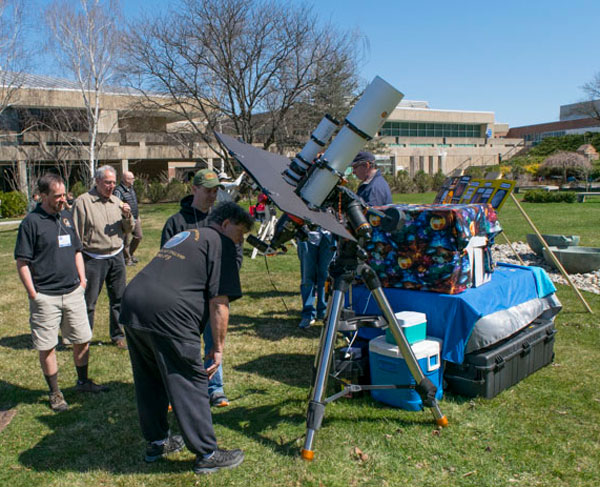 As a first-timer at NEAF and a relatively new hire at Sky & Telescope, it was particularly inspiring for me to meet so many of our readers and witness their devotion to the magazine. Everybody who stopped to chat had a story about their first encounter with astronomy, usually dating to their childhood. But not always — I had a few people come up to tell me that they only got into astronomy later in life, sometimes after randomly picking up a copy of Sky & Telescope and becoming drawn into the subject matter. It was especially warming to see how proud people were to tell us how long they have been subscribers — so many of them remembered not only the year of their first issue but also the month! Chatting with our readers, and actually discussing our content — both the scientific and observing aspects — viva voce was definitely the highlight of the event for me.
My memories consist of a whirl of white plastic bags with red lettering, shiny globes, an ocean of telescope tubes reflecting the ceiling light, and the eager faces of both adults and children — all of this permeated with the chatter of enthusiasts, real aficionados of astronomy. What an inspiring weekend!
— Diana Hannikainen, observing editor