Comet Lovejoy is about magnitude 4.5, high in the evening sky for your binoculars or telescope. But you'll be looking through moonlight until February 5th or 6th. Read below to learn where to see Comet Lovejoy tonight!
Comet Lovejoy, C/2014 Q2, has faded somewhat from its peak brightness to about magnitude 4½. (See current brightness estimates; look for 2014 Q2.) Moreover, it's currently visible only through moonlight.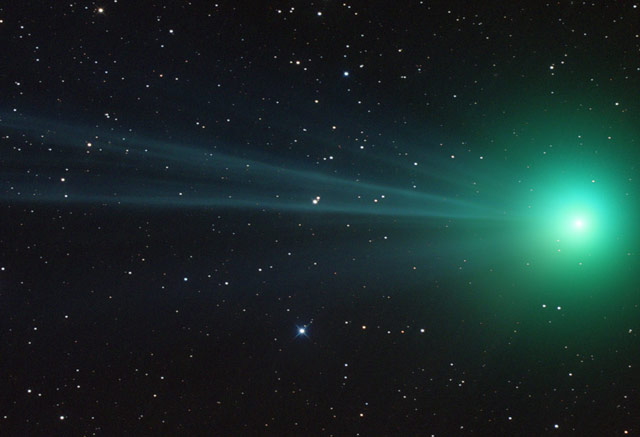 Use the January or the February-March finder chart at the very bottom of this page to know where to see Comet Lovejoy tonight by locating its position among the stars. The moonlight this week makes it harder to find. Nevertheless, in binoculars it's still a gray fuzzball with a brighter core that's noticeably off center. Don't expect to see the dim tail, though it has been showing very well photographically.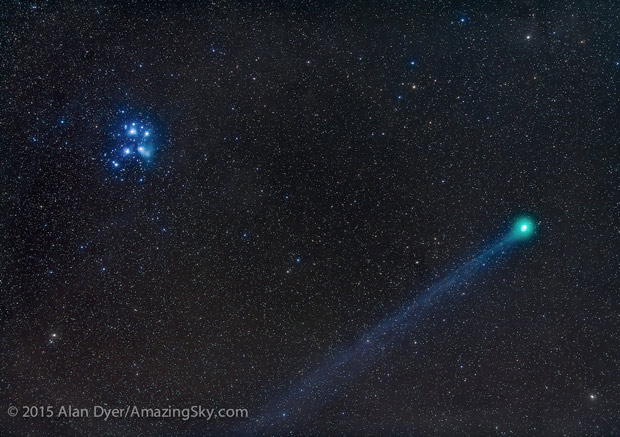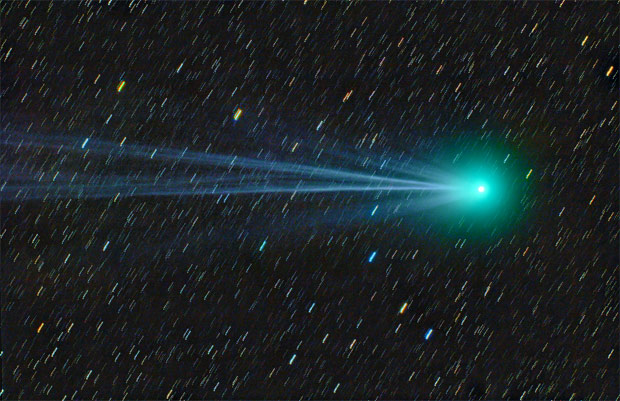 A Comet of the High Dark: Where to See Comet Lovejoy Tonight
Comet Lovejoy continues sailing northwestward, through Triangulum toward the feet of Andromeda. On the finder charts below, the date ticks on the comet's track are at 0:00 Universal Time, which is 7 p.m. on the previous date Eastern Standard Time. You may prefer our larger, print-friendly versions to take outside: January chart, February-March chart.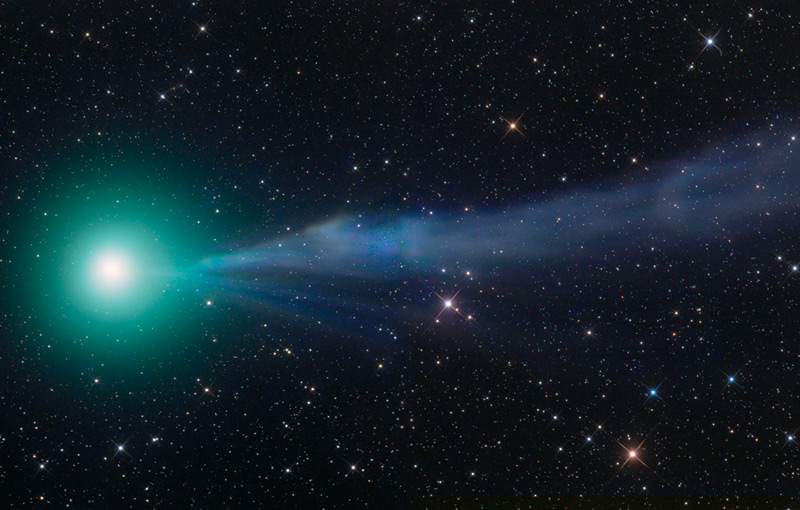 On the evenings of January 17th and 18th, the comet passed 8° west-southwest of the Pleiades. By the 24th, light from the waxing Moon was posing interference. The Moon continues brightening and will be full on February 3rd.
Lovejoy passed closest by Earth on January 7th at a distance of 0.47 a.u. (44 million miles; 70 million km). Although the comet is receding from us, its intrinsic brightness has increased a trace since then. That's because it didn't reach perihelion, its closest to the Sun, until January 30th — at a rather distant 1.29 a.u. from the Sun.
A moonless window of darkness begins opening again right after nightfall on February 5th or 6th (depending on your location) as you anticipate where to see Comet Lovejoy tonight. By then, the comet should be 5th magnitude and perhaps further changing form. By the time moonlight comes back into the evening sky around February 22nd, Lovejoy should be 6th magnitude. During the dark interval it will continue moving north, past Andromeda's feet and Perseus's outstretched arm, as shown on our February-March finder chart below.
During the moonless nights of March (roughly March 8th through 24th), it will be crossing the W pattern of Cassiopeia fading from 7th to 8th or 9th magnitude, still within good telescopic reach. During the moonless nights of April (about the 7th to 23rd), it should be magnitude 9 or 10. The comet passes very close by Polaris in late May, when it will be a mere 12th magnitude. Here's a predicted light curve (scroll to the bottom).

Video of Comet Lovejoy moving against the stars, by S&T's Sean Walker.
This is Australian amateur Terry Lovejoy's fifth comet discovery. He found it last August at 15th magnitude in Puppis, in the comet-search images that he takes with a wide-field 8-inch scope. His previous discovery, C/2013 R1, put on a fine show in late 2013 for observers in the Southern Hemisphere. But Terry Lovejoy is most remembered for C/2011 W3, which became a tremendous naked-eye spectacle for the Southern Hemisphere.
His new find, C/2014 Q2, turned out to be a very long-period comet, but this is not its first pass through the inner solar system. On the way in, its path showed an orbital period of roughly 11,500 years. Slight perturbations by the planets during this apparition will alter the orbit a bit, so that the comet will next return in about 8,000 years.
And that lovely green color? Comet heads are usually like that. The green glow comes from molecules of diatomic carbon (C2) fluorescing in ultraviolet sunlight in the near-vacuum of space. (In addition cyanogen, CN, can add some violet to the green, but our eyes are relatively insensitive to violet light.) Here's a spectrum of a comet's head with the emission lines labeled.
By contrast, a comet's ion tail (gas tail) — the narrow, often detail-filled part of the tail that points directly away from the Sun — is tinted blue. The ion tail's color comes from fluorescing carbon monoxide ions (CO+).
Dust in a comet's head and tail simply reflects plain sunlight, so a dust tail appears Sun-colored: pale yellowish white. The greatest comets tend to get that way by being very dusty, so the most memorable naked-eye comets are usually remembered as white. Examples were the spectacular Comet Hale-Bopp of 1997 and the grand sungrazing Comet Lovejoy of late 2011 (C/2011 W3). But the current Comet Lovejoy continues to produce very little dust.
Alongside where to see Comet Lovejoy tonight, learn what else you can observe with your binoculars by checking out Gary Seronik's Binocular Highlights.
And if you're not getting Sky & Telescope magazine, what are you waiting for? Alongside learning where to see Comet Lovejoy tonight, you'll have tons more astronomical and stargazing information available to you!