Abandoned for 25 years, a 12-meter antenna once used during the Cold War is now introducing astronomy students to the radio universe.
Deep in the Pisgah National Forest in western North Carolina sits a sprawling communications complex. Back in 1962, NASA established the site as a satellite-tracking station. But in 1981, it was handed over to the Department of Defense, which installed a 12-meter-wide radio antenna to collect classified data during the Cold War.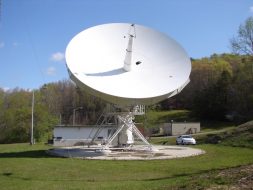 For almost 15 years, the big dish operated under mystery. No one really knows what kind of signals the instrument collected, though it was likely used as part of a rapid-response system. One thing was for sure: its owners didn't want their Soviet counterparts to see it. That's why, when the Pisgah Astronomical Research Institute (PARI) took procession of the site in 1999, its staffers found the telescope covered with a dome. They also found the instrument nonfunctioning — a lightning strike had destroyed its control processor.
Needing new motors and drives, the big dish languished beneath its dome. But in 2003, engineer Ken Steiner visited the PARI campus as a potential volunteer, and he was tasked with bringing the telescope back to life. "That was the start of a 13-year saga," he says in a PARI press release.
Steiner wasn't able to make much progress until funding became available in 2012. He enlisted the help of various contributors and volunteers — including controls engineer Rick Rudolph and some Western Carolina University engineering students. They removed the aging dome, installed new motors and drives, cleaned the entire instrument, and created software to allow users to operate the telescope remotely.
"This project was an unbelievable team effort," stated Ben Goldsmith, PARI's research director. Now fully operational after lying dormant for 25 years, the restored 12-meter telescope captures deep-space radio energy emanating from hydrogen atoms at a frequency of 1420 megahertz.
Initially, the big dish was meant to temporarily replace "Smiley," a smaller, 4.6-m instrument used by students for a hands-on introduction to radio astronomy, while it undergoes an overhaul. But once Smiley returns to service next year, its larger sibling will remain powered up and used as a research instrument.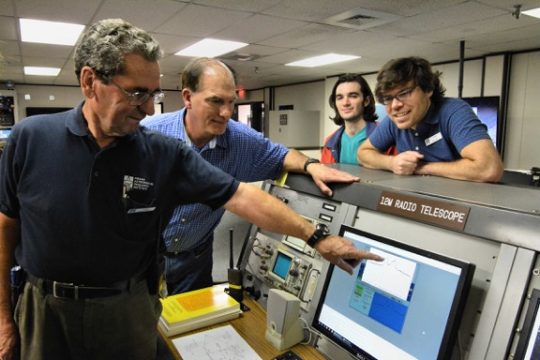 This summer, Duke University students are using the 12-m telescope as a one-of-a-kind teaching tool. Then, in the fall, PARI plans to make the instrument available to students around the world to remotely examine star formation, stellar nurseries, and the motion of stars with respect to Earth, among other projects.
"This instrument was once hidden from view and accessed only by those with top-secret security clearance," Goldsmith notes. "Today, it is a popular spot for campus visitors and is being used to introduce students to a new way to see and explore our universe."