Last March, S&T editor Diana Hannikainen accompanied a group of stargazers to the islands of Hawai'i on an astronomical adventure.
Aloha! Last month an intrepid bunch of stargazers and I headed for the islands of Hawai`i for an astronomical and stargazing adventure. We all met up for the first time at our hotel's restaurant in Ka`anapali on Maui, where we spent a congenial evening getting acquainted.
The next day, after our morning 'oli (a Hawaiian chant) led by our amazing local guide and cultural practitioner Taiwi Crouch (this was to become our ritual — we wouldn't leave for the day's activities until we'd gathered for our 'oli), we climbed into a van for the drive up to the summit of Haleakalā, which is at around 10,000 feet (a smidgen more than 3,000 meters) above sea level. To acclimate to the altitude, we spent half an hour at the Haleakalā National Park Headquarters Visitor Center, at a "mere" 7,000 feet. While there, Taiwi taught us all about native plants, and we also had some time to chat with the rangers who were running an outreach event on the Sun and solar observing.

Our next stop was the summit itself, where we donned hard hats and high-vis vests to visit the Daniel K. Inouye Solar Telescope. And what an appropriate location for a solar telescope! Haleakalā stands for "house of the Sun" in the Hawaiian language. With its 4-meter mirror, DKIST is currently the world's largest — and most powerful — solar telescope. It was named after Daniel K. Inouye, who was elected as Hawai'i's first U.S. representative in 1959, and then as a U.S. senator from 1962 until his death in 2012. The telescope began scientific operations a few years ago and is delivering the sharpest images of the Sun's surface and atmosphere, showing features three times smaller than anything seen to date.

Before heading back to the hotel, we stopped at the University of Hawaii's Institute for Astronomy at Pukalani, where the Haleakalā Amateur Astronomers had planned an evening of stargazing for us. They'd generously set up their scopes and other equipment on the grounds of the institute, but unfortunately scudding clouds thwarted our observing attempts. However, they had arranged the best consolation prize for us: a private session in the control room of the Pan-STARRS telescopes with the engineers running operations. Once we were back outside, the skies did clear somewhat, and we got some precious views through several telescopes.
The following day we had a thrill-filled morning snorkeling and whale-watching followed by a superb afternoon in the company of Kalā Baybayan, who regaled us with stories of her experiences in the Polynesian Voyaging Society. Crews build, manage, and sail canoes like their ancestors did, when they first set forth into the Pacific Ocean and ventured far from their home shores using the stars to navigate. She had the best teacher in her father, Kālepa Baybayan, and we were so lucky to hear her stories firsthand.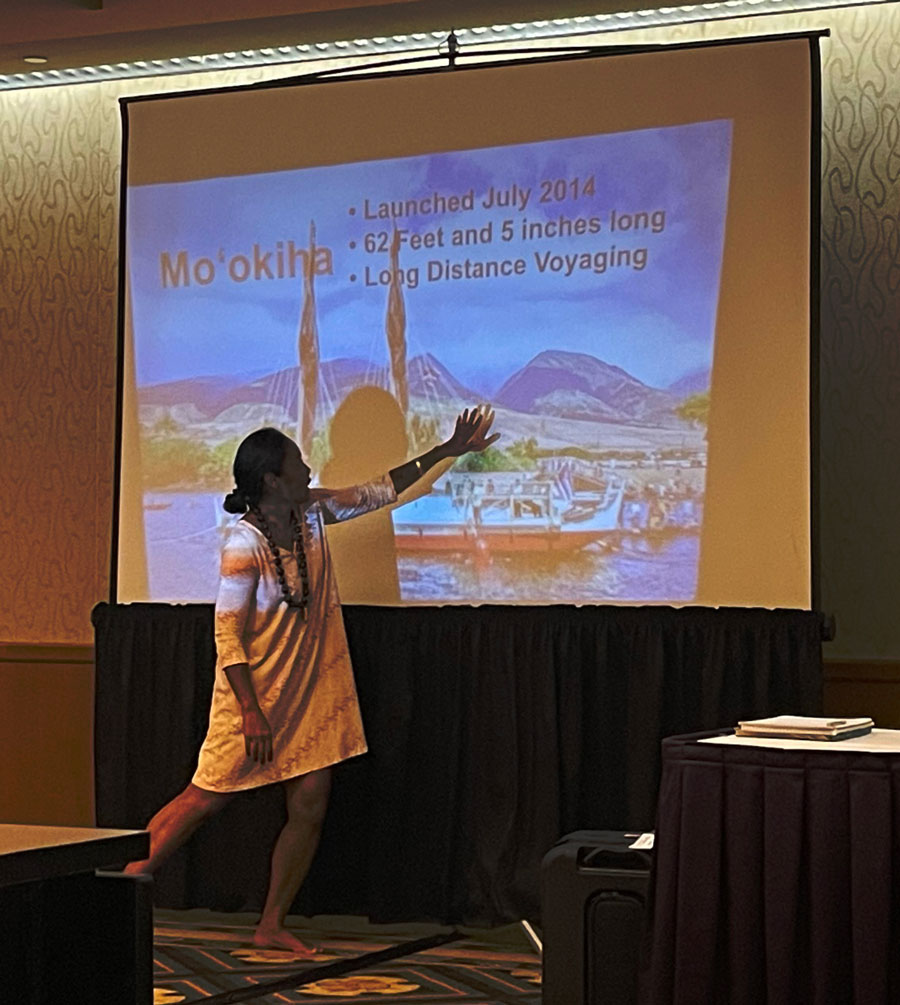 The morning after on the flight from Maui to Hawai'i, we were all fortuitously seated on the right-hand side of the plane as we came in to land in Hilo, and we were treated to smashing views of the telescopes on top of snowy Mauna Kea. We kicked off our Big Island stay with a private visit of the `Imiloa Astronomy Center. It was so much fun to have the planetarium to ourselves! Emily Peavy, 'Imiloa's planetarium technician and educator, walked us through the local sky sights and also gave a thorough and comprehensive overview of the stars and constellations that Polynesian navigators relied on for their cross-ocean treks.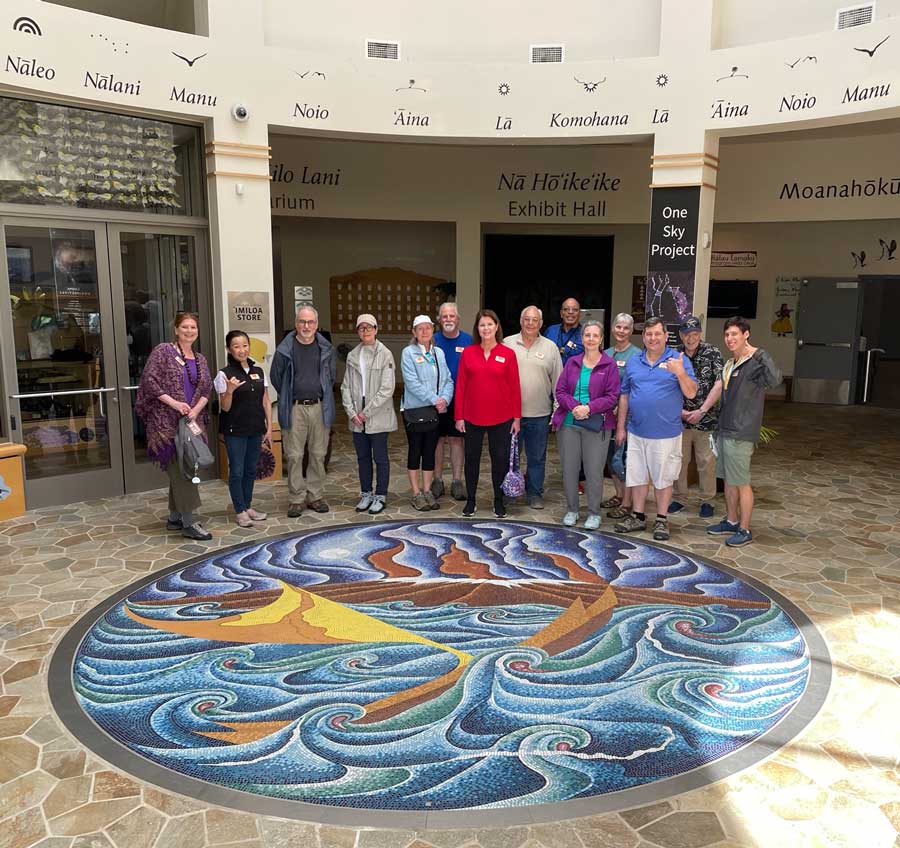 We then settled into Volcano House in Hawai`i Volcanoes National Park, our home for the next few days. After dinner, we walked along a path not far from Kīlauea Caldera into the darkness away from hotel lights to the accompaniment of a bazillion tree frogs — they made quite the racket! Once we reached our dark spot, some people set up cameras, and others took out binoculars, but we all also simply looked up . . . the Milky Way was true to its name, a startingly bright starry path across the inky black Hawaiian sky. We had tons of fun chasing down open clusters, globular clusters, double stars, and sharing all things astronomical, all to the tune of those tiny little tree frogs.

One of the trip highlights — among the many! — had to be the day we spent exploring Kīlauea and its environs with renowned geologist Cheryl Gansecki. We walked along the rim of the caldera, sniffed at steam vents, filed through a lava tube, admired volcanic strata, frolicked over lava fields, all while being thoroughly blown away by Cheryl's vast and deep knowledge of all things volcanic.
Now it was time to head up to the summit of Mauna Kea, which is nearly 14,000 feet above sea level. We were so lucky! The road above the Onizuka Center for International Astronomy Visitor Information Station — or VIS, as it's fondly known — had been closed a lot during the early part of the year. Just the day before, no one was allowed up due to inclement weather (hail and wind, mainly). Holding our collective breaths, on the morning of our planned expedition, we checked conditions up the mountain and seeing those little green letters reading "Road Open" was just exhilarating. After acclimating at around 9,000 feet at the VIS, we met our summit guide, Josh Walawender (of the W. M. Keck Observatory), and headed up in two vans on lava-blackened roads.

Once atop the mountain, we were treated to a wonderful private tour of the control rooms and hangar of the Submillimeter Array, where engineers and scientists regaled us with their profound knowledge of the instrumentation and the science of the facility. The SMA was one of the nodes in the Event Horizon Telescope (the one that took those famous images of the black holes at the center of M87 and our own Milky Way, Sagittarius A*) — it was exhilarating to be among those famous antennas! We had some time to wander outside around the dishes and climb into the pedestals to get up close to the receivers, all while the Sun was starting to set. The weather wasn't cooperating, but we caught glorious sunset colors between two layers of clouds.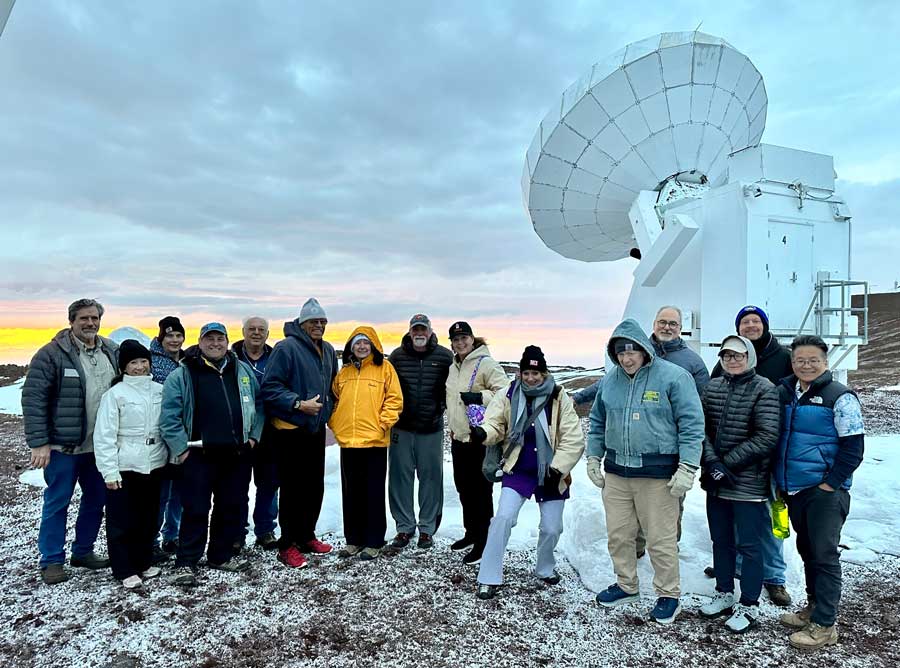 Our heads filled with the inspiring sights of the summit, we descended back down to the VIS where the WHACos (no, that's not me being irreverential, it's what the West Hawaii Astronomy Club observers call themselves!) were all poised with telescopes and other equipment to give us an inspiring night of observing . . . but for the darn clouds. Again, using marvelous inspiration, instead of canceling the event, Don, Cliff, Robin, and Sonny (all long-time WHACos) wowed us with a superb slide show featuring their first-class, jaw-dropping imaging work!
Before we parted ways (some of us were returning home, others went on to Kauai on the tour extension) we attended a lū`au hosted by our hotel — sipping on our last Mai Tai all together, we reminisced and made promises to meet up again soon, under some other inspiring skies, ready for new exciting adventures.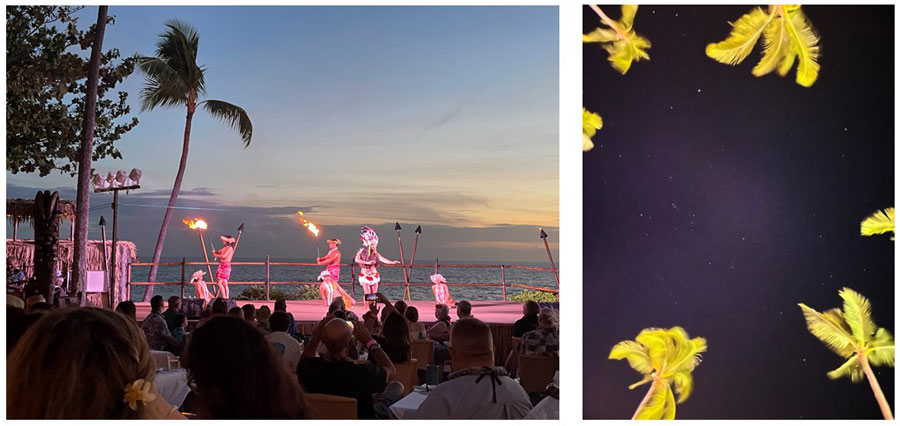 Mahalo wonderful S&T adventurers for joining me on this expedition, and mahalo Hawai`i for all you have given us.
---
To learn more about travels with Sky & Telescope head to our tours pages.
---