Here's what to know if you want to see this hybrid (mostly total) solar eclipse next year.
How far would you travel for 76 seconds of totality? On April 20, 2023, the next central eclipse of the Sun takes place across the Indian Ocean and the Timor Sea. This unusual "hybrid" solar eclipse will only be observable from one town in Western Australia as well as Timor Leste and West Papua. Here's why you should travel to witness the warm-up to 2024's "Great North American Eclipse."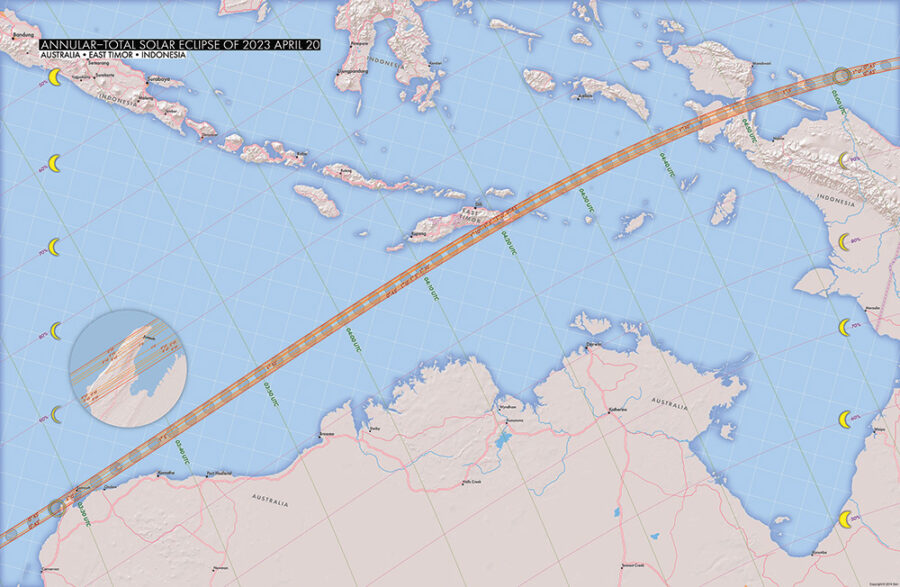 What is a Hybrid Solar Eclipse?
A hybrid eclipse is also called an annular-total eclipse. During a total solar eclipse, the tip of the Moon's cone-shaped shadow touches Earth, so Earth observers see the Sun's disk fully covered. But during an annular solar eclipse the cone stops just short of Earth's surface, so we see a "ring of fire" around the Moon's silhouette instead. Occasionally, both types combine, when the cone-shaped shadow touches Earth for only part of the eclipse.
"By classical calculations, this hybrid eclipse is annular at both the beginning and end of the central path," says Michael Zeiler, the New Mexico-based eclipse cartographer who edits GreatAmericanEclipse.com and coauthored the Field Guide to the 2023 and 2024 eclipses. "However, when calculations are made for the precise shape of the Moon's surface, there is no annular eclipse at the beginning of the central path and just a very short annular eclipse, no longer than five seconds in duration, at the end of the central path."
With a maximum duration of 76 seconds this solar eclipse is longer than most hybrids. It's actually the longest one until October 17, 2172. However, the event will be almost entirely experienced as a total solar eclipse, and in terms of total eclipses, this is one of the shorter ones — albeit with an extended display of Baily's Beads, as seen in this simulation.
Where to See the 2023 Eclipse
The path of the Moon's shadow will move mostly across the Indian Ocean and Timor Sea, making land only at Exmouth in Western Australia, again at Beaco in Timor Leste and then, after crossing the Banda Sea, a remote part of West Papua. The path then races across the Pacific Ocean, ending as a beaded solar eclipse close to the Marshall Islands. Viewers there will see a broken annular eclipse, in which the "ring of fire" is broken by lunar mountains for just a few seconds.
If you're itching to see this one, the best bet is to go to Exmouth Peninsula in Western Australia or travel via cruise ship on the nearby Indian Ocean.
The reason is the weather. "The overriding character of the Exmouth area is its sunshine," says Canadian meteorologist and eclipse expert Jay Anderson on his website. Totality will reach Exmouth (population 2,500) at 11:29 a.m. Australian Western Standard Time (AWST). People near the center of the path there will enjoy 62 seconds of totality with the Sun 54º high in the sky. Anderson calls a clear view of the eclipse on Timor-Leste "a bit of a challenge," while statistics for Papua are "downright discouraging."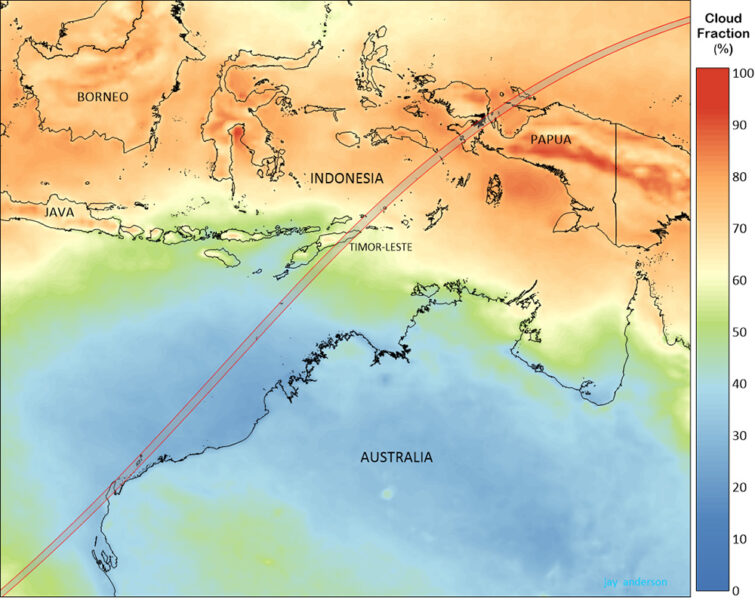 Cruises to Totality
There are a number of bookable tours with which to experience totality in 2023. Sky & Telescope and Insight Cruises have a five-day sailing tour, roundtrip from/to Freemantle (Perth), Australia, aboard P&O Cruises' Pacific Explorer on an Indian Ocean eclipse adventure April 17–22, 2023. You can learn more about that here.
In partnership with the Australian Geographic Society, Coral Expeditions will be taking guests on a 13-night "Solar Eclipse Expedition" from Darwin to Broome on the Coral Adventurer, experiencing totality on the isolated Ashmore Reef. Meanwhile, TravelQuest's "Bali to Broome Total Solar Eclipse Cruise" will spend 16 nights taking the journey to see 1 minute, 12 seconds of totality in the Timor Sea.
Experience an Outback Eclipse
Since Exmouth is tiny and the pandemic has delayed detailed planning, most bookable land-based tours are fly-in/fly-out affairs from Perth. Both AstroTrails and TravelQuest offer such tours, though AstroTrails is offering some rooms in Exmouth, and both Sirius Travels and A Classic Tours Collection offer extended tours up the coast from Perth to Exmouth.
"A lot of resort owners haven't really opened for booking yet because they've been trying to work out whether COVID was going to give them any complications," says Brian McGee, founder of AstroTrails. "There are some astronomical figures being mentioned. If you get anything less than less than about $1,000 a night, you'll be doing very well."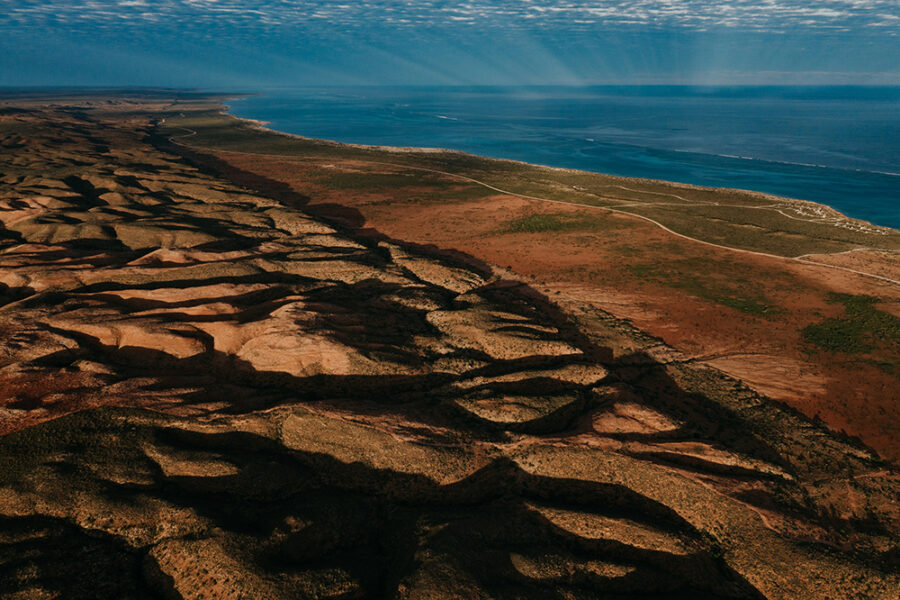 Why It May Pay to Play the Waiting Game
For once it could be the eclipse-chasers who wait patiently for reasonably priced accommodation who win the reward. Expect overpriced resorts to lower their prices and new options to appear as we get closer to the eclipse. For example, there is an advanced plan to arrange a large campsite (or possibly "glampsite") in Exmouth, with rumors of an event management company being asked to organize it. A mini AstroFest and camping looks set for Bullara Station, close to Exmouth.
There will also be a treat for those traveling north from Perth. "We're planning to hold about 20 public stargazing events with telescopes around the eclipse in each of the designated astrotourism towns, which everyone can be part of," says Carol Redford, founder and CEO of Astrotourism WA (www.astro tourism wa.com.au). She's hoping to have scientists from the nearby Square Kilometer Array come to talk about what will soon be the world's largest radio telescope.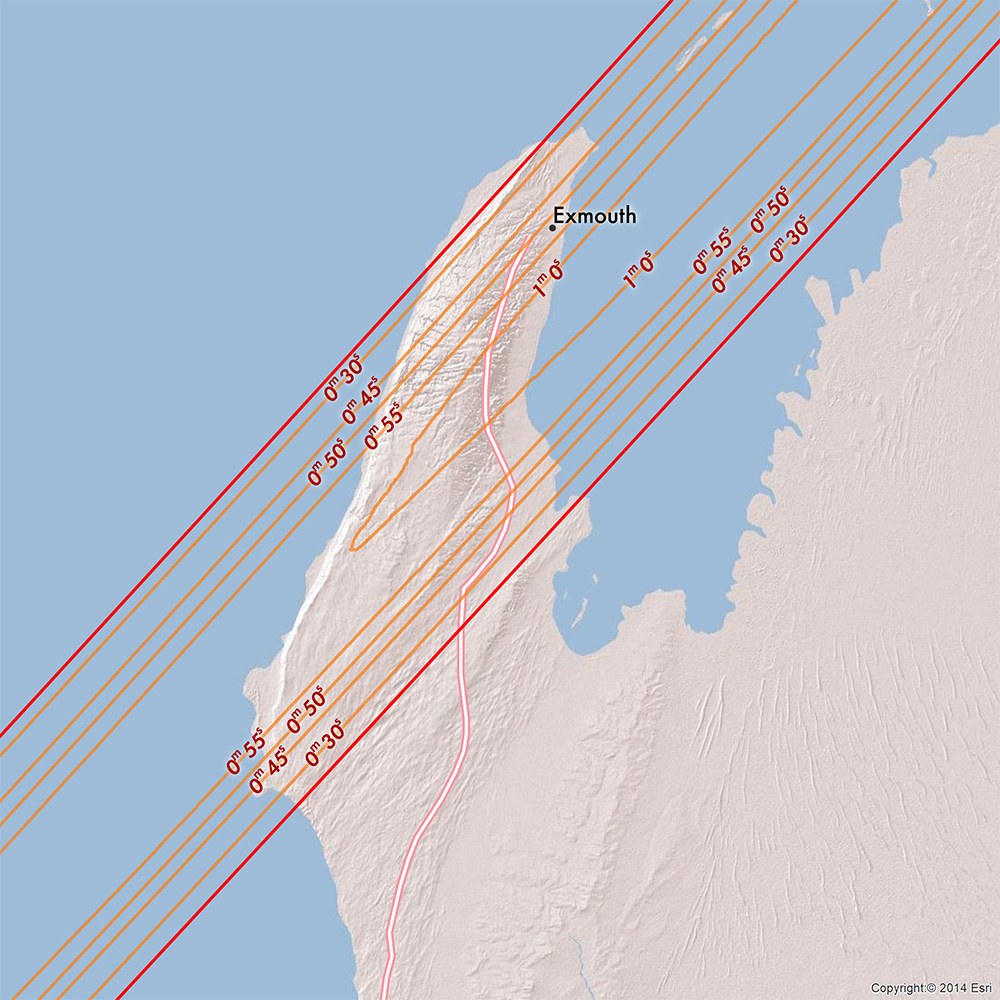 It may also pay to think about staying away from Exmouth. For example, nearby Onslow — an "Astrotourism Town" with a Dark Sky Trail — will experience a 99% eclipse and has a harbor where locally owned boats may offer day trips into the path of totality. "Sixteen years from now, Onslow will be the first town in Australia to view the 2038 total solar eclipse," says Kate Russo. As an Australian eclipse-chaser, psychologist, and author of Being in the Shadow, Russo helps communities prepare for total solar eclipses. "In the meantime, next year's solar eclipse is an exhilarating warm-up for what is to come."
For North Americans who can't wait until 2024 for their own totality, that goes double.
---
Jamie Carter is the editor of WhenIsTheNextEclipse.com and author of "The Complete Guide To The Great North American Eclipse of April 8, 2024."
---