Infant worlds might gobble up dust quickly, the interstellar environment might feed protoplanetary disks, or planet-building dust could be hiding in plain sight.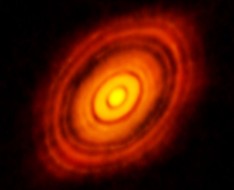 Although disks of gas and dust around young stars are a necessary precursor to planet formation, an expanded survey of stars in our Galaxy confirms earlier doubts that the known matter in such protoplanetary disks might not be sufficient to form planets.
Carlo Manara (European Southern Observatory, Germany) and colleagues compared the masses of protoplanetary disks to the masses of known, mature planets around other stars. They expected to find the combined planet mass to be lower than the mass in the disks. However, they found that the planets are more massive than the disks, indicating that more matter is needed to explain the known population of planets.
Using data collected by the Atacama Large Millimeter/submillimeter Array (ALMA) in Chile, the scientists measured the mass of the protoplanetary disks around stars that are 1 million – 3 million years old and still in their formation stage. Then, they gathered previously measured masses of planets around stars that are billions of years old. They compared the two to see whether the mass of planets that eventually formed was consistent with the mass of the protoplanetary disks that would have given rise to such worlds.
Manara explains that the current study, published in the October issue of Astronomy and Astrophysics expands on previous surveys by providing greater coverage of stellar masses.
One solution to the missing-mass problem is that planet cores are already formed by the time the disk is observed. According to this scenario, planet cores form quickly in the beginning. "If they formed this rapidly, these are now invisible to our sub-millimeter observations," says Manara.
Evidence for this mechanism is supported by observations that newly formed planets are not surrounded by dust, indicating that planets forming in the disk might have sucked up the dust around them as they formed.
Another possibility is that the amount of matter in the disk does not stay the same over time. Rather, "the disk is replenished with material from the surrounding interstellar medium," explains Manara, and planets use this material to complete their formation. "It's not clear how to detect material falling onto disks," says Manara, but simulations show that such a process is possible.
Jonathan Williams (University of Hawai'i) proposes a third explanation. "ALMA best measures the amount of small dust particles if they are spread thin throughout the disk," he says. "If, however, the dust particles are concentrated in a small central region or in narrow rings, they would not produce much emission, but could still contain sufficient mass to form planets."
Reference:
C.F. Manara, A. Morbidelli, and T. Guillot. "Why do protoplanetary disks appear not massive enough to form the known exoplanet population?" Astronomy & Astrophysics. October 2018.