Three teams of astronomers used the SPHERE instrument on the Very Large Telescope to image protoplanetary disks around nearby stars and catch planet formation in action.

If Earth is the cradle of humanity, then where did the cradle come from?
The question of how planets form has long stymied astronomers, in part because the process is so difficult to see. The seeds of planet formation occur under a shroud of dust and gas, within a young star's protoplanetary disk. As planets form and as the star ignites fusion and brightens, the gas is dispersed, leaving behind a debris disk of dust, planetesimals, and full-blown planets.
But change doesn't happen all at once. Over a period of several million years, the stars and their disks transition. This is the time when forming planets can exert gravitational influence on the disk, creating rings, gaps, and spiral arms.
The Very Large Telescope in Chile is offering a glimpse of that fleeting transition with the Spectro-Polarimetric High-contrast Exoplanet REsearch (SPHERE), which captures red and infrared wavelengths. The instrument blocks the light from young stars with a coronagraph, then uses extreme adaptive optics to counter atmospheric turbulence and reveal fine details within the stars' surrounding disks. Three teams, whose papers were published online on November 9th in Astronomy & Astrophysics, used SPHERE to shed light on transition disks around young, nearby stars.
RX J1615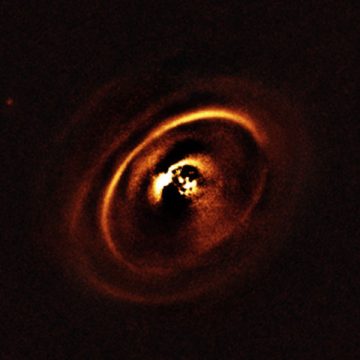 The young star known as RX J1615 (short for RX J1615.3-3255) lies 600 light-years away in Scorpius. It has about the mass of the Sun, but unlike our ancient star, it's only 1.4 million years old. When Jos de Boer (Leiden University, The Netherlands) and his team took a closer look with SPHERE, they discovered two rings and two arcs (which might be segments of full rings) in the star's outer disk, and a large gap between the outer and inner disks. Planets could carve rings and gaps, but it's not yet clear if that's the case here. The team pinpointed five candidate companions, but they'll need follow-up observations to see if any of these are really in orbit around the star and influencing the shape of its gas-and-dust disk.
HD 97048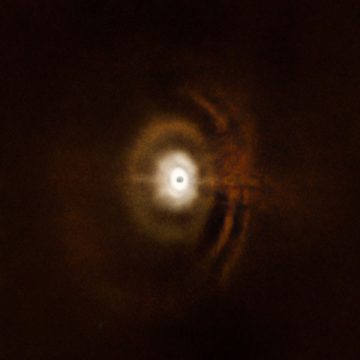 In the constellation Chamaeleon, 500 light-years from Earth, lies the 2 to 3 million year old star HD 97048. Previous observations had already shown that it had a large transition disk that extends some 600 astronomical units (a.u.), which would reach past the Kuiper Belt if placed around our Sun. When Christian Ginski (also at Leiden University) led a team in examining SPHERE observations of the system, they again found concentric rings and gaps within the disk, which they say could have been sculpted by planets less massive than Jupiter.
HD 135344B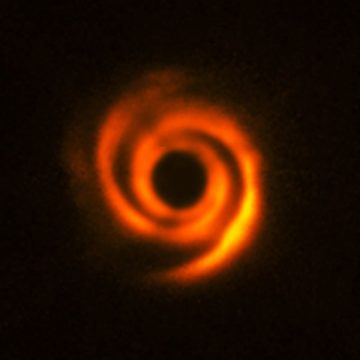 The oldest of the three baby stars, HD 135344B is somewhere between 4 and 16 million years old. SPHERE observations reveal spiral arms and a 25 a.u. cavity in the center. (Since SPHERE detects light that has scattered off of dust grains, SPHERE does not see the dust-free inner disk.) A massive planet, or multiple less massive planets, might be gravitationally twisting the disk into spiral arms.
What's even cooler is that SPHERE detected dark streaks, probably shadows, along the spiral arms. Tomas Stolker (University of Amsterdam, The Netherlands) and colleagues suggest that an inner disk inclined by 22 degrees to the outer arms could cast such shadows. One of the shadows flickers, becoming visible only in a later observation — perhaps a sign that the inner disk is evolving.
The questions these studies address — how do disks form planets? how do planets shape their disks? — remain open, but these beautiful images of protoplanetary disks and many more like them will eventually draw a more complete picture of planet formation.