Dozens of solar specialists are coordinating outreach activities for the Great American Eclipse, a coast-to-coast, total solar eclipse in August 2017, which is only two years away.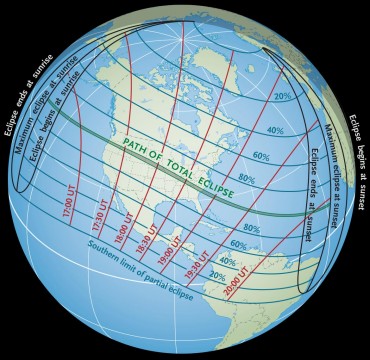 August 21, 2017, might seem a long way off, but for the astronomically astute the clock is ticking, and there's no time to waste. Between now and then, we need to figure out how to ensure a good experience for the estimated 500 million people across North America who will stand in the Moon's shadow that day.
Most will see only a partial solar eclipse, but tens of millions within a 65-mile-wide track from Oregon to South Carolina will — weather permitting — witness one of Nature's grandest spectacles. In what is being called the Great American Eclipse, the Moon will completely block the Sun's bright face for up to 2 minutes 42 seconds, turning day into night and making visible the otherwise hidden, always breathtaking solar corona.
Advance planning for the 2017 solar eclipse was exactly what nearly 50 solar physicists, science educators, and eclipse aficionados spent this past weekend doing at the Oregon Museum of Science and Industry (OMSI) in Portland. They huddled for a two-day workshop to share ideas about meeting the many challenges posed by the Great American Eclipse — the first total solar eclipse to touch the continental U.S. since 1979, and the first to cross from coast to coast since 1918. How do we get the word out to everyone? How do we promote eye safety without scaring people? What opportunities exist to involve students in meaningful citizen-science efforts about the Great American Eclipse?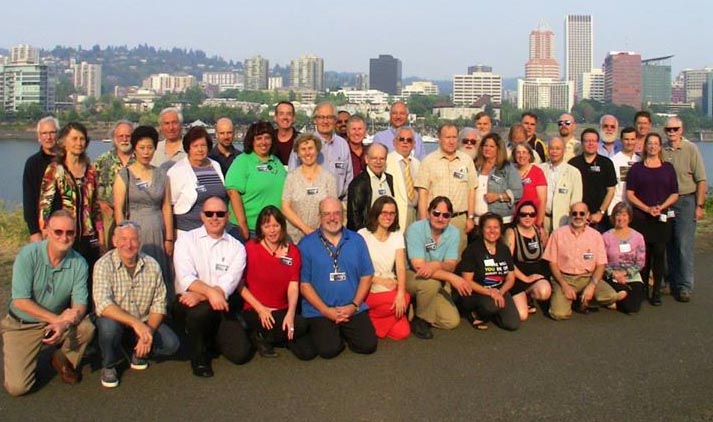 Saturday morning's session was open to the public and featured presentations designed to introduce Portlanders to the Great American Eclipse and to encourage them to drive south to get into the path of totality, which just misses their city but encompasses nearby Salem, Albany, and Corvallis. This session took place in the OMSI planetarium and featured a Who's Who of leaders from the solar-astronomy and eclipse-chasing communities.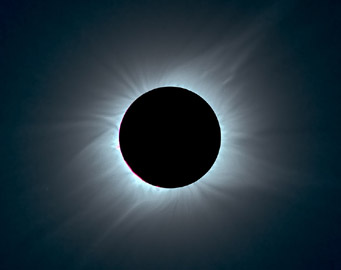 Workshop organizer Shadia Habbal (University of Hawaii) and psychologist-author Kate Russo (Queens University Belfast) led off with a pair of beautifully illustrated talks showing how and why total solar eclipses amaze and inspire people from all walks of life including such seeming opposites as artists and scientists. Then Fred Espenak, Michael Zeiler (ESRI), Jay Anderson (University of Manitoba), and Ralph Chou (University of Waterloo) covered the essentials of eclipse-watching and imaging, presented maps of where the eclipse occurs and what to expect weather-wise, and described a new international standard for safe Sun-viewing devices, millions of which will be distributed in the run-up to the 2017 eclipse. Representatives of two large citizen-science projects then described how they hope to involve people all across the U.S. in capturing a 90-minute movie of the solar corona and in reproducing the 1919 experiment confirming that starlight bends around the Sun due to space-time curvature, as predicted by Albert Einstein's general theory of relativity.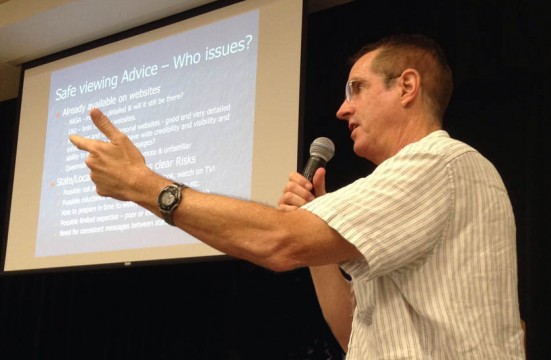 After lunch, workshop participants moved to an adjacent auditorium to begin a day and a half of more technical presentations and detailed discussions. Amateur and professional astronomers, who have organized big public events for past eclipses, shared lessons learned in an effort to help others plan even bigger events in 2017 for the Great American Eclipse. Lou Mayo (NASA Goddard) invited everyone to link their local events to NASA's planetwide effort to reach as many as 1 billion people via a soon-to-be-unveiled website, aggressive social-media campaigns, and webcasts.
I described related plans being pursued by the American Astronomical Society (AAS) in partnership with the National Science Foundation (NSF). The AAS has established a task force led by Habbal and former AAS Councilor Angela Speck (University of Missouri Columbia) to generate ideas, connect with other professional societies with a potential role to play (for example, medical and optometric associations), and help organizers of local events connect and coordinate with each other to minimize duplication of effort and maximize public impact.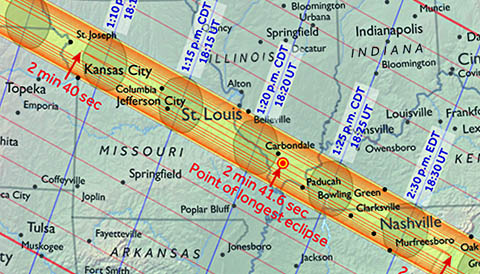 Following the model used during the International Year of Astronomy in 2009, the AAS has named an "eclipse czar" (formal title: Solar Eclipse Project Manager) to ensure that the best ideas and opportunities identified by the task force are appropriately followed up. Mike Kentrianakis, a veteran eclipse-chaser and CBS-TV news producer, will begin work in this capacity in late September — after he returns from a drive down the 2017 center line with French eclipse enthusiast Xavier Jubier, developer of the popular Eclipse Maestro software, and a subsequent expedition to South Africa with eclipse scientist Jay Pasachoff (Williams College), among others, for the September 13th partial solar eclipse. One of Kentrianakis's first tasks will be to begin work on a website to serve as a communication hub for event planners and an easy-to-navigate information gateway to help the public zero in on the best of the many resources already available — and sure to be developed — for the 2017 eclipse.
"This is a huge community effort," says Habbal, "and everyone's input will be extremely valuable." If you're interested in becoming an active member of the Eclipse 2017 planning group, she invites you to email her and to mark your calendar for the next workshop, to be held June 10-11, 2016, at Southern Illinois University Carbondale, near the point of greatest eclipse 14 months later. Some of the Portland workshop's presentations were recorded; you can watch them online. For more information, keep your eye on the AAS 2017 eclipse page, which will soon point to the new AAS website developed by the Society's task force.
---
Former S&T Editor in Chief Rick Fienberg is Press Officer and Director of Communications of the American Astronomical Society. He is also co-creator of the Galileoscope educational telescope kit and a veteran of 11 expeditions to totality.