Use these up-to-date tables to learn about the moons of the solar system, including the plethora of Jupiter's moons and the weird menagerie of Saturn's moons.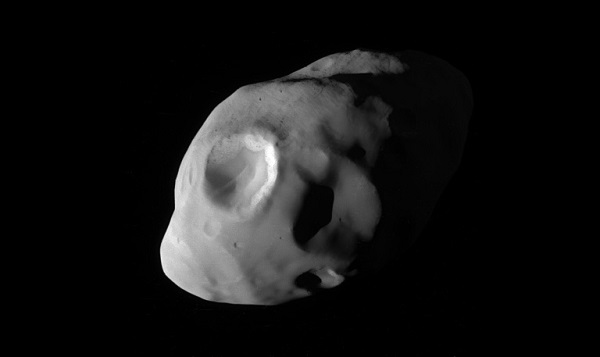 Discovering a new moon in the solar system used to be a rare event. After Gerard Kuiper found Miranda, a moon of Uranus, in 1948 and Seth Nicholson found Ananke, a moon of Jupiter, in 1951, the total count of natural planetary satellites stood at 31: Jupiter's moons numbered 12, followed by the moons of Saturn (9), Uranus (5), Neptune (2), Mars (2), and Earth (1). (Notably, Mercury and Venus are the only planets in the solar system that do not have moons.)
In the ensuing three decades, finding solar system moons largely fell to NASA spacecraft. After Voyager 2's flyby of Neptune in 1989, the total number of solar system moons had nearly doubled to 60. However, the advent of sensitive electronic cameras has put ground-based observers back in the driver's seat, resulting in several dozens of finds over the past few years.
Indeed, some of the new objects are so small, only a few kilometers across, that they stretch the traditional notion of what constitutes a "moon." Sometimes faint objects appear fleetingly in images and are never seen again; others require patient follow-up observations over months or years to confirm that they orbit a planet.
While comets bear the surname(s) of their discoverer(s), and observers retain naming rights for asteroids, those who spot planetary moons must yield naming privilege to the International Astronomical Union. By convention, the IAU does not name a satellite until its orbit is known precisely — a threshold sometimes not reached until decades after the initial discovery.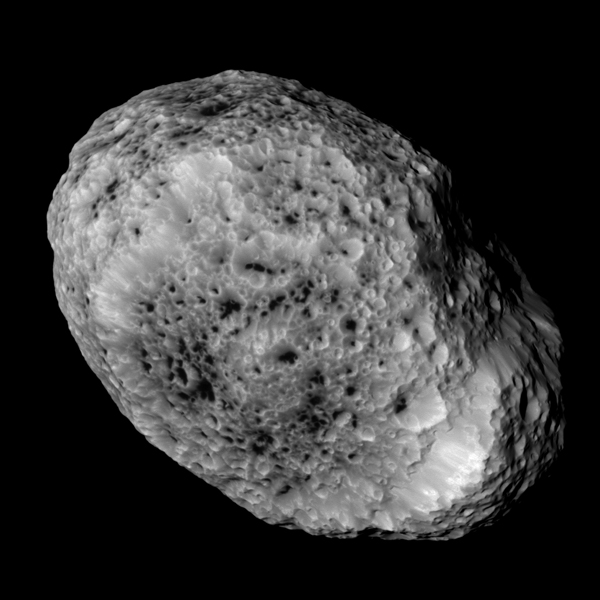 The following tables contain all the known moons of the solar system, including the dozens of moons circling Jupiter, Saturn, Uranus, and Neptune. As of May 2023, the count stood at 295, distributed as follows: Earth 1, Mars 2, Jupiter 95, Saturn 146, Uranus 27, Neptune 14 — and among the IAU-approved dwarf planets: Pluto 5, Haumea 2, Makemake 1, Gonggong 1, Eris 1.
In the table below, the diameter of each satellite and the orbital distance from its planet's center (semimajor axis) are in kilometers; eccentricity is the elongation of the satellite's orbit; and inclination is the tilt of its orbit plane, in degrees, with respect to the planet's equatorial plane (for inner moons and dwarf planets) or the ecliptic plane (for outer moons). Names of "lost" objects are shown in italics.
Moons of Earth and Mars

Planet/
Satellite
Diameter
(km)
Visual
magnitude
Distance
(km)
Orbital
period
(days)
Eccen-
tricity
Inclina-
tion (°)

EARTH

Moon
3,474
–12.7
384,400
27.3
0.055
5.1

MARS

Phobos
22
11.4
9,380
0.3
0.015
1.1
Deimos
12
12.5
23,460
1.3
0.000
1.8
Moons of Jupiter

Satellite
Diameter
(km)
Visual
magnitude
Distance
(km)
Orbital
period
(days)
Eccen-
tricity
Inclina-
tion (°)
Metis
44
17.5
128,000
0.3
0.000
0.0
Adrastea
16
18.7
129,000
0.3
0.000
0.0
Amalthea
168
14.1
181,400
0.5
0.003
0.4
Thebe
98
16.0
221,900
0.7
0.018
1.1
Io
3,643
5.0
421,800
1.8
0.004
0.0
Europa
3,122
5.3
671,100
3.5
0.009
0.5
Ganymede
5,262
4.6
1,070,400
7.2
0.001
0.2
Callisto
4,821
5.7
1,882,700
16.7
0.007
0.3
Themisto
9
21.0
7,398,500
130.0
0.340
43.8
Leda
18
20.2
11,146,400
241.0
0.162
28.6
Ersa
3
22.9
11,401,000
249.2
0.116
29.1
Himalia
160
14.8
11,440,600
250.6
0.160
28.1
S/2018 J2
3
16.5
11,467,500
250.9
0.118
29.4
Pandia
3
23.0
11,481,000
251.9
0.179
29.0
Lysithea
38
18.2
11,700,800
259.2
0.117
27.2
Elara
78
16.6
11,712,300
259.6
0.211
27.9
S/2011 J3
3
16.3
11,797,200
261.8
0.176
28.7
Dia
4
22.4
12,260,300
287.2
0.232
29.0
S/2018 J4
2
23.6
16,504,300
433.2
0.057
53.2
Carpo
3
23.0
17,042,300
456.3
0.416
53.2
Valetudo
1
24.0
18,694,200
527.6
0.217
34.5
Euporie
2
23.1
19,265,800
550.7
0.148
145.7
S/2003 J18
2
23.4
20,336,300
598.1
0.090
145.3
S/2021 J1
2
23.6
20,667,200
607.0
0.246
149.8
Eupheme
2
23.4
20,768,600
616.7
0.241
148.0
S/2010 J2
1
23.9
20,793,000
618.8
0.248
148.1
S/2016 J1
1
24.0
20,802,600
618.5
0.232
144.7
Mneme
2
23.3
20,821,000
620.1
0.247
148.0
Euanthe
3
22.8
20,827,000
620.4
0.239
148.0
S/2003 J16
2
23.3
20,882,600
622.9
0.243
148.0
Harpalyke
4
22.2
20,892,100
623.3
0.232
147.7
Orthosie
2
23.1
20,901,000
622.6
0.299
144.3
S/2022 J3
1
24.1
20,912,400
617.8
0.272
144.5
Helike
4
22.6
20,915,700
626.3
0.153
154.4
Praxidike
7
21.2
20,935,400
625.4
0.246
148.3
S/2017 J3
2
23.4
20,941,000
625.6
0.231
147.9
S/2003 J12
1
23.9
20,963,100
627.2
0.235
150.0
S/2017 J7
2
23.6
20,964,800
626.6
0.233
147.3
Thelxinoe
2
23.5
20,976,000
628.0
0.228
150.6
Thyone
4
22.3
20,978,000
627.2
0.233
147.5
S/2003 J2
2
23.2
20,997,700
628.8
0.225
150.2
Ananke
28
18.9
21,034,500
629.8
0.237
147.6
Iocaste
5
21.8
21,066,700
631.6
0.227
148.8
Hermippe
4
22.1
21,108,500
633.9
0.219
150.2
S/2021 J 2
1
23.7
21,140,600
628.0
0.341
150.1
S/2021 J 3
2
23.6
21,495,700
643.8
0.356
150.1
S/2017 J9
3
22.8
21,768,700
666.1
0.200
155.5
S/2022 J1
2
23.1
22,015,500
667.3
0.191
165.4
S/2016 J3
2
23.6
22,213,500
676.4
0.236
164.1
S/2022 J2
1
24.1
22,413,200
685.5
0.182
165.4
Philophrosyne
2
23.5
22,604,600
702.5
0.229
146.3
S/2018 J3
1
23.7
22,826,600
704.6
0.273
164.9
S/2021 J5
2
23.6
22,831,800
704.8
0.200
163.2
Pasithee
2
23.2
22,846,700
719.5
0.270
164.6
S/2017 J8
1
24
22,849,500
719.8
0.255
164.8
S/2003 J24
2
23.8
22,887,400
721.6
0.259
164.5
Eurydome
3
22.7
22,899,000
717.3
0.294
149.1
S/2011 J2
1
23.6
22,909,200
718.3
0.355
151.9
S/2003 J4
2
23.0
22,926,500
718.1
0.328
148.2
Chaldene
4
22.5
22,930,500
723.7
0.265
164.7
S/2021 J4
1
23.7
22,946,700
710.1
0.159
149.6
S/2017 J2
2
23.5
22,953,200
724.7
0.272
164.5
Isonoe
4
22.5
22,981,300
726.3
0.249
164.8
Kallichore
2
23.7
23,021,800
728.3
0.252
164.8
Erinome
3
22.8
23,032,900
728.5
0.276
164.4
Kale
2
23.0
23,052,600
729.6
0.262
164.6
Eirene
4
22.5
23,055,800
729.8
0.258
164.6
Aitne
3
22.7
23,064,400
730.1
0.277
164.6
Eukelade
4
22.6
23,067,400
730.3
0.277
164.6
Arche
3
22.8
23,097,800
731.9
0.261
164.6
Taygete
5
21.9
23,108,000
732.4
0.253
164.7
S/2016 J4
2
23.6
23,113,800
727.0
0.294
147.1
S/2011 J1
2
23.7
23,124,500
733.2
0.271
164.6
Carme
46
17.9
23,144.400
734.2
0.256
164.6
Herse
2
23.4
23,150,500
734.5
0.262
164.4
S/2003 J19
2
23.7
23,156,400
734.8
0.265
164.7
S/2010 J1
2
23.3
23,189,800
736.5
0.252
164.5
S/2003 J9
1
23.7
23,199,400
736.9
0.263
164.8
S/2017 J5
2
23.5
23,206,200
737.3
0.257
164.8
S/2017 J6
2
23.5
23,245,300
734.0
0.336
149.7
Kalyke
5
21.8
23,302,600
742.0
0.260
164.8
Hegemone
3
22.8
23,348,700
739.8
0.358
152.6
S/2021 J6
2
23.7
23,427,200
732.6
0.363
166.5
Pasiphae
58
16.9
23,468,200
743.6
0.412
148.4
Sponde
2
23.0
23,543.300
748.3
0.322
149.3
S/2003 J10
2
23.6
23,576.300
755.4
0.264
164.4
Megaclite
6
21.7
23,644,600
752.9
0.421
149.8
Cyllene
2
23.2
23,654,700
752.0
0.419
146.8
Sinope
38
18.3
23,683,900
758.9
0.264
157.3
S/2017 J1
2
23.8
23,744,800
756.4
0.328
145.8
Aoede
4
22.5
23,778,200
761.5
0.436
155.7
Autonoe
4
22.0
23,792,500
761.0
0.330
150.8
Callirrhoe
7
20.8
23,795,500
758.9
0.297
145.1
S/2003 J23
2
23.6
23,829,300
760.0
0.313
144.7
Kore
2
23.6
24,205,200
776.8
0.328
141.5
Moons of Saturn

Satellite
Diameter
(km)
Visual
magnitude
Distance
(km)
Orbital
period
(days)
Eccen-
tricity
Inclina-
tion (°)
S/2009 S1
0.3
28.0
117,000
0.5
0.000
0.0
Pan
28
19.4
133,600
0.6
0.000
0.0
Daphnis
7
24.0
136,500
0.6
0.000
0.0
Atlas
32
18.5
137,700
0.6
0.001
0.0
Prometheus
86
15.8
139,400
0.6
0.002
0.0
Pandora
81
16.4
141,700
0.6
0.004
0.1
Epimetheus
113
15.6
151,400
0.7
0.020
0.3
Janus
178
14.4
151,500
0.7
0.007
0.2
Aegaeon
0.5
25.0
167,500
0.8
0.000
0.0
Mimas
397
12.8
185,600
0.9
0.020
1.6
Methone
3
23.0
194,700
1.0
0.000
0.0
Anthe
1
24.0
198,100
1.0
0.002
0.0
Pallene
4
23.0
212,300
1.2
0.004
0.2
Enceladus
499
11.8
238,400
1.4
0.005
0.0
Tethys
1,060
10.2
295,000
1.9
0.001
1.1
Telesto
25
18.5
295,000
1.9
0.001
1.2
Calypso
21
18.7
295,000
1.9
0.001
1.5
Polydeuces
4
23.0
377,600
2.7
0.019
0.2
Helene
31
18.4
377,600
2.7
0.007
0.2
Dione
1,118
10.4
377,700
2.7
0.002
0.0
Rhea
1,528
9.6
527,200
4.5
0.001
0.3
Titan
5,150
8.4
1,221,900
16.0
0.029
0.3
Hyperion
283
14.4
1,481,500
21.3
0.105
0.6
Iapetus
1,436
11.0
3,561,700
79.3
0.028
7.6
S/2019 S1
6
25.1
11,244,000
445.6
0.541
46.7
S/2005 S4
2
25.5
11,302,600
448.6
0.177
52.5
Kiviuq
14
22.0
11,307,300
449.1
0.182
48.9
S/2020 S1
2
25.6
11,339,600
450.8
0.462
47.0
Ijiraq
10
22.6
11,344,600
451.5
0.353
49.2
Phoebe
220
16.4
12,929,400
550.3
0.164
175.2
S/2006 S20
2
25.8
13,163,900
563.9
0.193
174.8
S/2006 S9
1
26.1
14,453,000
648.7
0.268
174.1
Paaliaq
19
21.3
14,997,300
687.0
0.384
47.1
Skathi
6
23.6
15,575,100
728.1
0.265
149.7
S/2007 S7
1
26.1
15,818,700
742.8
0.232
169.3
S/2007 S5
2
25.8
15,899,500
748.5
0.116
160.3
S/2007 S2
6
24.4
15,939,700
754.9
0.232
175.6
S/2004 S37
4
25.1
15,940,500
754.5
0.446
159.3
S/2004 S47
1
26.1
16,001,200
755.7
0.268
159.7
S/2004 S40
1
26.1
16,145,300
765.9
0.317
169.8
Albiorix
26
20.5
16,329,100
783.5
0.470
38.9
S/2019 S2
1
26.3
16,568,400
796.2
0.265
176.1
S/2007 S8
2
25.7
16,991,800
826.9
0.535
32.8
Bebhionn
6
24.1
17,028,900
834.9
0.482
37.4
S/2004 S29
4
24.9
17,063,900
837.8
0.485
38.6
S/2019 S3
2
25.9
17,125,000
836.7
0.245
164.2
S/2020 S7
1
26.6
17,236,300
844.8
0.558
160.8
S/2004 S31
4
24.9
17,495,400
866.2
0.202
48.3
Erriapus
9
23.0
17,507,200
871.1
0.462
38.7
Skoll
6
24.5
17,625,700
878.4
0.470
158.4
Tarqeq
7
23.9
17,748,200
885.0
0.119
49.7
Siarnaq
32
20.1
17,880,800
895.9
0.311
48.2
S/2004 S41
2
25.9
17,921,900
895.8
0.295
168.3
S/2020 S3
1
26.2
17,929,800
896.4
0.038
47.1
S/2019 S4
1
26.2
17,957,200
898.4
0.45
169.5
S/2019 S14
1
26.3
18,005,000
902.0
0.072
50.1
S/2020 S2
1
26.7
18,071,600
907.0
0.116
173.2
S/2020 S4
1
26.5
18,115,900
910.3
0.389
43.4
S/2004 S42
1
26.1
18,119,500
910.6
0.157
165.8
Greip
4
25.1
18,206,000
921.2
0.326
179.8
Tarvos
13
22.1
18,215,200
926.4
0.528
38.6
Hyrrokkin
8
23.5
18,342,600
931.9
0.331
150.3
S/2020 S5
1
26.5
18,422,200
933.5
0.135
49.4
S/2004 S13
6
24.5
18,455,800
942.6
0.266
168.9
S/2007 S6
1
26.0
18,563,700
944.3
0.172
165.8
Mundilfari
6
23.8
18,590,300
952.9
0.210
168.4
S/2006 S1
6
24.6
18,745,600
964.2
0.105
155.2
S/2006 S10
1
26.2
18,837,300
965.3
0.154
161.5
S/2004 S43
1
26.3
18,918,200
971.5
0.390
172.0
S/2019 S5
1
26.7
18,919,000
971.54
0.183
155.6
Gridr
6
24.4
19,250,700
1,004.8
0.187
163.9
Bergelmir
6
24.2
19,269,100
1,005.6
0.144
158.7
Jarnsaxa
6
24.7
19,279,700
1,006.9
0.21
163
Narvi
8
24.0
19,286,500
1,003.8
0.449
143.7
Suttungr
6
23.9
19,391,700
1,016.7
0.116
175.0
S/2004 S17
4
25.2
19,408,100
1,017.5
0.179
167.9
S/2004 S44
2
25.5
19,478,800
1,015.0
0.129
169.0
S/2007 S3
5
24.9
19,513,700
1,026.4
0.162
175.6
S/2006 S11
1
26.2
19,523,200
1,018.4
0.137
172.0
Hati
6
24.4
19,697,100
1,040.3
0.375
165.0
S/2004 S12
5
24.8
19,770,700
1,046.1
0.325
163.0
S/2006 S12
2
25.9
19,837,600
1,043.2
0.485
39.0
Eggther
4
24.5
19,884,700
1,052.3
0.157
165.0
S/2019 S6
2
25.8
19,996,100
1,055.7
0.193
46.3
S/2004 S45
2
25.6
20,037,400
1,059.0
0.464
150.1
S/2006 S13
1
26.1
20,072,600
1,061.7
0.273
164.8
S/2004 S46
1
26.5
20,213,900
1,073.0
0.229
176.0
Farbauti
5
24.7
20,292,500
1,087.3
0.248
157.1
S/2019 S8
1
26.1
20,309,500
1,080.6
0.301
173.9
Thrymr
6
23.9
20,326,500
1,091.8
0.467
174.8
Bestla
7
23.8
20,337,900
1,087.5
0.461
136.3
S/2004 S7
6
24.5
20,435,200
1,100.0
0.462
163.3
S/2019 S7
1
26.1
20,475,400
1,093.9
0.247
172.9
S/2019 S11
1
26.1
20,518,700
1,097.3
0.577
150.6
S/2007 S9
2
25.5
20,548,000
1,099.7
0.282
156.7
Angrboda
3
25.3
20,591,000
1,114.1
0.216
177.4
S/2019 S9
1
26.2
20,605,100
1,104.3
0.345
161.7
Aegir
6
24.4
20,664,600
1,119.3
0.255
166.9
Beli
3
25.4
20,703,800
1,121.8
0.087
157.3
S/2019 S10
1
26.5
20,918,200
1,129.5
0.268
161.2
S/2019 S12
2
25.9
20,930,400
1,130.4
0.534
166.9
Gerd
3
25.2
20,947,500
1,143.0
0.517
174.4
S/2019 S13
1
26.4
20,959,700
1,132.9
0.377
178.6
S/2005 S5
1
26.2
21,030,100
1,138.6
0.51
172.5
Gunnlod
4
25.0
21,141,900
1,158.0
0.251
160.4
S/2020 S6
1
26.3
21,159,200
1,149.1
0.428
169.3
S/2006 S14
1
26.3
21,177,900
1,150.6
0.056
164.4
S/2019 S15
1
26.5
21,246,200
1,156.2
0.254
157.5
S/2006 S3
6
24.6
21,352,700
1,174.7
0.443
157.3
Skrymir
4
24.8
21,448,000
1,185.1
0.437
175.6
S/2006 S15
2
25.9
21,580,000
1,183.6
0.117
161.3
S/2020 S8
1
26.1
21,800,100
1,201.7
0.273
163.3
S/2004 S28
4
24.9
21,867,800
1,220.8
0.160
169.4
S/2006 S16
1
26.3
21,988,900
1,217.4
0.228
165.2
Alvaldi
4
24.6
21,995,600
1,232.2
0.238
177.4
S/2004 S50
1
26.1
22,010,000
1,219.1
0.377
164.8
Kari
7
23.9
22,029,700
1,231.0
0.482
153.0
Geirrod
4
25.1
22,259,500
1,251.1
0.539
154.4
Fenrir
4
25.0
22,331,800
1,260.3
0.136
164.3
S/2006 S17
2
25.9
22,528,900
1,262.5
0.384
165.5
S/2004 S48
2
25.7
22,362,500
1,248.5
0.416
159.9
Surtur
6
24.8
22,753,800
1,296.5
0.449
168.3
S/2004 S49
2
25.8
22,859,200
1,290.3
0.454
158.3
Loge
6
24.6
22,918,300
1,311.8
0.192
166.9
Ymir
16
21.7
22,957,100
1,315.2
0.337
173.1
S/2004 S21
3
25.4
23,125,000
1,325.3
0.409
155.0
S/2004 S39
2
25.5
23,195,400
1,336.2
0.102
167.1
S/2019 S17
2
25.8
23,233,300
1,322.2
0.430
156.3
S/2006 S18
2
25.9
23,256,000
1,324.1
0.089
171.6
S/2006 S19
2
25.9
23,262,900
1,324.7
0.575
174.1
S/2004 S24
3
25.2
23,339,900
1,341.3
0.072
36.5
S/2004 S36
3
25.3
23,433,600
1,353,2
0.617
152.5
S/2019 S19
1
26.4
23,471,900
1,342.6
0.372
146.8
S/2019 S20
1
26.6
23,483,700
1,343.6
0.294
156.2
S/2019 S18
1
26.5
23,555,400
1,349.7
0.487
148.4
Thiazzi
4
25.0
23,577,500
1,366.7
0.511
158.8
S/2019 S16
1
26.4
23,677,600
1,360.3
0.243
160.7
S/2004 S53
1
26.1
23,764,100
1,367.7
0.226
161.0
S/2004 S34
3
25.3
24,145,500
1420.8
0.279
168.3
Fornjot
6
24.6
24,937,300
1,494.0
0.214
169.5
S/2020 S10
1
26.7
25,046,000
1,479.9
0.310
163.7
S/2004 S51
2
25.8
25,771,800
1,544.7
0.198
169.6
S/2020 S9
2
25.9
26,000,300
1,565.2
0.521
161.1
S/2019 S21
2
25.9
26,075,800
1,572.1
0.125
171.5
S/2004 S52
1
26.1
26,091,500
1,573.5
0.290
162.9
S/2004 S26
4
25.0
26,097,100
1,603.9
0.148
172.9
Moons of Uranus

Satellite
Diameter
(km)
Visual
magnitude
Distance
(km)
Orbital
period (days)
Eccen-
tricity
Inclina-
tion (°)
Cordelia
40
23.6
49,800
0.3
0.000
0.2
Ophelia
23
23.3
53,800
0.4
0.011
0.1
Bianca
51
22.5
59,200
0.4
0.001
0.2
Cressida
80
21.6
61,800
0.5
0.000
0.1
Desdemona
64
22.0
62,700
0.5
0.000
0.1
Juliet
94
21.1
64,400
0.5
0.001
0.0
Portia
135
20.4
66,100
0.5
0.000
0.0
Rosalind
72
21.8
69,900
0.6
0.000
0.0
Cupid
10
26.0
74,400
0.6
0.005
0.1
Belinda
81
21.5
75,300
0.6
0.000
0.0
Perdita
40
23.6
76,400
0.6
0.002
0
Puck
162
19.8
86,000
0.8
0.000
0.3
Mab
10
26.0
97,700
0.9
0.003
0.1
Miranda
472
15.8
129,900
1.4
0.001
4.4
Ariel
1,158
13.7
190,900
2.5
0.001
0.0
Umbriel
1,169
14.5
266,000
4.1
0.004
0.1
Titania
1,578
13.5
436,300
8.7
0.001
0.1
Oberon
1,523
13.7
583,400
13.5
0.001
0.1
Francisco
12
25.0
4,283,000
267.1
0.139
147.4
Caliban
89
22.4
7,230,000
579.7
0.204
142.0
Stephano
20
24.1
8,004,000
677.5
0.218
143.9
Trinculo
10
25.4
8,505,000
749.6
0.219
167.1
Sycorax
190
20.8
12,180,000
1,289.2
0.521
159.3
Margaret
11
25.2
14,070,000
1,648.1
0.678
57.7
Prospero
30
20.8
16,267,000
1,980.4
0.439
151.7
Setebos
30
23.3
17,444,000
2,228.7
0.588
158.2
Ferdinand
12
25.1
20,648,000
2,816.3
0.397
169.8
Moons of Neptune

Satellite
Diameter
(km)
Visual
magnitude
Distance
(km)
Orbital
period (days)
Eccen-
tricity
Inclina-
tion (°)
Naiad
76
24.6
48,200
0.3
0.000
4.7
Thalassa
92
23.9
50,100
0.3
0.000
0.2
Despina
146
22.5
52,500
0.3
0.000
0.0
Galatea
179
22.4
62,000
0.4
0.000
0.0
Larissa
179
22.0
73,500
0.6
0.001
0.2
Hippocamp
35
26.5
105,300
1.0
0.001
0.3
Proteus
407
20.3
117,600
1.1
0.000
0.0
Triton
2,707
13.5
354,800
5.9
0.000
157.3
Nereid
340
19.7
5,504,000
360.1
0.749
5.8
Halimede
54
24.2
15,753,700
1,879.5
0.566
133.8
Sao
31
25.4
22,381,400
2,914.3
0.299
48.2
Laomedeia
37
25.0
23,607,900
3,179.6
0.418
34.8
Psamathe
36
25.1
46,701,600
9,110.4
0.451
137.1
Neso
43
24.7
50,045,900
9,617.8
0.447
132.3
Moons of Pluto

Satellite
Diameter
(km)
Visual
magnitude
Distance
(km)
Orbital
period (days)
Eccen-
tricity
Inclina-
tion (°)
Charon
1,186
17.3
19,600
6.4
0.000
0.0
Styx
12
27.0
42,400
20.2
0
0.0
Nix
45
23.4
48,700
24.9
0.000
0.0
Kerberos
14
26.0
57,800
31.9
0.000
0.4
Hydra
45
23.0
64,700
38.5
0.006
0.3
Moons of Other Dwarf Planets

Object/
Satellite
Diameter
(km)
Visual
magnitude
Distance
(km)
Orbital
period (days)
Eccen-
tricity
Inclina-
tion (°)
HAUMEA
Namaka
170
21.9
25,700
18.3
0.249
113.0
Hiʻiaka
310
20.6
49,900
49.5
0.051
126.4
QUAOAR
Weywot
75
24.9
14,500
12.4
0.15
14
MAKEMAKE
S/2015 (136472) 1
175
25.2
>21,000
>12
?
?
GONGGONG
Xiangliu
250
26.0
24,000
35–100
0.3
83 or 119

ERIS

Dysnomia
350
25.6
37,350
15.8
0.007
142