Multiple trips to the Moon, physics satellites, and Europe's long-awaited exoplanet explorer are among the space missions on tap for 2019..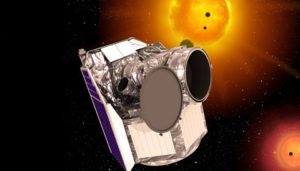 What a busy year it has been! In 2018 we saw 112 successful space launches worldwide from eight countries, the most launches we've seen since 1990. SpaceX and China alone account for more than half of these, with 21 and 39 launches, respectively — a record for both. This past year we also saw Mars InSight arrive at the Red Planet, ESA's BepiColombo mission head to Mercury, the launches of NASA's exoplanet-hunting TESS mission and the Parker Solar Probe, and China's bid to make the first ever landing on the lunar farside.
There's far more to come. Here are the top space science missions we're watching in 2019.
Lunar Ambitions
The New Year will see a multi-national armada of spacecraft return to the Moon.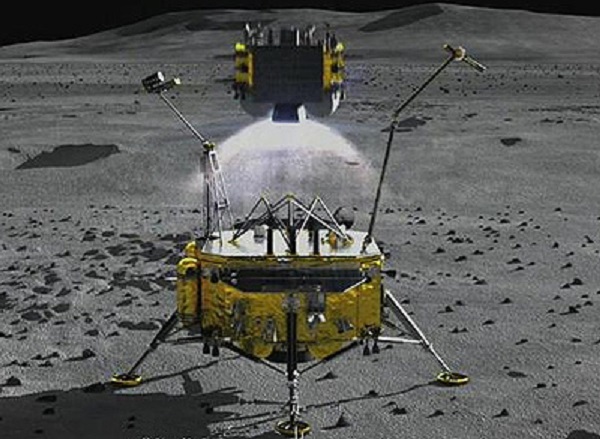 China's Chang'e 4 is set to make the first ever soft landing on the lunar farside in early January 2019, followed by the Chang'e 5 a sample return mission that should to occur by late 2019. The mission is a follow-on to the Queqiao orbital relay and the Chang'e 4 lander.
Key to its success is China's heavy-lift Long March 5 rocket, which had problems with its first-stage engine during its second flight in July 2017. Chang'e 5 weighs in at a hefty 18,100 pound (8,200 kilogram) launch mass, which includes the lander, launch system, and sample return capsule — more than double that of Chang'e 4 — necessitating the larger carrier rocket.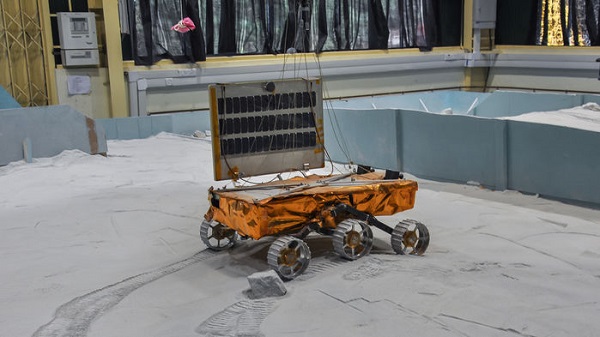 Meanwhile, the Indian Space Research Organization is entering the lunar lander game in 2019 with its Chandrayaan 2 mission. This spacecraft will carry an orbiter, rover, and lander and is set to launch atop a Geosynchronous Launch Vehicle Mark III from the Satish Dhawan Space Center in India on January 30, 2019. Chandrayaan 2 will land near the Simpelius N and Manzinus C craters — the first soft landing for the south pole region of the Moon.
The Google Lunar X prize competition to land on the Moon unfortunately saw its March 31, 2018, deadline pass with no claimants. The prize featured an award of $20 million for the first team to land on the Moon, drive 500 meters across its surface, and return pictures. Nevertheless, five teams remain committed to the goal and have either secured or are working to secure launch contracts to head to the Moon in 2019.
SpaceIL: This Israeli-based company plans to launch its Beresheet lunar lander (named for the first Hebrew word in the Book of Genesis) on a SpaceX Falcon 9 rocket on February 13, 2019. The spacecraft will take about two and a half months to reach the Moon, through a slow cycle of elliptical raising orbits.
ALINA: Germany's Autonomous Landing and Navigation module (ALINA) could bring two Audi lunar quattro rovers near the Apollo 17 Taurus-Littrow landing site in 2019. ALINA is operated by the Part-Time Scientists, and the company is working to secure a launch contract with SpaceX.
Moon Express: The sole remaining U.S. entry in the Google Lunar X prize competition, Moon Express still intends to field two missions in 2019: the MX-1E lander and the Lunar Outpost MX-3 lander. The company plans to launch these missions on Rocket Lab's Electron rocket, which carried out several successful launches from the company's Mahia New Zealand launch complex in 2018. MX-1E will carry a small optical telescope, a laser retro-reflector, and a Celestis memorial container.
Team Indus: Headquartered in Bangalore, India, this company is also looking to secure a launch contract in 2019. Two other teams, Synergy Moon and Hakuto, are looking to piggyback with Team Indus.
Another possible Moonbound mission is the Goonhilly Lunar Pathfinder, which would dispense nanosatellites into lunar orbit. The UK wants to field the Lunar Pathfinder in orbit around the Moon in time for the 50th anniversary of Apollo 11, but there's no word on a launch date or a carrier for this mission.
Astronomy from Low-Earth Orbit
The European Space Agency's long-awaited Characterizing Exoplanets Satellite (CHEOPS) may take to space in the October-November time frame. CHEOPS will employ a 13-inch (33-centimeter) telescope to make accurate measurements of the radii of known transiting exoplanets. CHEOPS will launch on a Soyuz rocket and carry out observations from a Sun-synchronous, low-Earth orbit.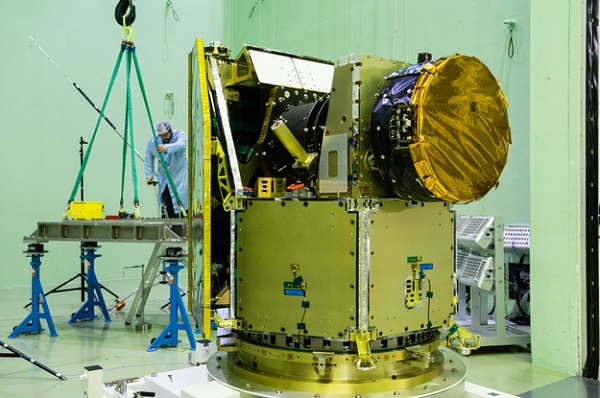 We've been chasing the launch of NASA's Ionospheric Connection Explorer (ICON), as it was one of our featured space missions to watch for in 2018. ICON may not have reached space yet, but it sure has seen lots of the Earth this past year, as it attempted to launch from the Kwajalein Atoll in the Pacific and the Kennedy Space Center in Florida before traveling back to Vandenberg Air Force Base in California. ICON employs a Pegasus XL rocket deployed from Northrop Grumman's L1011 Stargazer aircraft to get into orbit. When it's finally in space, ICON will explore the boundary where Earth and space weather converge.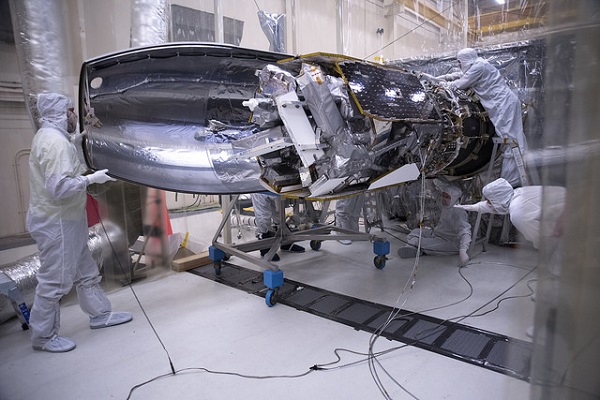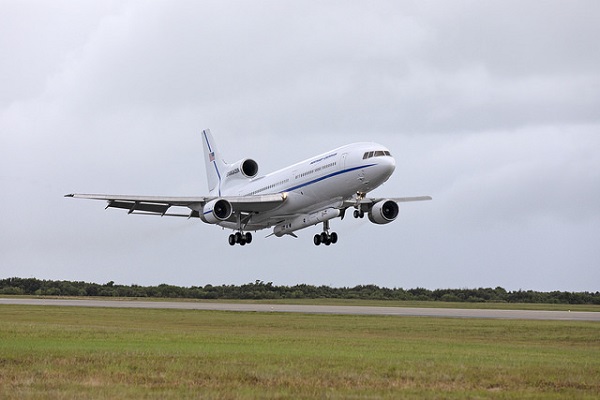 China is often silent about its space aspirations, at least until missions are successfully in orbit. One such enigma is the small Tianyi-4 gamma-ray burst detector, possibly set to launch in 2019. China may also place its TianQin gravitational wave detector in space in 2019.
Another physics mission to watch is LARES 2. A followup to ESA's 2012 Laser Relativity Satellite (LARES) mission, LARES 2 will launch on a Vega rocket from Kourou, French Guiana, in late 2019. Scientists worldwide will bounce lasers from ground-based observatories off of LARES 2's retro-reflectors in an effort to measure the effect of relativistic frame-dragging on the satellite.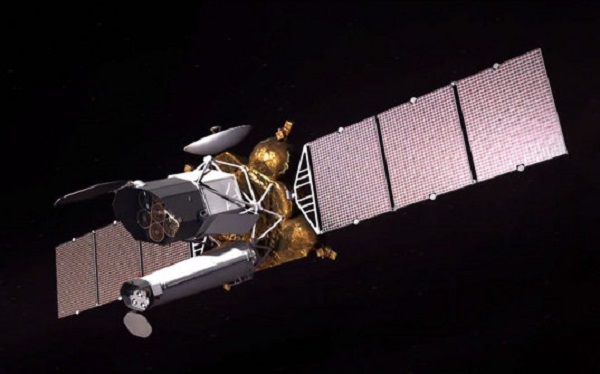 Russia may also (finally!) launch the Spektr RG X-ray observatory, a joint project with Germany. Though it sounds like something a James Bond villain might put into space, Spektr RG is built for X-ray astronomy, designed to observe in the medium- and high-energy X-ray bands using multiple instruments. The 6.5-year mission will survey the X-ray sky from the L2 Lagrangian point, beyond the Moon. Originally set to launch in 2017, it was plagued by technical setbacks; now it's planned for launch in March.
And More...
Now for something completely different: Japan's Astro Live Experiences (ALE) — a smallsat mission designed to create an artificial meteor shower — may take to space in 2019. Each ALE dispenser will carry 300 to 500 pellets, at a price tag of $16,000 a meteor. However, while the company plans to launch ALE-1 and ALE-2 in 2019, the first artificial meteor shower demonstrations won't occur until 2020.
Also in 2019, SpaceX may carry out its first crewed Dragon flight in June. This would follow an uncrewed launch of the capsule that's coming right up in January. The crewed flight would be the first time a private company has placed astronauts in Earth orbit. Not only that, the event would mark the first crewed launch from U.S. soil since the space shuttle Atlantis launched for the last time on July 8, 2011.
With all of the missions coming up, 2019 will be an exciting year in space for sure.