A second set of 60 Starlink satellites takes to space amid promise and controversy.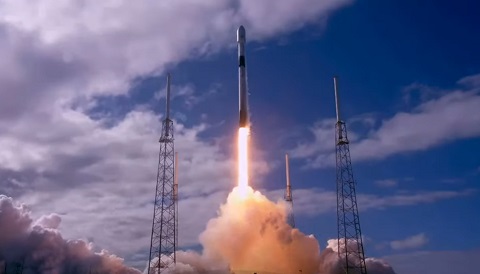 [Note: this post is updated based observations of last night's Starlink passes over the U.S. and prospects for seeing Starlink tonight, Tuesday November 12th.]
A brave new chapter of satellite-based internet may be at hand. A SpaceX Falcon 9 rocket took to the skies over the Florida Space Coast on Monday, November 11th at 14:56 Universal Time (9:56 a.m. EST), with the latest batch of Starlink satellites.
The launch featured another successful stage 1 booster landing on the Of Course I Still Love You (OCISLY) Autonomous Spaceport Drone Ship. This marked the first time a booster was reused for three launches. The event also featured an attempt to capture both payload fairings at sea for later use. The ships involved in the attempt were named 'GO Miss Tree' and 'GO Miss Chief.' There's no word as of yet if the fairing recovery was successful.
The Starlink satellite constellation is an ambitious project fielded by Elon Musk's SpaceX: The plan is to place an initial 12,000 satellites in low-Earth orbit (at 350 km, 550 km, and 1,150 km) to provide worldwide internet access. Each satellite is the size of a table and includes a reflective solar panel for power. The satellites maneuver via krypton gas-fueled, Hall-effect thrusters.
Musk sent the first tweet using the system, then consisting of 60 satellites, last month. Ultimately, SpaceX plans on deploying the Starlink satellites in three orbital shells for worldwide coverage. Starlink is expected to come online in 2020. Musk has yet to disclose a cost for use, and you won't be able to access Starlink with your phone. Instead, users will need a pizza box-size receiver disk. Unlike dish antennas, which must be more precisely pointed, a Starlink receiver only needs to aimed up at the sky.
SpaceX launched two test satellites for the system (MicroSat-2a and MicroSat-2b) in early 2018. The first full set of 60 Starlink satellites were launched in May 2019.  SpaceX tweeted out a successful deployment for the second batch of Starlink satellites today shortly after launch:
Successful deployment of 60 Starlink satellites confirmed! pic.twitter.com/bpBqO9oYR3

— SpaceX (@SpaceX) November 11, 2019
Starlink: Game-Changer or Dark Sky Menace?
The first Starlink launch in May 2019 sparked controversy in the amateur and professional astronomy community, as observers worldwide got their first good look at the Starlink satellite train. A string of magnitude-2 "stars" moved across the twilight sky in a video captured by Marco Langbroek that soon went viral. Certainly, the prospect of a near future where bright moving satellites outnumber real stars doesn't bode well for ground-based astronomy and our already light-polluted skies.
Responding to the online backlash, Musk announced plans to paint the undersides of future Starlink satellites black, though this won't change the reflectivity of the most brilliant segment, the solar panels.
"Agreed, sent a note to (the) Starlink team last week Specifically regarding albedo reduction." Says Elon Musk on Twitter. "We'll get a better sense of value of this when satellites have raised orbits and arrays are tracking to Sun."
SpaceX also raised eyebrows in early October, when they filed an application with the International Telecommunication Union for 30,000 additional satellites. Not only would this add to the burgeoning space debris load in low-Earth orbit, but it will also greatly add to the burden of over 18,400 large artificial objects (satellites, boosters and debris) in orbit around the Earth.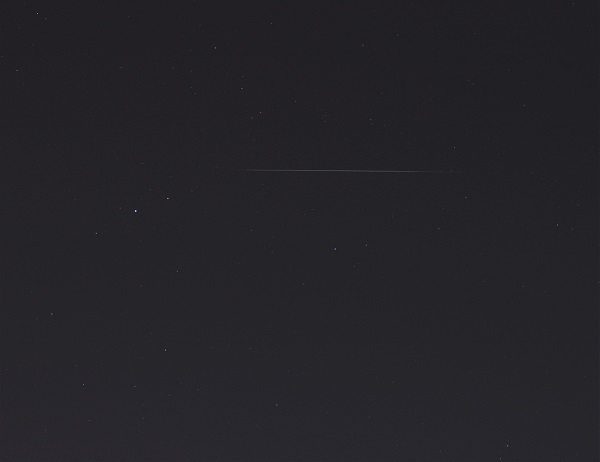 Other companies, including Amazon's Kuiper Systems and OneWeb, also plan on getting into the satellite internet game in the coming decade. SpaceX plans to increase the launch tempo going into 2020, with one Starlink launch a month. OneWeb is the next competitor to enter into the game, due to deploy 32 satellites from a Soyuz rocket launching out of the Baikonur Cosmodrome on December 19th.
Now, the hunt is on the spot the latest artificial Starlink satellite train. Current viewing opportunities this week include North America and Europe at dusk, and southern latitudes centered on 30°S at dawn. The second set of Starlink satellites entered a 53° inclination orbit and deployed an hour after liftoff. Heavens-Above has a link on their front page dedicated to Starlink, currently listed as 'Starlink Launch 2 Placeholder,' and we'll be posting updates for sighting opportunities on Twitter as @Astroguyz.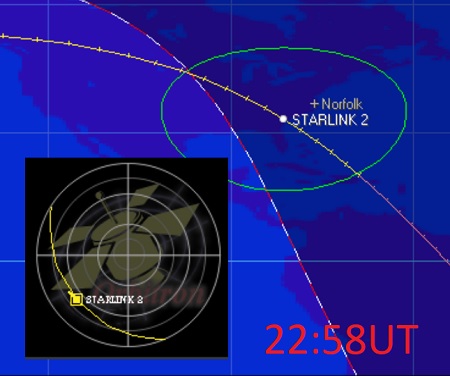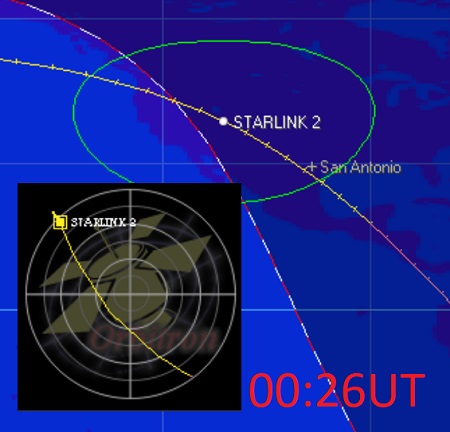 Is Starlink a true game-changer in worldwide internet connectivity, or will it prove to be, like the Iridium satellite constellation, a technology with only niche applications? And what does the constellation mean for the future of the night sky? Sky & Telescope will be diving deep into this topic in the March 2020 issue. But for now, watch and wonder, as the next Starlink satellite train passes overhead tonight.