Astronomers have detected a massive yet elusive nimbus of hot gas surrounding Andromeda Galaxy.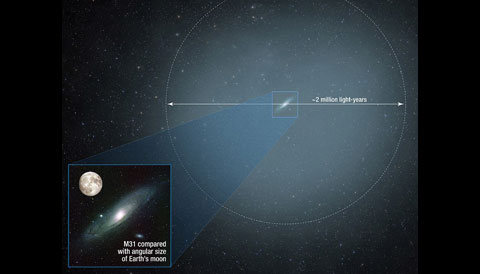 Our sister galaxy, astronomers have discovered, lounges in a gargantuan cushion of hot gas that extends out to at least a million light-years, almost halfway to the Milky Way.
Andromeda Galaxy is in Milky Way's weight class, 220,000 light-years across and containing hundreds of billions of stars. And it turns out its halo is almost as massive as the galaxy itself — Nicolas Lehner (University of Notre Dame) and colleagues calculate in the May 10th Astrophysical Journal that at least 10 billion Suns' worth of gas floats outside Andromeda.
Despite its mass and extent, this halo has proven difficult to study. Its gas is hot (around 10,000 or 100,000 degrees), mostly made of ionized hydrogen (bare protons and electrons floating in the intergalactic breeze), and so sparse that hydrogen's signal can't be detected.
Yet astronomers have long suspected that this kind of halo must surround most galaxies. Of the universe's mass, 17% is normal matter (not the mysterious, dark variety). Based on a galaxy's dark mass, which can be measured for example by the galaxy's rotation curve, you expect a certain amount of accompanying normal matter. But if you add up a galaxy's normal matter in the form of stars, cold interstellar gas, and X-ray-emitting (read: very hot) halo gas, you come up short. Only about 40% of normal matter is accounted for.
The missing matter must be hiding somewhere, undetected, and the most likely spot is galactic halos. Simulations agree: hot gas, both inflowing and outflowing, ought to envelop growing galaxies.
To reveal this gas, Lehner's team pinointed 18 distant quasars whose light streams through the space where Andromeda's halo ought to be. Heavier (and rarer) elements stripped of their outer electrons, such as doubly ionized silicon, will cast a shadow on this background light, and the Hubble Space Telescope recorded the specific ultraviolet wavelengths that the halo gas absorbed.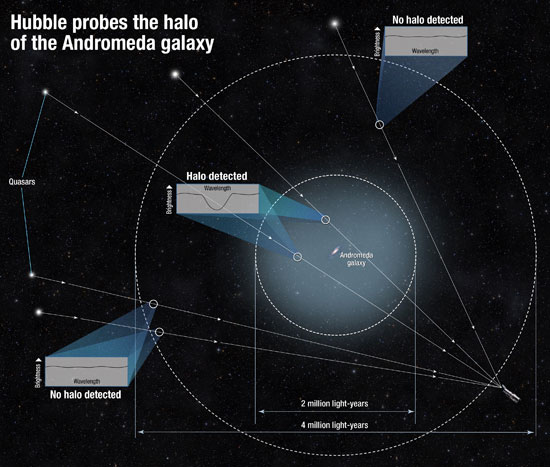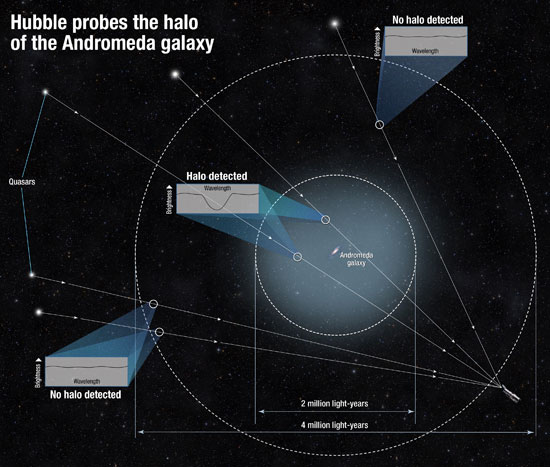 The measurements show that Andromeda's circumgalactic medium is massive, containing 3 billion Suns' worth of gas within 200,000 light-years and probably 10 times that out to a million light-years.
Almost all of this gas is ionized, and in fact, Lehner's team finds that the gas gets even more ionized further from the galaxy, confirming theoretical predictions. Because the hotter gas is more difficult to detect (and can't be detected within these Hubble observations), it's possible the halo continues even further than what the team was able to record.
In short, Lehner says, this study and an accompanying study of halos in more distant galaxies have "essentially solved" the missing matter problem.
To read more about the study (and what it means for the pending collision between Andromeda and Milky Way), see Hubble's press release.
---
Intrigued by galaxies? Subscribe to Sky & Telescope and receive a special feature on how galaxies grow in our September issue.