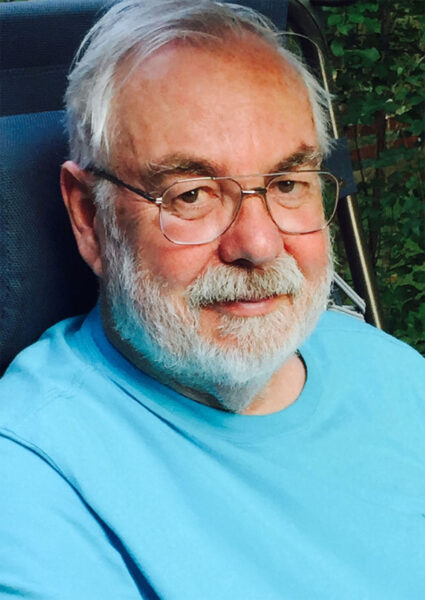 Terence Dickinson, Canadian astronomer and author of numerous popular books on astronomy, passed away February 1, 2023, at age 79, after a long battle with Parkinson's. He is survived by his wife, Susan Dickinson and his sister, Dianne Dickinson.
"He spent countless tranquil hours exploring the night sky from his observatory, listening to the spring peepers early in the season and, in summer, the quiet nickers of our horses as they moved about the pasture," writes Susan in an online memorial. "Standing under a starry canopy and giving himself over to the mystique and immensity of it all, Terry was lifted out of himself, freed from the distractions of daily living."
Terence's interest in astronomy began when he was only five years old, when he saw a shooting star streak across the sky. His professional career took off in 1968 when he became a staff astronomer and teacher at the McLaughlin Planetarium of the Royal Ontario Museum in Toronto. In 1970, he became assistant director of the Strasenburgh Planetarium in Rochester, New York.
Terence served as the executive editor of the then-new Astronomy magazine in 1974 and 1975. Then, from 1995 until 2016, Terence was the founding editor of SkyNews, Canada's magazine of stargazing.
"Terry was a tremendous inspiration for countless amateur astronomers — especially in Canada," says S&T Consulting Editor Gary Seronik. "And a few of us were privileged to be able to call him friend. I thank my lucky stars that I was one of them."
He is perhaps best known in the amateur astronomy world as the author of NightWatch: A Practical Guide to Viewing The Universe, a book that has helped tens of thousands of people get started in the hobby of amateur astronomy. It has been in print through several editions for 40 years. Terence also authored many other popular books, including The Universe and Beyond, Hubble's Universe, and The Backyard Astronomer's Guide, coauthored with Alan Dyer.
"I knew Terry since I was a teenager and he was a young planetarium producer in Toronto," says S&T Contributing Editor Kenneth Hewitt-White. "Terry encouraged my own planetarium work in Vancouver and kicked-started my freelance career, and he did much the same for so many others. I'm deeply grateful to Terry for allowing me to help him produce the fifth edition of his best-selling book NightWatch, Terry's lasting legacy to the world of amateur astronomy."
From 1981 until the mid-2000s, Terence wrote a popular weekly astronomy column for The Toronto Star newspaper, taking over from longtime author and Canadian astronomer Helen Sawyer Hogg. Another of Terence's regular platforms for promoting astronomy was television, through his frequent appearances in the late 1990s and early 2000s on Canada's Discovery Channel.
Among his numerous awards are the New York Academy of Sciences' Children's Book of the Year (1988), the Royal Canadian Institute's Sandford Fleming Medal (1992), Industry Canada's Michael Smith Award for Public Promotion of Science (1993), and the Astronomical Society of the Pacific's Klumpke-Roberts Award (1996). He was the recipient of honorary degrees from Trent University and Queen's University. In 1995, he was invested as a Member of the Order of Canada for his contributions to public understanding of astronomy.
In 1994 asteroid 5272 was officially named Dickinson in his honor by the International Astronomical Union.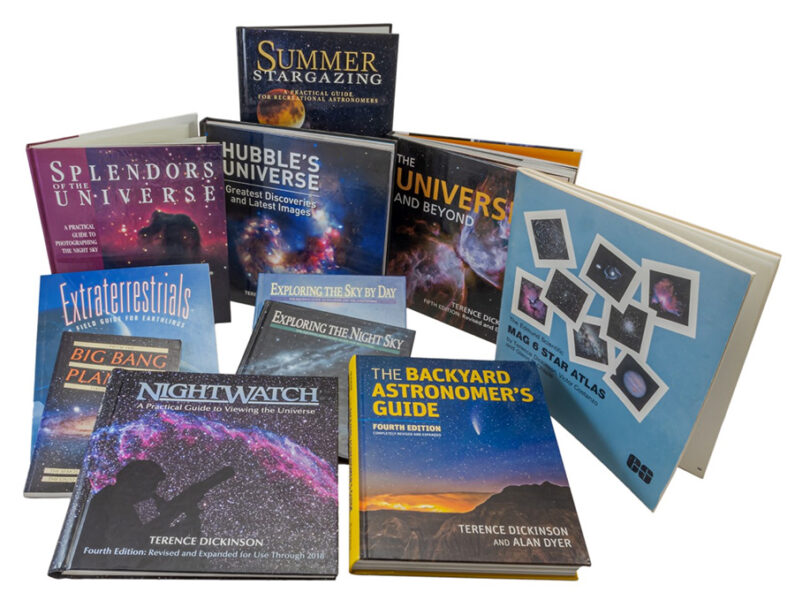 Terence Dickinson's ability to explain the universe and simplify astronomical concepts in ways easily understood by the average reader has gained him a huge international audience. Many thousands of people have developed an interest in astronomy and the wonders of the universe because of his work.
"Terry was also a mentor to many of us in the astronomy-writing world," Seronik adds. "He gave me my first big break and through example showed me how to convey the wonders of the night sky in an engaging and friendly style. I'll miss our long, meandering phone conversations (topics ranged from telescopes to comets to cats) and his to-the-bone enthusiasm for all things astronomical."
Terence's love for astronomy was infectious, as anyone who attended one of his wonderful lectures will attest. He once said, "I want to do what I'm doing for as long as I can. There's just so much more to know and see, and I'm still excited as a kid about new discoveries. I'll never run out of things to write about — I'll just run out of time."