Our new SaturnMoons app guides you around the ringed planet as it brightens in the night sky in advance of a late April opposition.
Saturn will rule the night as it comes into opposition on April 28th. The ringed wonder will be +0.1 magnitude at its brightest, with the disk covering 19" in equatorial diameter and the rings 43". The sight will be impressive both to the unaided eye and through a telescope.
As you spend more time with Saturn in the coming months, see how many moons you can spot through your scope — bright Titan, Saturn's largest moon, is generally easy enough, but the others present more of a challenge. Our Saturn's Moons Java utility already comes in handy during a moon hunt, but now we have something even better.
SaturnMoons is our newest mobile app developed by our friends Tim DeBenedictus and Bill Tschumy at SouthernStars. The app is available for Apple devices for $2.99.
SaturnMoons presents the ultimate guide to the ringed planet. A pinch-zoomable interface set to your local time helps you locate the nine largest satellites. The view always shows the correct tilt of Saturn's rings, which will close to 18° by the end of April. The time controls allow you to step through seconds, minutes, or hours, or speed through days or even years to see where the moons will be down the line. You can flip the view to match what you see through your telescope, too, making finding these mini worlds even easier.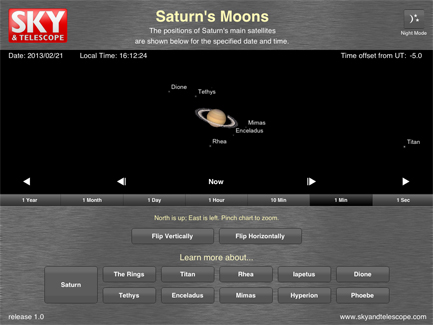 The app also functions as a handy Saturn factoid source. Senior contributing editor J. Kelly Beatty gives you the dirt (or rather, the ice) on Saturn's bizarre family of satellites, including Earth-like Titan, two-faced Iapetus, and Mimas, the Death Star moon. Detailed entries and stunning photos also describe Saturn's subtly striped atmosphere and spectacular rings.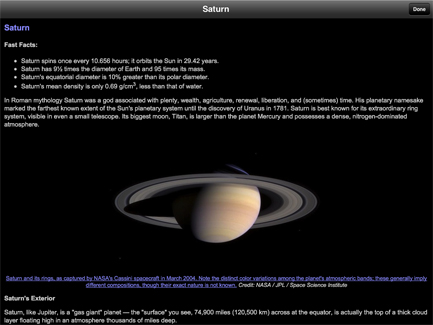 Please note: this application is designed to work in landscape orientation only so that you may view Saturn, Saturn's rings, and the lunar family at their best.
SaturnMoons is for mobile Apple devices only right now. But don't forget, for both Droid and Apple users we have the ever-popular (and free) SkyWeek app. This mobile version of "This Week's Sky at a Glance" guides you to what's up in the night sky, complete with interactive sky charts. For descriptions of all our apps, visit www.skypub.com/skyapps.
(Droid users: want to see more S&T apps for your mobile devices? Recommend SkyWeek to your friends! Even though Droids make up a large share of the smartphone market, they're a small share of SkyWeek downloads. Show our management team there's a Droid market and we might soon have Droid versions of these awesome apps, too!)
In addition to the SaturnMoons app, we have a number of Saturn observing tools, guides, and other resources on our site. Here are just a few of them: