Pick one or see them all. July offers a potpourri of celestial events for both naked-eye observers and telescope users that include a rare occultation by Saturn's moon Titan, a bright comet, and Mira at maximum.
I hope you were able to see last month's planetpalooza, when Mercury, Venus, "Earth" (in the guise of the Moon), Mars, Jupiter, and Saturn formed an arc spanning from east to south at dawn. For lack of space, textbooks depict them as large bodies relatively near one another and the Sun. But on those June mornings we saw them for what they really are — pinpoint orbs separated by so much emptiness. The sight was visceral and frankly, a bit surreal. After months of creating simulations and puzzling out the best viewing locations, I was struck by the effortless elegance of nature's work.
Don't put away your alarm clock just yet. On Saturday morning, July 9th, Saturn's brightest and largest moon Titan (magnitude 8.5) will occult the 8.8-magnitude star HD 207123, an event visible across much of the continental U.S. (including the Hawaiian Islands), all of Central America, and northern South America. The moon last covered a bright star 33 years ago on July 3, 1989, when Eastern Hemisphere observers watched Titan eat 5th-magnitude 28 Sagittarii. The next similar event won't happen until August 16, 2048, and then only over Antarctica.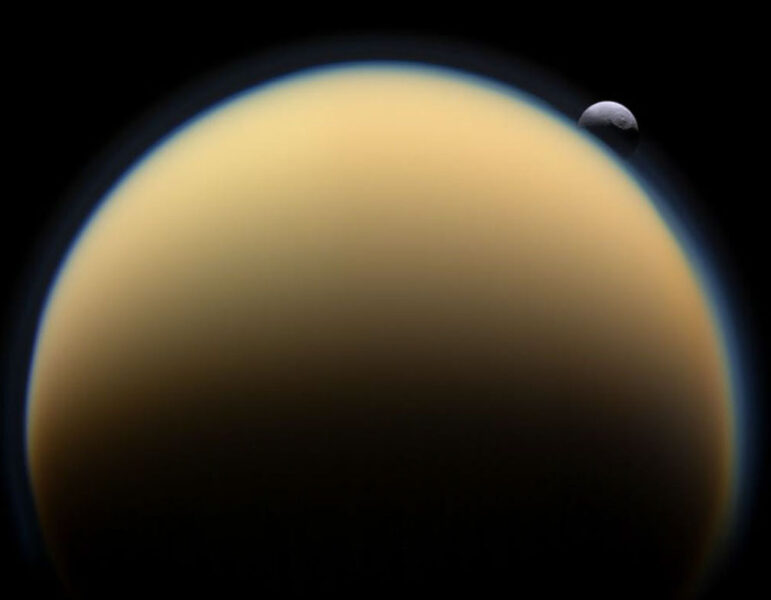 Titan's atmosphere makes this an intriguing event. During a lunar occultation, a star disappears in a split second behind the advancing limb of the virtually airless Moon. Titan has no such hard edge. Its nitrogen-rich air extends some 600 kilometers (370 miles) high. Haze particles composed of complex organic molecules are present in great number even at altitudes reaching 300 kilometers. Instead of blinking out, HD 207123 will fade over several seconds like a submarine descending into oceanic depths until it disappears from sight.
Titan will shine a comfortable 3′ east of Saturn when it occults the star around 9:15 UT (5:15 a.m. EDT). Near the northern and southern limits HD 207123 disappears for a minute or less, while along the centerline observers will have about 5.5 minutes of viewing time. Moments before the occultation, when the moon and star merge into one, their combined magnitude will reach 7.9. When occulted, the duo fades to magnitude 8.5, Titan's brightness alone. If seeing allows, high magnification will let you track the pair for as long as possible as they slowly meld into one.
Flashy performance
David Dunham, founder and former president of the International Occultation Timing Association (IOTA), suggests keeping an eye peeled for "sudden brightening 'spikes' due to thermal inversion layers in Titan's stratosphere" as the star sinks into the moon's atmosphere at ingress and egress. These subtle flickers are best captured with a sensitive video camera or CCD. Dunham recommends starting the recording at least two minutes before the predicted occultation time for your location.
Within 100 kilometers north and south of the centerline, observers will witness a rare central flash midway through the occultation caused by refraction of the star's rays around Titan's limb. It may be possible to detect a weak flash somewhat beyond this range as far north as the Florida Keys. All observations of variations in the star's light will aid in mapping of Titan's atmosphere in the absence of a current space probe in the Saturn system. Observers are encouraged to contribute their data to the Lucky Star Occultation Portal.
Here are additional useful links courtesy of David Dunham:
Like you, I'm looking forward to observing this and hope for clear skies. Whether you're recording data or there for the visual experience, it's an opportunity to probe Titan's atmosphere from 1.4 billion kilometers away using only a star for a tool.
Mira's light burns bright
Mira, a red giant star and the first pulsating variable discovered, will reach maximum brightness in mid-July — on the 13th according to the American Association of Variable Star Observers (AAVSO). With a period of 332 days, successive maxima of Mira occur about a month earlier each year. Last August, the star brightened to a V-magnitude of 2.6, close its historic peak of 2.0. What it will do this season is anyone's guess, but it's sure to keep observers on their toes.
During a pulsation cycle, Mira physically expands and contracts. When contracting, the star heats up and becomes brighter and more compact. When it expands and cools, titanium oxide, a common ingredient in sunscreens, forms in its outer atmosphere. The same way it prevents UV light from reaching your skin, the compound blocks visual light emitted by the star, causing it to fade. Mira's visual brightness ranges from magnitude 2.0 to 10.1.
July's maximum will be the last we'll see for the next few years. From mid-northern latitudes Mira is lost in the solar glare from late March through June, the same interval in which it will reach peak brightness between 2023 and 2025. After this month, we won't see it peak again until late winter 2026. For more information on the star's current brightness go to aavso.org and in the "Pick a Star" box type in Mira. You can choose to see recent observations, generate a light curve, or make a customized map.
Put 'K2' on your comet docket
Comet PanSTARRS (C/2017 K2) has been a long time in coming. Discovered in May 2017, this Oort Cloud object has taken five years to travel from beyond the orbit of Saturn to the inner solar system. Currently the brightest comet in the sky, it will make its closest approach to Earth on July 14th at 1.81 a.u. or 271 million km. With a magnitude around 8.5, K2 is within binocular range from a dark sky. Through an 8-inch or larger telescope it's truly a beautiful sight with a 3.5′ condensed coma and 40′-long silky tail pointed north.
Located in Ophiuchus, K2 is perfectly placed for viewing in the southern sky as soon as it gets dark. Try to see it over the next few nights (July 6–8) before the waxing Moon lowers the boom. In a classic example of bad timing, the comet will pass just ½° northwest of the bright globular cluster M10 on the nights of July 14th and 15th, just a day or two after full Moon. While this won't faze astrophotographers, visual observers may gnash their teeth. My solution: Go out and look anyway.
The comet will continue to brighten as it speeds to the southwest, crossing into Scorpius in early August and from there into Lupus. Before the twilight glow gobbles it up during the third week of September, the Oort emissary is expected to reach magnitude 7.5. Southern Hemisphere comet aficionados will see it peak out around magnitude 7 late in the year. Stay up-to-date on the latest comet news with visits to the Comet Observation Database (COBS) site, Weekly Bright Comets, and astro.vanbuitenen.nl.
Crazy-close asteroid
While we were lighting firecrackers on the 4th of July, astronomers with the PanSTARRS 2 survey once again had our backs. That day they discovered 2022 NF, a bus-sized asteroid that will miss Earth by a mere 89,000 kilometers on July 7th at 13:59 UT (9:59 a.m. EDT). That's closer than a quarter of the distance to the Moon. Although the speeding space rock won't get any brighter than magnitude 15, you can still board this bus with a little help from Italian astronomer Gianluca Masi and his Virtual Telescope Project. Masi will livestream images of 2022 NF directly to your phone or computer starting at 21:00 UT (5 p.m. EDT) on July 6th. Enjoy the ride!
---

---