Jupiter reigns big and beautiful over December's sky. Now you can take our newest app with you as your guide to Jupiter's moons, Great Red Spot, and more.
This December is the month of Jupiter. The king of planets came to opposition on December 2nd, rising around sunset and setting around sunrise. As the month goes on, Jupiter stays nearly as big and beautiful as it was that night, but rises earlier every evening. The gas giant shines with a magnitude around -2.3 for most of the month, especially bright since this is one of the closest oppositions during Jupiter's 12-year orbit.
Many of our readers have found our Jupiter's Moons and Jupiter's Red Spot Javascript utilities useful when planning a nights' observing. Now we have something even better.
JupiterMoons is our newest iPhone/iPad app developed by our friends Tim DeBenedictus and Bill Tschumy at SouthernStars, based on some of our site's most popular utilities. The app is available on the iTunes store for $2.99.

JupiterMoons guides you around Jupiter, showing the location of Io, Europa, Ganymede, Callisto, and the Great Red Spot at any date and time. You can zoom in for a better view of a Great Red Spot transit, zoom out for a full view of the moon's orbits, or adjust the view to what you're seeing through the telescope with a few clicks. The time control settings make it easy to look up information for next week or next month. Or have some fun — speed through the months to watch Jupiter change size as it approaches opposition or conjunction.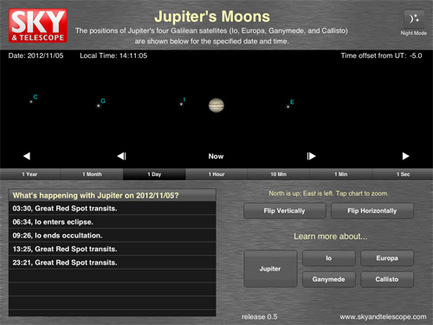 Special events, such as moon transits and eclipses and Great Red Spot crossings, are called out in a separate box. Clicking on any of these events will open them up in the main window. In addition, the app contains encyclopedic entries about Jupiter and its ice-and-fire moons, written by contributing editor Kelly Beatty and accompanied by stunning photos.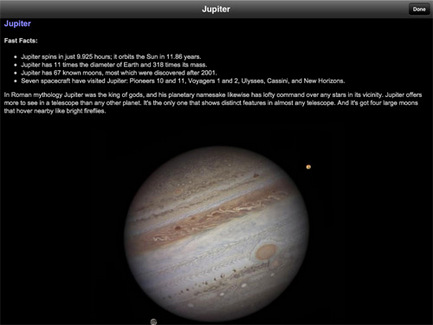 JupiterMoons is for Apple devices only right now. Note that this app is designed to work in landscape orientation only so that you may view Jupiter, the Great Red Spot, and the Galilean satellites at their best.
In addition to our app, we have a number of Jupiter observing tools and guides on our site. Here are a few of them: