Modern security threats have brought back an old method — celestial navigation — to help U.S. Navy sailors navigate the high seas.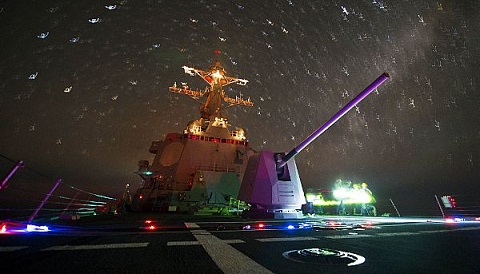 It's a scene straight out of a Tom Clancy novel. An adversary, seeking to gain the upper hand, manages to blind GPS satellites in a first strike. As alert levels rise and military leaders attempt to assess the situation, ships at sea must somehow get an accurate fix of their position . . . without the use of modern technology.
The United States Navy recently recognized modern vulnerabilities by bringing back an old method for navigating at sea: the Naval Academy in Annapolis, Maryland, has just resumed training officers in the lost art of celestial navigation. Although this training used to be standard in the U.S. Navy, the advent of GPS technology so simplified and improved the ability to find a ship's position at sea that the Navy ROTC ended celestial navigation training in 2000, and the U.S. Naval Academy phased it out as well in 2006.
But the U.S. Navy and the Department of Defense are taking cyber threats to technological infrastructure seriously. Commercial GPS jammers are now readily available on the internet. And while the U.S., China, the European Union, Russia, and India are all moving to assure they have their own exclusive GPS network in orbit, a deliberate attack may not even be necessary. A space debris chain reaction known as an ablation cascade could knock out our GPS capability, or a strong Earth-directed solar storm such as the 1859 Carrington super-flare event could do the job just as well.
"There is an effort throughout the Navy for midshipmen, officers, and sailors to become more familiar and comfortable with celestial navigation," says Lt. Daniel Stayton, an instructor of the U.S. Naval Academy CELNAV course. "We are currently in the first steps of reintroduction back into the fleet."
The U.S. Naval Academy brought back celestial navigation theory for its 2015 summer session, and the graduating class of 2017 will be the first in more than a decade with basic instruction in celestial navigation theory.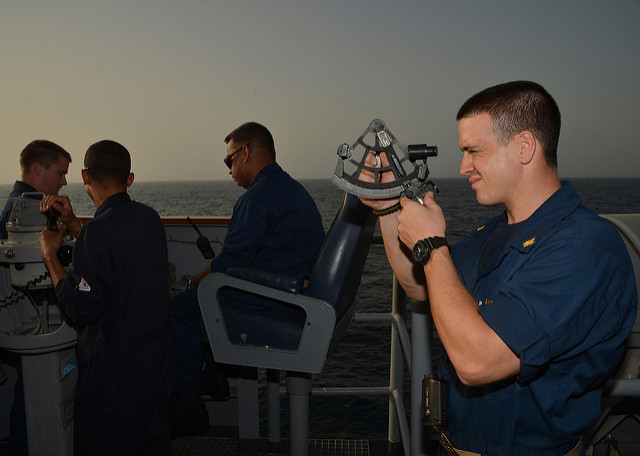 Losing Our Way — and Finding It Again
This sort of "back to basics" approach echoes a growing refrain: our over-reliance on GPS has made navigational skills all but vanish. My wife and I are the first to admit, it's both amazing and a little scary just how reliant we've become on Google Maps as we travel in Europe. Then again, I also remember that same GPS technology used to lead would-be visitors to our Florida home down a nearby dead-end street.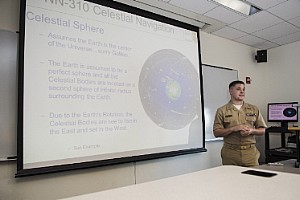 Although the U.S. military pioneered the development of GPS technology in the 1970s, widespread civilian use only came after May 2000, when President Clinton directed the removal of intentional inaccuracy (known as selective availability, a precaution to assure an enemy wouldn't utilize GPS) that had been built in to early commercially available systems. The U.S. Navy now typically uses the Voyage Management System developed by Northrop Grumman for navigation at sea.
But for centuries sailors had found their way using the stars.
Celestial Navigation: The Basics
In the Northern Hemisphere, it's pretty straightforward to find latitude by noting the elevation of the star Polaris, which marks the celestial north pole. Navigators can also measure the Sun's elevation at noon. Discerning longitude, however, is trickier and requires accurate timekeeping.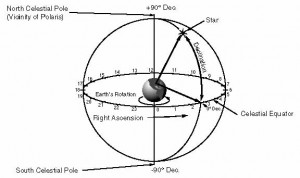 From the surface of the Earth, the imaginary sphere of the sky along the celestial equator appears to rotate 15 degrees per hour. In fact, we mark off right ascension in the sky — analogous to longitude of the surface of the Earth — in hours, minutes, and seconds. A land-based observatory will therefore see a celestial object rise, transit the local meridian bisecting the sky from north to south, and set at a different time than a ship at sea.
A navigator would note stars' positions using a sextant to measure the angle between each star and the horizon. Then the navigator would compare the measurement to an almanac published for a particular location. With this painstaking method, a seasoned celestial navigator could reckon a ship's position down to about two kilometers.
Getting an accurate fix on longitude, however, had to wait for accurate timekeeping. Early efforts relied on complex lunar tables. By the mid-19th century, such methods improved and longitude measurements became increasingly accurate. Some clever methods were devised as well: Christopher Columbus and Captain Cook both made use of lunar eclipses to gain one-time measurements of their positions at sea. Astronomers of the day also proposed using the transits of Jupiter's moons in a similar fashion, though observing such events from the deck of a pitching ship at sea proved problematic.
Apollo astronauts even practiced celestial navigation on their missions to the Moon, in the event that a loss of communication meant they had to find their own way home.
"Redundancy improves readiness," notes Stayton. "If the Navy is able to add an additional layer of redundancy . . . by merely teaching a skill, then an opportunity exists to improve readiness throughout the fleet."
It's great to see an old method brought back to guide the modern tech-savvy military. Perhaps we should all take a cue from the U.S. Navy and keep those paper maps handy the next time we head out on our next GPS-guided adventure . . . just in case.