For the second time during his tenure, President Obama invited amateur astronomers to join him on the South Lawn for an evening of stargazing.
Some years ago, renowned comet-hunter David Levy fantasized about the astronomical qualifications that future U.S. leaders might need: "Maybe running for national office in the House of Representatives should require an active career observing variable stars or doing astrophotography. The Senate? How about some original contribution to astronomy being a maxim. And the presidency? A minimum of two comet discoveries should be the requirement."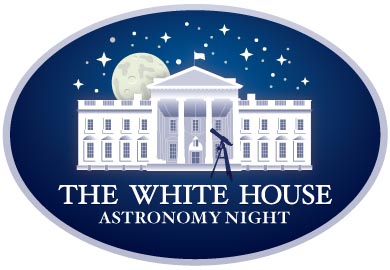 If only! But for now I'll settle for the fact that, on October 19th, President Obama hosted his second star party on the South Lawn of the White House. The event, as announced two months ago, brought together "scientists, engineers, and visionaries from astronomy and the space industry to share their experiences with students and teachers as they spend an evening stargazing."
The first White House Astronomy Night occurred in October 2009, in conjunction with the International Year of Astronomy. That night President Obama and his wife, Michelle, greeted about 150 middle-school students and gave special attention to 14-year-old Caroline Moore, who had discovered a supernova the previous year, and to high-school sophomore Lucas Bolyard, who discovered a pulsar in archived radio-telescope observations. Then the Obamas peered into the eyepiece of a carefully prepositioned telescope to view something cosmic. It was the Double Double in Lyra, an interesting object to be sure — but not what I would have chosen to show the leader of the Free World. (Jupiter, which was well up that night, comes to mind.)
Last night the target was a little more obvious and closer to home: a lovely first-quarter Moon — something observable despite downtown Washington's pervasive light pollution.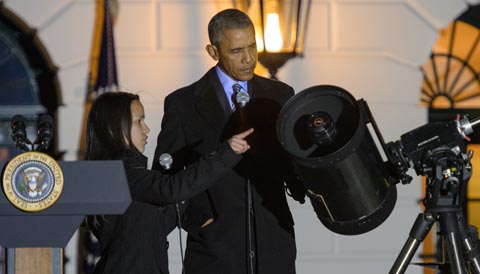 Before and during his brief stint at the eyepiece, the President got some pointers from Agatha Sofia Alvarez-Bareiro, a Paraguayan student attending Brooklyn International High School in New York City. The scope, by the way, was an 11-inch Celestron Schmidt-Cassegrain on an Orion Atlas Pro mount. I'll give the president credit: he commented that the telescope's optics had inverted the Moon's image (mirror-reversed it, actually).
Is he the first president to look through an astronomical telescope at the White House since Thomas Jefferson's term in 1801–09? Jefferson owned telescopes and made careful notes and timings during an annular eclipse observed from his home, Monticello, on September 11, 1811. But there's no record that he actually dabbled in stargazing while in office.
Or perhaps President Carter took some close-up peeks at the Moon and planets. His son Jeff had a telescope (reportedly an 8-inch Celestron) and did some stargazing from the White House roof. Others in the First Family joined him from time to time.
In any case, President Obama seemed to enjoy his time at the eyepiece. "I love astronomy night," the president said last night while addressing the crowd. "This is some of the most fun I have on this job."
Coordinated by the administration's Office of Science and Technology Policy, the event brought together numerous space-exploration luminaries, a dozen current and former astronauts, and hundreds of students. The intent, rather obvious but undeniably important, is to try coax more young Americans toward careers in STEM (science, technology, engineering, and mathematics). Some 80 other stargazing events nationwide coincided with the White House's effort.
Historical note: The U.S. Naval Observatory, whose observations began in 1842, now shares its grounds in Washington with the vice president's official residence. According to Geoff Chester, the USNO's public-affairs officer, several VPs — including Joe Biden — have visited the facility. But the only sitting presidents known to use the USNO's telescopes were Abraham Lincoln (a few times in 1862–65) and William Howard Taft, who viewed Halley's Comet in 1910. Chester adds that he's been trying to convince the Obama family to stop by for a visit — maybe what's needed is a bright comet before the end of 2016.
Watch a replay of the White House Astronomy Night below (the president's remarks start about 16½ minutes after the beginning):