The year's brightest comet is now on display in the pre-dawn sky this week and next. Here's how to find it.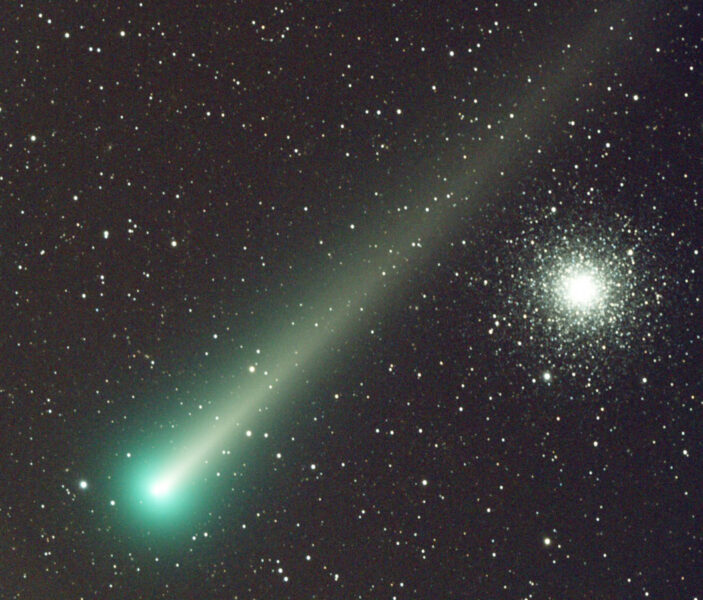 Go out the next clear night or you might miss it! Northern Hemisphere skywatchers have a limited window in which to view Comet Leonard (C/2021 A1), which will likely become the brightest comet of the year. The good news is that while time is short, Leonard is expected to reach peak brightness during the next two weeks. Currently a binocular object around magnitude 7, the comet could become as bright as 5th magnitude as it travels eastward across Boötes, Serpens, and Ophiuchus in the predawn sky.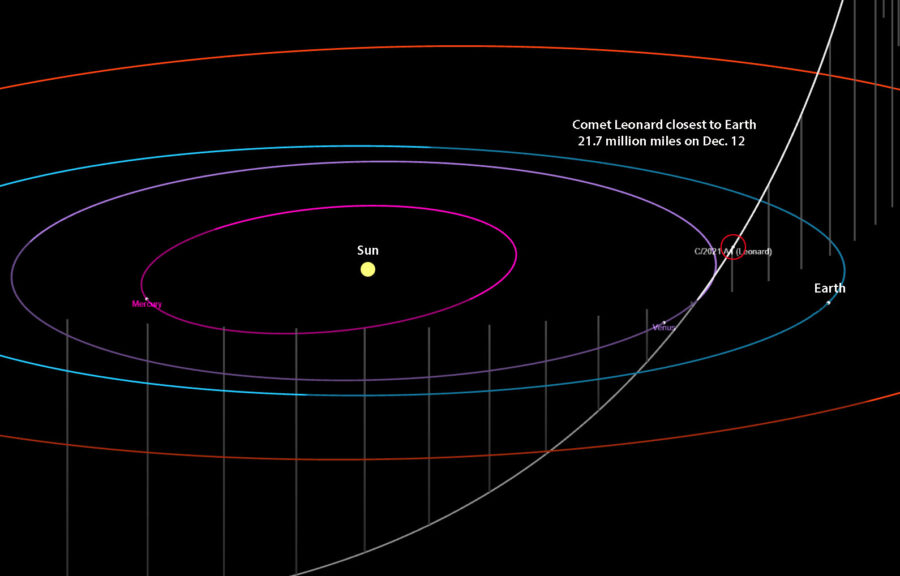 Senior research specialist Greg Leonard at the Mt. Lemmon Observatory near Tucson, Arizona, discovered the comet on January 3, 2021, when it was little more than a faint, distant speck. Since then, it's inched steadily closer to both the Sun and Earth and will reach perihelion — closest approach to the Sun — on January 3, 2022. Three weeks prior, on December 12th, it will pass nearest the Earth at a distance of 21.7 million miles (34.9 million km).
While Comet Leonard won't compare to the splendor of last July's Comet NEOWISE, it's likely to become faintly visible with the unaided eye from a dark sky within a few days of December 12th. That also happens to be the the date, give or take, that it will succumb to the glare of morning twilight low in the eastern sky. You'll see it best with a pair of binoculars or a telescope from locations with a dark eastern sky. Use this light pollution map to help you locate the best spot in your city or region. Fortunately, the Moon will be around new phase and not a concern.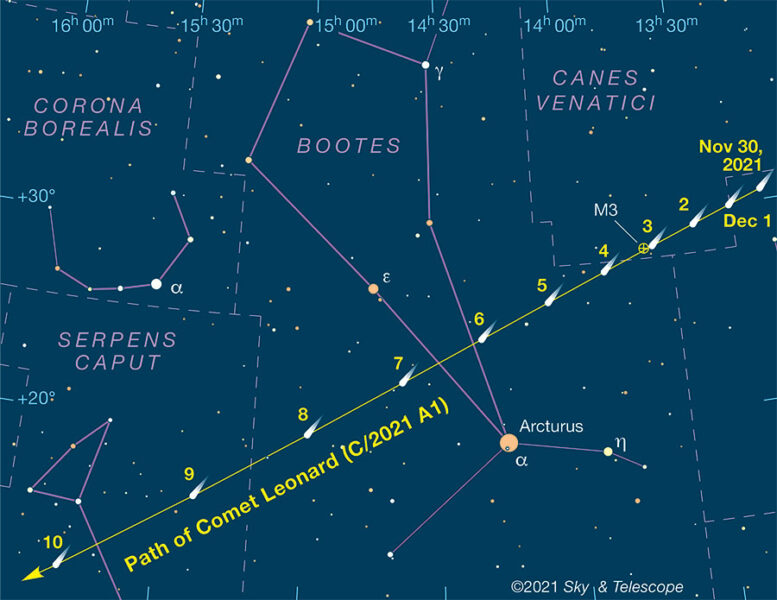 What will we see? Comets can be tricky to predict because they have a penchant for unpredictability. Composed of fragile honeycombs of ices both exotic and familiar, they sometimes break apart when nearing the Sun. Solar heating vaporizes the ice, creating pressures within and without the comet's body that can sometimes disrupt it, tearing it apart.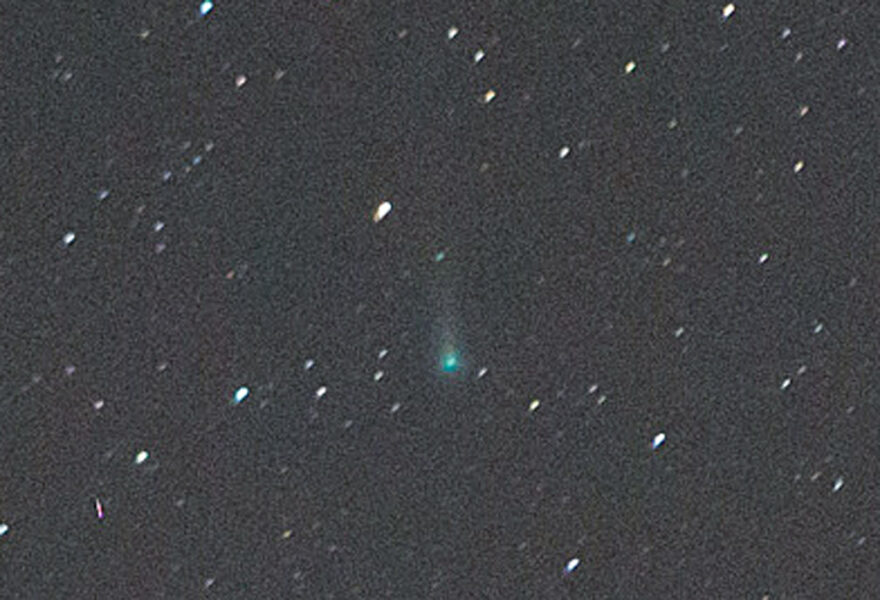 It's even possible that something of the sort is happening right now with Leonard — after steadily brightening, it has recently shown signs of plateauing. Assuming its nucleus hangs together, binoculars should reveal the coma as a soft patch of light, brighter toward the center, about half the Moon's apparent diameter. With averted vision you may glimpse a degree or more of faint tail pointing upward to the northwest.
Keep a close eye on Leonard on as many mornings as possible. Should the nucleus break apart due to solar heating or other forces, it could experience a modest outburst and then fade rapidly. Contrariwise, forward scattering from cometary dust, as discussed in this previous article, could temporarily pump up its brightness and guarantee a naked-eye view. We wait with bated lens and telescopes to see what Leonard's next move will be.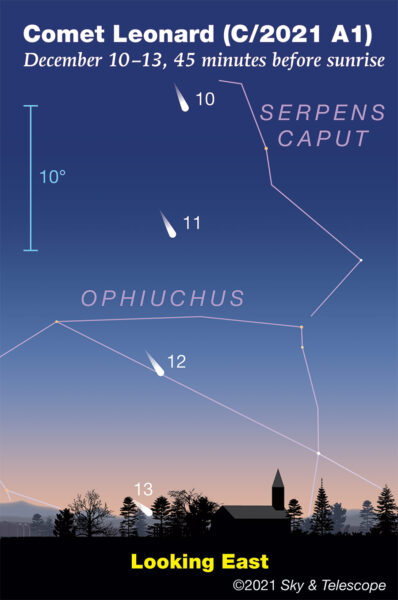 As the comet is now quickly approaching both the Earth and the Sun, it's speeding faster across the sky. For the next few mornings (through December 8th) you'll find it in the constellation Boötes, not far from the brilliant, orange giant Arcturus. Hold this star's hand, and you'll have an able guide to Leonard. On Saturday morning, December 4th, the comet stands 8.5° to the star's upper left and just 5° away on the 6th. Although the comet's altitude decreases each morning, this may be offset by its growing brightness. Peak magnitude around 4.5–5 is expected from about December 10th to December 15th.
Staring on around December 12th, Leonard swings into the evening sky and slowly distances itself from the Sun while also fading. This is when Southern Hemisphere observers will have the best view, while dusk will likely swallow the sight for northerners. I made my last Leonard observation in 10×50 binoculars and a 15-inch telescope during the November lunar eclipse. With the moon tucked deeply in shadow at mid-eclipse, I stole views of its fluffy coma, compact "fuzzy-star" nuclear region and lovely degree-long tail.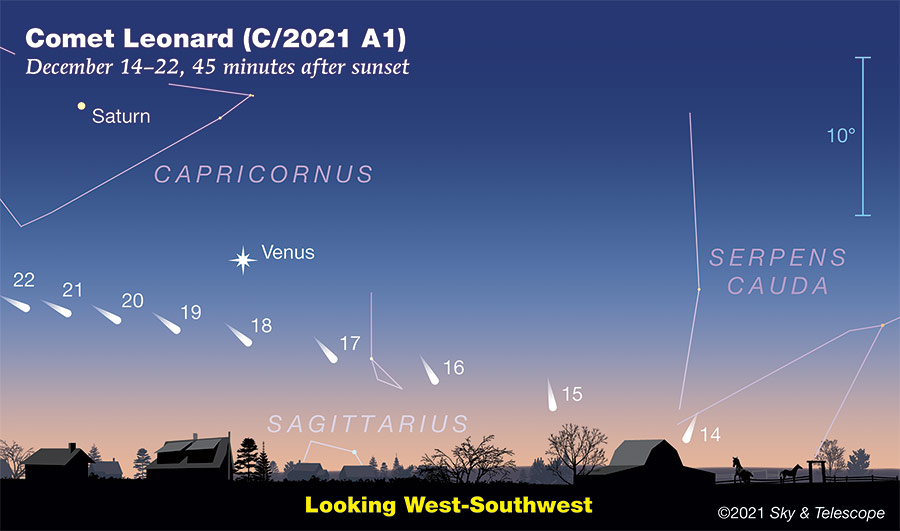 As I write this, I'm on a cruise ship speeding northeast at 15 knots an hour toward the centerline of the December 4th total solar eclipse. With luck, we'll arrive under clear skies near South Georgia Island off the coast of South America and, if successful, I hope to share photos of the singular event tomorrow right here.
I mention my location and purpose because from latitude -60° south Comet Leonard is burrowed deep below my horizon. And by the time I return home it will be lost in twilight glare. I encourage all of you fortunate enough to be in the right place to take advantage of your viewing opportunities. Find a dark location and seek this dusty phantom that has finally arrived at your door after a 35,000-year pilgrimage from the outer solar system. Oh and please say "hi!" for me.
---
---