Spotting Sirius in broad daylight may be easier than you think! Here's how to do it.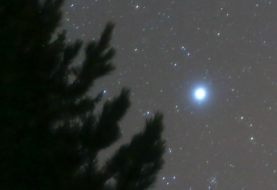 In late February, the waning Moon passed just north of Jupiter, making for a great opportunity to find the planet in the daytime sky. Although I couldn't see it with the naked eye at the time, I easily found it in 10×50 binoculars a couple degrees south of the Moon more than an hour after sunrise.
That got me thinking about Sirius. I'd always heard it could be seen in the daytime sky if you knew exactly where to look and picked the opportune time. Quadrature is best, when Sirius stands on the meridian at sunrise or sunset. Morning quadrature occurs in early October and evening quadrature in late March. In other words, one of the best opportunities is happening right now.
Next, I chatted online with British observer Colin Henshaw who sent me a link to his British Astronomical Association paper describing his first observations of Sirius in October 1981 and March 1982, made under ideal conditions from Zimbabwe. Ideal because they were made at both quadratures with the star passing near the zenith. Morning attempts at seeing Sirius are more advantageous because you have the benefit of finding the star in a dark sky and following it past sunrise. It's trickier in the evening because you have to fish the star from invisibility out of a bright sky.
Duluth, Minnesota, (my location) at +47° north latitude is no Zimbabwe (–19° south)! Sirius culminates at an altitude of 26°, which means atmospheric extinction reduces its brightness by half a magnitude from –1.5 to –1.0. At least for me, it might make more sense to begin my attempt before quadrature when Sirius stood further from the Sun in the southeastern sky. I'd lose a few degrees of altitude but gain a slightly darker blue sky.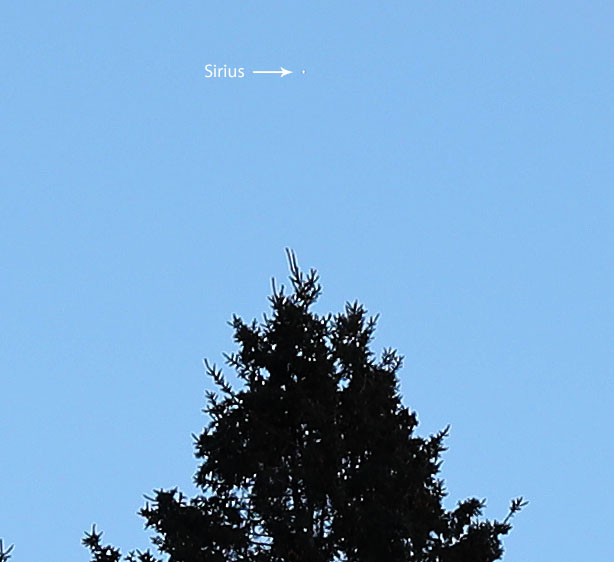 On March 3rd, the star was in just the right spot to make an attempt before sunset. I knew Sirius's altitude and exact direction beforehand and pointed 10×50 binoculars at the location. After less than a half-minute of searching, a perfectly white spark of light jumped out of the blue — Sirius! And it was still 20 minutes before sunset. I lined it up directly over a nearby spruce tree so I would know exactly where to look and stared. And stared. Finally, two minutes before sundown and just in the nick of time, bingo! My first naked-eye star in daylight.
If I can see it, you can, too, especially if you live further south where Sirius stands higher in the sky. Now through the end of March is the best time for mid-northern latitude observers to attempt this challenge because the star reaches evening quadrature about March 27th. Thereafter, it moves ever closer toward the Sun and into brighter sky.
While not critical, it really helps to have a planetarium-style program (or phone app — links below) at your fingertips. I use Stellarium, a free program for both Mac and PC. Download and open, then select your city from a list of locations. Find your sunset time with this sunrise-sunset calculator and key that time and date into Stellarium.
To pinpoint Sirius, you'll need two numbers: its altitude and azimuth about 10 minutes before sunset (or whichever time you choose). You can either click on the star and read out those details in the legend at the upper left of your screen or click the Azimuthal Grid icon (looks like a bullseye) in the row of shortcuts at the bottom of the screen. A grid will appear with azimuths and altitudes like the one below. I also used the Compass Marks feature (gradation icon) in that same row of shortcuts. Press it and the horizon will be marked off in individual degrees of azimuth.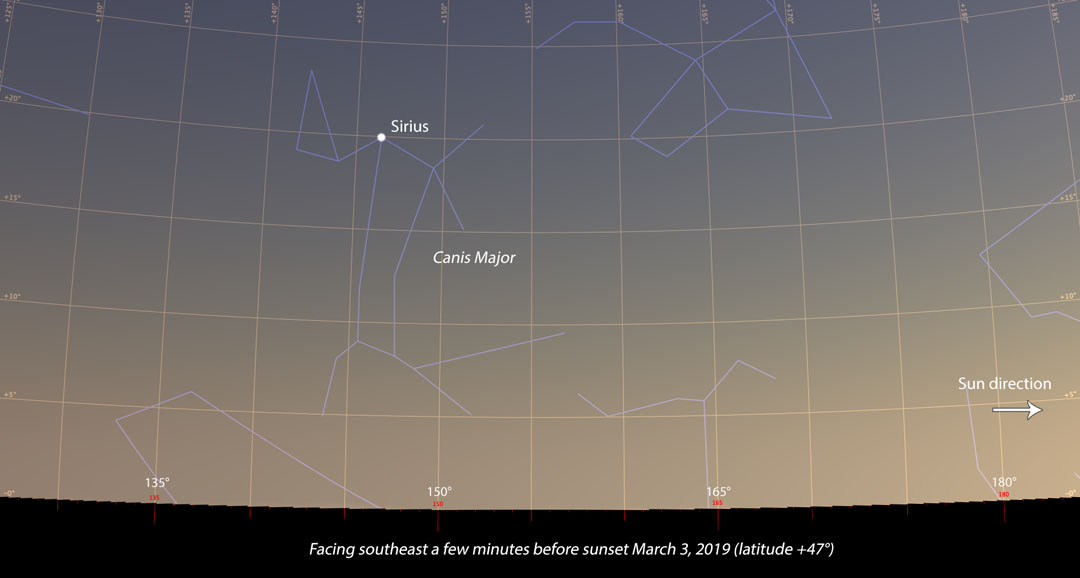 Now that you know Sirius's precise direction and altitude, grab a compass and binoculars and head outside to a spot with a good view to the south-southeast. It helps to pick a place where there's something in the foreground you can use to line up the star, otherwise you'll literally be lost in the blue. I used a nearby tree and stood where Sirius shone directly above it. You also could use a building, a power pole, or roof line.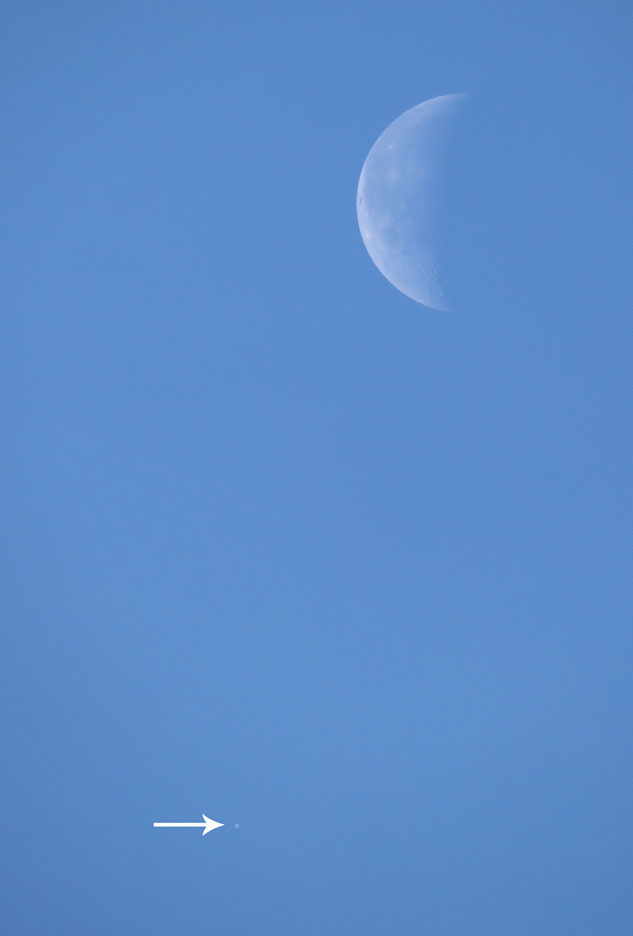 Two final details. True north varies from compass or magnetic north by several degrees depending upon your location. The difference is called magnetic declination. Mine is only about 1°, so I ignored it, but yours may be larger. You can check your magnetic declination here and factor it in if needed. Also, make sure your binoculars are pre-focused at infinity. If they're not, Sirius will be out of focus and much more difficult to spot. Good news — the crescent Moon returns to view starting about March 8th.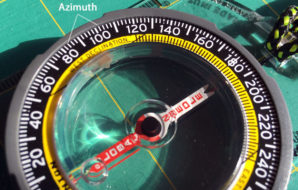 Focus on the Moon, a cloud, or on the stars the night before, and you'll be golden. Then point the compass north and find the azimuth you determined for Sirius on the outer ring. That's the exact direction to look for the star. Use your fist or fingers to estimate the altitude you calculated for the Sirius. Ball your fist (vertically) and extend it at arm's length with the bottom touching the horizon and measure upwards. One fist equals 10°, an extended little finger 1°.
I went out about 20 minutes before sunset. Once you find Sirius in binoculars, align it with your reference point, noting its height and relation to it. Then lower the binoculars and give it a go with just your eyes. I had no luck seeing even a hint of the star until several minutes before sundown. At the two minute mark, it quickly popped in and out of view, but I was unable to hold it steady. One minute before sunset, I could briefly hold the star steady. At the moment of sunset, Sirius was obvious. So much happened in the final three minutes, the experience practically left me breathless.
If you're older, you'll have trouble with pesky floaters, the dark spots inside your eyeball that float downward when looking up at the sky. Against the featureless blue, they can be annoying. I tipped my head left and right a few times to clear my vision while searching for the star. I also looked away and relaxed my eyes by changing their focus. But the best technique was simply to find my inner calm and relax. Who knew one had to bring so much to the table to see two stars in the sky at one time?
Good luck finding Sirius! I'd love to hear your report, positive or negative.
Sirius update: I recently wrote about the occultation of Sirius by the asteroid 4388 Jürgenstock on February 18-19. Like you, I was eager to hear of any positive results, but so far only a few negative results were recorded. If you hear of anyone who witnessed it please let us know in the comments area.