Mira, an easy-to-observe pulsating variable star, reaches peak brightness this month. Don't be shy, come look her in the eye.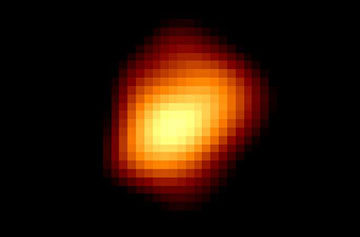 Mira, where have you been all these months? The sky just isn't complete without your candlelight glow. Much of the year, this famed variable star goes missing, too faint to see without binoculars or a small telescope. Then, in the span of just a few weeks, it leaps from invisible to obvious with startling suddenness.
In the first week of December 2017 Mira was undetectable with the naked eye from my observing spot. But just two weeks later, the star shone at magnitude 4.5. Now, in January, it's a ripe peach of magnitude 3.5. Based on brightness estimates submitted to the American Association of Variable Star Observers (AAVSO), Mira is currently at peak light.
The star's light varies cyclically over 333 days (~11 months) from about magnitude 10 at minimum to 3rd magnitude at maximum. Not all maxima are equal, though. At times Mira outdoes itself as it did in 2011, when it rivaled Polaris in brightness.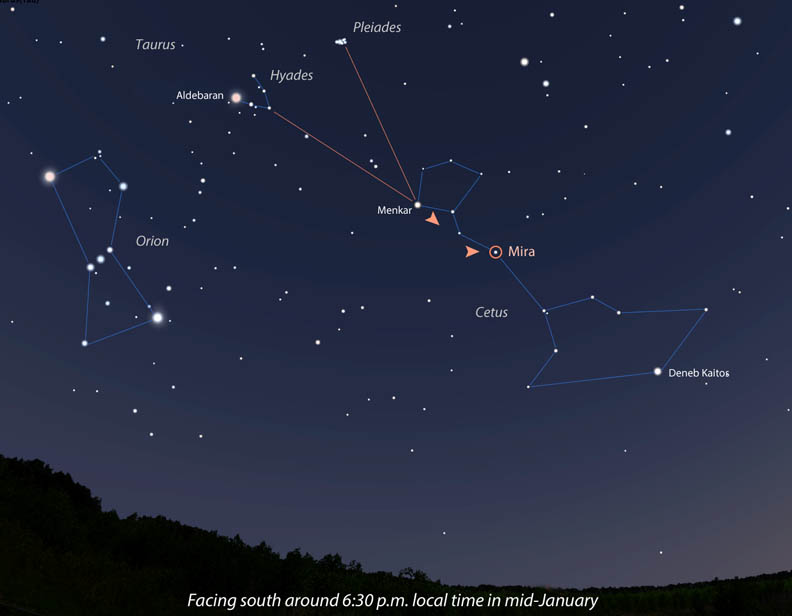 This season, it's closer to its historical maximum and easy to spot in the head of Cetus, the Whale. The Hyades point to 2nd-magnitude Menkar with Mira a little more than a fist farther to the southwest.
Mira is the prototype of the Mira-type variables, red giant stars transitioning from an active life of burning nuclear fuel to falling asleep in front of the TV, figuratively speaking. If we could peer deep inside Mira, we'd find a inert core of carbon and oxygen "ash" leftover from the fusion of helium. Miras aren't massive enough to fuse their ash into more complex elements, so the C-O core contracts under the force of gravity and ultimately evolves into a hot, superdense white dwarf.

Meanwhile, helium fusion fires up in a shell just outside the core and hydrogen fusion in another shell around that one like a layered chocolate ball. The outpouring of heat from all this internal activity causes the star's outer layers to expand outward, cool, and then fall back toward the core, where they're reheated and a new cycle of expansion begins. Mira's steady rhythm resembles the relaxed breathing of someone in deep sleep. Very deep sleep — one inhale, an exhale, and a second inhale take all of 331 days. Other Mira-type stars "breathe" or pulsate with periods that range from about 80 to 1,000 days.
The details of the pulsation mechanism get technical but they're basically caused by the changing opacity — the ability of a matter to obstruct the flow of energy by absorption —  of ionized hydrogen in a layer below the star's surface. The hydrogen acts as a valve that traps and releases the star's internal heat with each pulse. More information can be found here.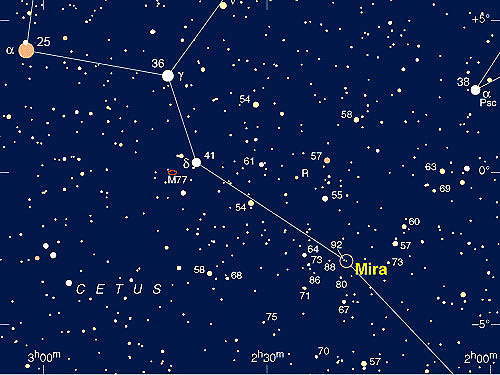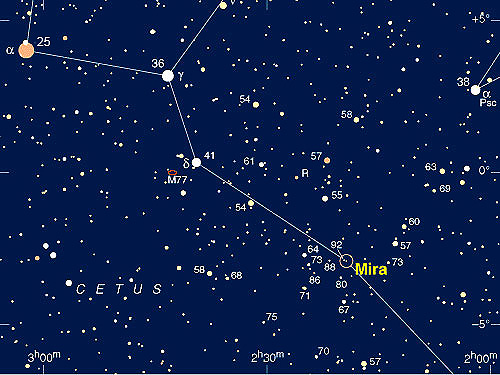 Pulsations cause a change in Mira's light that generally follow a regular pattern: a sharp rise to maximum followed by a slower decline to minimum. Mira-type variables are brightest around the time they're smallest and faintest when most distended. You can estimate Mira's brightness with the chart above or this one. The star will fade through winter but remain visible to the naked eye or with binoculars up to solar conjunction. When it returns to view in the morning sky in mid-July, Mira will still be fading toward its September minimum. It will leap back to max in December. Since its period is about one month shy of a year, the time of maximum slips backward about a month each year. In 2020, maximum will occur in November.
Pulsations and strong stellar winds can blow off significant amounts of Mira's atmosphere. Get a good look at the star now before its final act. Sometime in the next few thousand years, it will shed its billowy envelope like a monarch leaving the chrysalis. The now Earth-sized, white-dwarf core will be exposed to view, its matter so dense a teaspoon of it will weigh as much as a Chevy Suburban. White dwarfs sizzle around 180,000°F (100,000°C), making them fantastic emitters of UV light. It's this light that will ultimately transform the star's fleeing atmosphere into a fluorescent butterfly. On that distant day, Mira will become a planetary nebula.

If you have a spectroscope, Mira displays a beautiful spectrum with lots of absorption lines. I use one from Rainbow Optics on my 10-inch scope. Stars like Sirius show a rainbow spectrum crossed by several thin, dark lines, each representing an energy state of the hydrogen atoms in the star's atmosphere. Mira is a much cooler star, cool enough for molecules to form in its atmosphere. As they absorb the light radiating from the brighter photosphere, they show as prominent dark bands in its spectrum. The most obvious absorption comes from titanium oxide, shuttering the spectrum like a set of Venetian blinds. With Mira near maximum light, this is the best time to view (or photograph) these amazing bands. Titanium oxide is excellent at absorbing sunlight, too, the reason you'll find it used in sunscreens!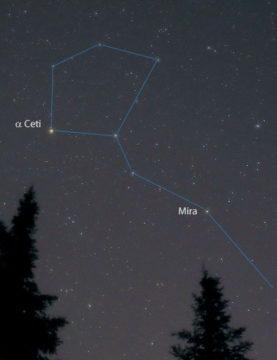 Mira was first recorded as a nova by Dutch amateur astronomer David Fabricius in August 1596. He witnessed its reappearance in February 1609, but apparently didn't study it further. Johann Holwarda rediscovered the star in 1638 and determined its period to be 11 months. A year later, Johannes Hevelius got his first look and decided on the name Mira, Latin for "The Wonderful."
For more than 420 years, generations of amateur and professionals astronomers have grooved to its rhythm. You can, too.