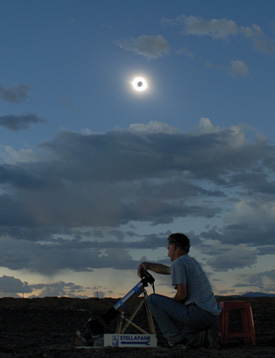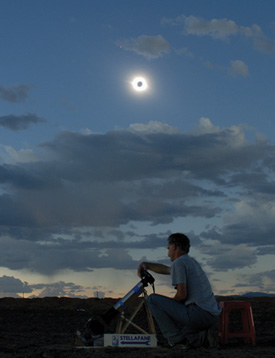 So you think you're prepared for your eclipse viewing experience. You've picked where you're watching from, you've purchased your solar eclipse glasses, and you know not to look through binoculars or a telescope unless it has a filter on the end of it.
But may I submit, dear reader, that you might have forgotten to pack a few things:
Toilet paper — There are probably going to be a LOT of people at your venue, especially if you're in the path of totality. And while your venue hopefully has procured additional… facilities… anyone who has been to a music festival will tell you that lack of toilet paper can be an ISSUE.
Hand Sanitizer — On that note, while the venue has hopefully thought about hand-washing stations, the last thing you want to deal with is the horrible feeling of exiting a port-a-potty only to find you have no way of washing your hands.
Printed directions or an honest-to-goodness GPS device — The cellular networks, especially in the traditionally less trafficked areas, are going to be overtaxed. Don't get lost on your journey to your venue — plan for low (or no) signal, and have printed directions and/or a map to make sure you know where you are and where you're going.
Gas — If you're headed to a rural area, keep your gas tank as full as possible. You never know when the next gas stop will be, so better to fill up whenever you can, especially since traffic will probably make the journey longer than you printed directions estimate. Consider bringing and filling a gas can as well — but make sure it's designed to be a gas can, don't use a random container!
Bug spray — If you're going to be hanging out in field, you will probably be visited by some six-legged friends and you might not want a love bite.
An external charger — If you forget to turn off your phone, or if you're determined to wait the 2 hours it may take to send a text, you'll be happy to have a charger that doesn't require being connected to the electrical grid.
Sunscreen — It's going to be August 21 — depending on where you'll be, it may be less hot, but chances are it's going to be HOT. And you'll be outside. For an extended period of time. In (hopefully) the sun. PRO TIP: Wear a hat as well. And bring a squeeze breeze — one of those squirt bottles that has a battery-operated fan attached. For extra refreshment, put ice cubes in the water.
WATER — The average human is supposed to drink 64 ounces of water a day according to the Mayo Clinic. If there's no running water at your venue, you're not going to want to depend on there being someone selling water (although, business idea, bring a case of water and sell it for $5/bottle). Bring enough water for double the length of time you think you'll be at the venue. Everyone will want to be at the venue and leave the venue around the same time, so traffic in and out will probably be TERRIBLE. Be prepared for that, and plan accordingly.
Unplugged entertainment — The eclipse is going to be an awesome opportunity to meet people from across the country and share an amazing experience. In the lead up to the eclipse, make friends by inviting them to join you in playing a simple card or board game.
Umbrella/rain gear — Okay, knock on wood, you won't need to use this DURING the eclipse, but, hear me out, you should probably be prepared for rain. And if you get a hot, sunny day with not a cloud in sight, you can use an umbrella as a sun shelter. Or as a way to demonstrate how eclipses work to an enraptured audience.
For more eclipse advice, check out our eclipse homepage, our FREE eBook on eclipse photography, and Fred Espenak's general eclipse day packing list and photography checklist.