The Moon's umbral shadow crossed the continental United States on August 21, 2017, creating a coast-to-coast total solar eclipse visible to millions. We have stories from across the path of totality from our editors and contributors, an eclipse reaction video, and beautiful images from reader submissions to our gallery. This is one celestial event that people will be talking about for years to come.
We hope you found the resources here valuable in your preparation for this grand celestial spectacle.
How to View the 2017 Eclipse
Four Things to Know About the 2017 Solar Eclipse
Find out the basic when, where, and why of the next total solar eclipse.
What to Look for & When During a Total Solar Eclipse
A complete guide to the astronomical — and Earthbound phenomena — to look for during the total solar eclipse on August 21st.
What Will the Solar Corona Look Like During Totality?
The total solar eclipse is less than three weeks away, but researchers already have a good indication of how the Sun's corona will look when it comes into view.
Total Solar Eclipse Sky Maps
If you're in the path of totality, you'll be gazing in awe during the total phase of the eclipse. But spare a few moments to glance around the dark sky as the stars and planets come out!
10 Things You Might Forget You Need on Eclipse Day
Trip planned? Check. Eclipse viewers? Check. You're all set for eclipse day, but check this list to make sure you have all the essential items — including some you might not have known you need!
How to Look At The Sun Safely
This observing guide to solar eclipses — partial and total alike — covers direct-viewing with solar-viewing filters, projected view, or viewing through a filter-equipped telescope.
A Caution on Solar Viewers
Due to reports of potentially unsafe eclipse viewers flooding the market, the American Astronomical Society (AAS) has issued safety advice to the public, including a list of reputable vendors.
Hows and Whys of Solar Eclipses
Take 10 minutes with this article and you'll understand why and how we see eclipses.
Solar Finders: Safely Target the Sun
Solar finders help you point out the obvious (the Sun) without damaging your eyes or equipment. Here are some easy homemade solutions for you to try with your telescope.
Experiencing the Total Solar Eclipse
Advice for first-time eclipse-watchers: if this is your first experience of totality, you may want to put the camera away and just experience the celestial spectacle.

(See Spanish versions of the videos.)
Planning for the 2017 Total Solar Eclipse
Local Circumstances Calculator & Eclipse Simulator
What kind of eclipse will you see from your planned location? Check the key times of the eclipse for any location on the globe using this interactive map, plus simulate the appearance of the eclipse.
How to Read the Weather the Day Before the Eclipse
Weather will play a crucial role in planning your eclipse day. Meteorologist Jay Anderson shares his tips for reading satellite images and forecast models to make the most of the day. Also from Jay Anderson, Using Weather Models to Predict Cloud Cover.
Top 10 Places to View the Total Solar Eclipse
The top 10 places to view the eclipse from a meteorologist's point of view.
Solar Eclipse Apps You'll Need on Eclipse Day
Download these apps before you leave and maximize your eclipse experience.
Eclipse Bulletin: Total Solar Eclipse of August 21, 2017
This ultimate eclipse guide is indispensable for planning for the eclipse — find detailed maps all along totality, detailed observing guides, tips for astrophotographers, and much more!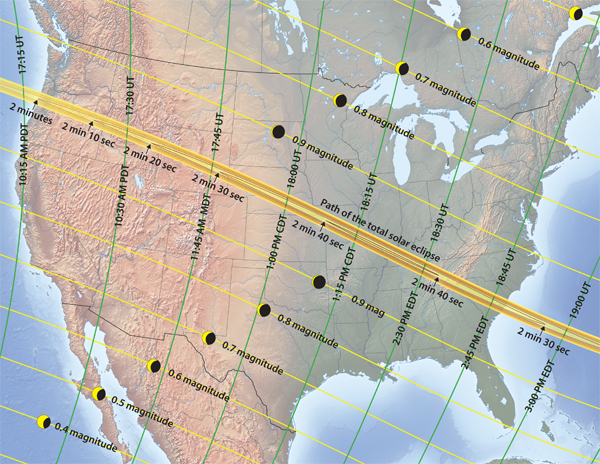 Also check out . . .
NASA's Interactive Map of the 2017 Eclipse
Xavier Jubier's Interactive Google Map of the 2017 Eclipse
Weather for America's Eclipse by Jay Anderson and Jennifer West
Photographing the Eclipse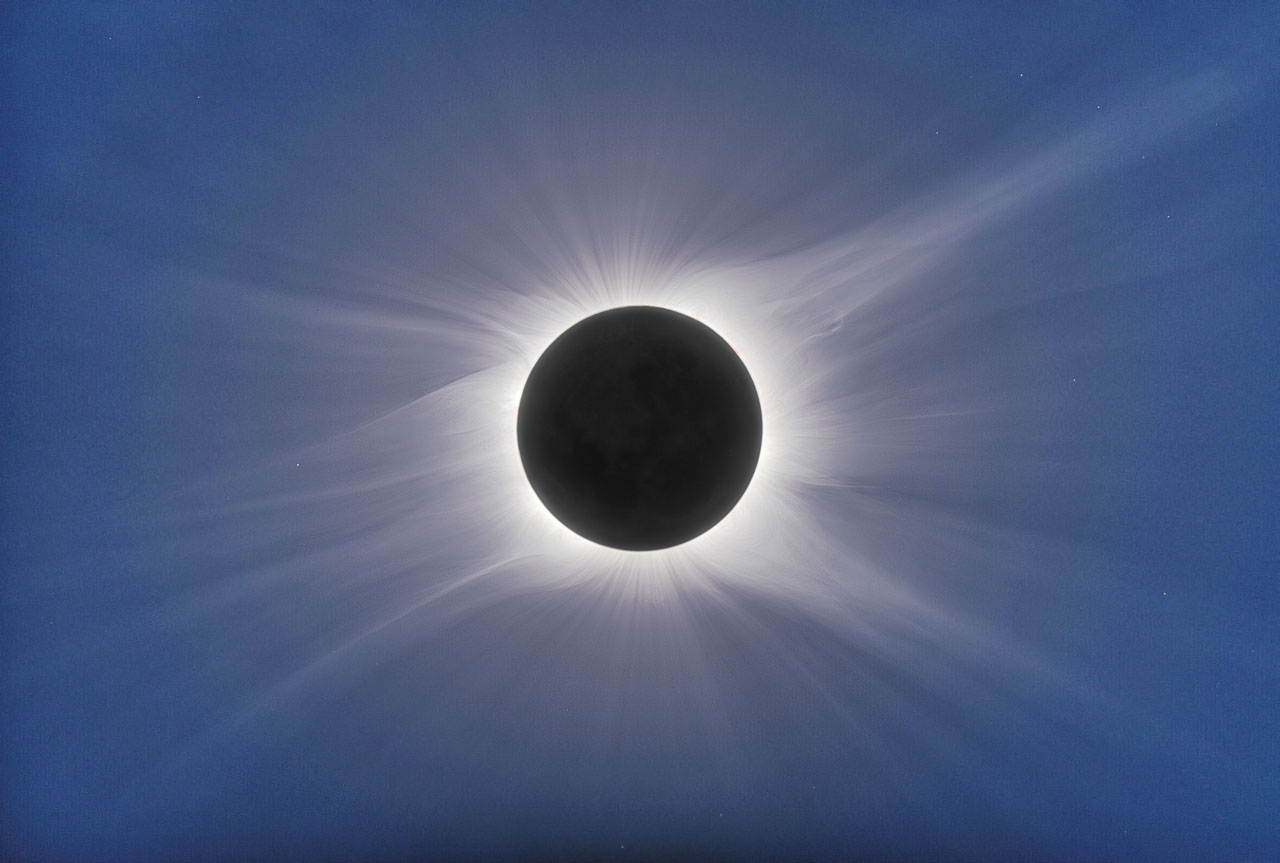 Pictures of Solar Eclipses
S&T's readers often travel great distances to stand in the Moon's shadow and record the otherworldly spectacle taking place in the sky above them. Browse through their amazing images — then capture some of your own on August 21, 2017.
Rethinking Solar Eclipse Photography
When limited time and a powerful on-shore wind scrapped the author's eclipse photography plans, he simply propped his telescope on a rock wall and hit the shutter button — with stunning results.
Improving Your Eclipse Photography
If you want the best results from your eclipse photos, you'll need to do some processing. Equipment Editor Sean Walker walks us through processing photos from the 2010 Easter Island eclipse.
Eclipse Photography: Framing the Eclipse
There are several ways to approach eclipse photography to produce unique and memorable compositions. Here are a few suggestions.
Eclipse Photography Checklist
Fred Espenak shares his checklist — make sure you have everything you need to photograph the eclipse!
Online Eclipse Photography Tutorials
Learn from Fred Espenak — Mr. Eclipse himself — the tips and tricks you'll need to take the best photos on August 21st.
Tips for Imaging a Solar Eclipse
Find seven simple tips for capturing a solar eclipse — plus learn how to shoot a wide-angle eclipse sequence.
Even More Tips for Imaging a Solar Eclipse
With a bit of planning and effort, almost anyone can capture the upcoming first-in-a-lifetime celestial show using only modest equipment.
Smartphone Eclipse Photography
Planning on photographing the eclipse with your smartphone? Here are some suggestions to help make the most of it.
FREE Eclipse Photography eBook
Download our free eclipse photography ebook full of top tips for photographing the solar eclipse.
Find Eclipse-Day Events and Places to Stay
There are tons of eclipse-focused events in national parks, observatories, and amateur astronomers' backyards across the nation! Be sure to check all the event calendars listed below, as many events are not cross-listed across all of the calendars.
If you're looking for a place to stay, browse our listings and RV guide for campsites and rentals near the path of totality.
Sky & Telescope's Event Calendar & our Eclipse Events Roundup
Night Sky Network's Event Calendar
American Astronomical Society's Events & Activities Map
Hotels Sold Out? Camping Could Be the Answer
Private campsites and RV parks within the long path of totality may still be available.
2017 Solar Eclipse Venues & Real Estate Eclipse Rentals
Do you want to travel closer to totality? Browse the listings of campsites and rooms for rent, available on S&T's MarketPlace
RV Guide to the 2017 Total Solar Eclipse
Hotels are filling up, so RVing your way to totality might be your best bet. We've provided a guide to some of the best RV parks and campgrounds along the eclipse path.
Scrollable Map of Total Solar Eclipse Events
Easily scroll and zoom in on this map of events happening across the US for the eclipse.
Education and Public Outreach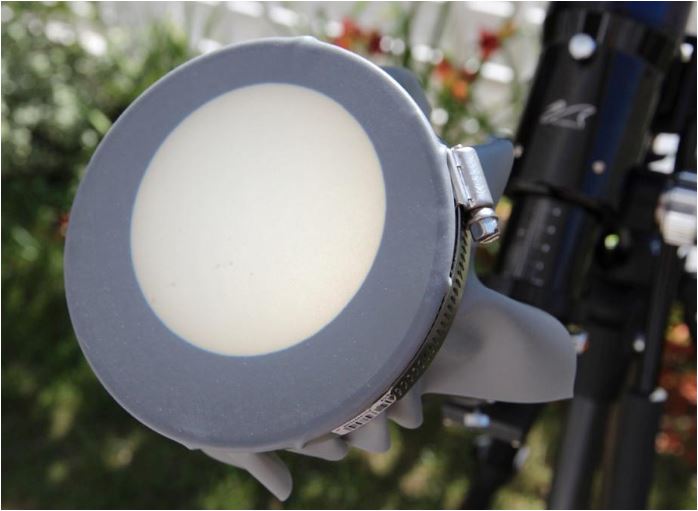 How to Make a Sun Funnel
Download a PDF with instructions on making a Sun funnel to share solar views with a large crowd.
A Compact, Lightweight Solar Projection Viewer
Learn how to make a travel-friendly solar projection viewer for your telescope — just in time for the eclipse!
STAR Library Network: Eclipse Resources
Find out how to get free eclipse glasses to share with the public, plus find answers to frequently asked questions, watch videos, and get instructions on making a pinhole camera.
An Observer's Guide to Viewing the Eclipse
An 8-page PDF insert aimed toward science teachers.
Resources from the Astronomical Society of the Pacific
Includes links to Astronomy Beat articles on the eclipse and eclipse-chasing, as well as Universe in the Classroom articles on teaching how and why eclipses happen.
Eclipse Glasses Discounts for Large Groups
This link offers discounts off of eclipse glasses for teachers and others planning large-group outreach activities.
How to Build on the Solar Eclipse Experience
Eclipse-related outreach activities will abound this August, but how do we best capitalize on this rare celestial event after it happens?
A Solar Eclipse Activity for a Sunny Day
A fun activity to do with kids (or without) on a sunny day this summer to learn more about how eclipses work.
Educators Plan for America's 2017 Solar Eclipse
Science educators gathered to determine how they can make the most use out of the 2017 eclipse. Find out more about the community's efforts.
Total Solar Eclipse Projects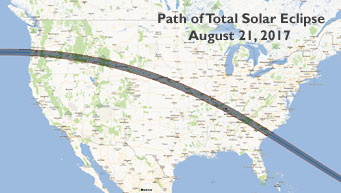 Citizen Science for the Great American Solar Eclipse
Solar scientists hope an armada of amateur astrophotographers can record the inner corona's evolution throughout the 2017 total solar eclipse.
"Observe" August's Eclipse with Your AM Radio
When the Moon's shadow glides across the U.S. on August 21st, you'll have have a chance to hear the eclipse as it happens.
My Do-It-Yourself Relativity Test
Amateur astronomers can, with some effort, prove that Einstein really was right — try it yourself during the 2017 eclipse.
The Eclipse Megamovie Project
Join a citizen-science campaign on August 21st to record 90 minutes of the Sun's changing corona.
Further Resources
For even more eclipse-related resources, visit our 2017 Eclipse Resources page, our answers to your questions, the Astronomical Society of the Pacific's Resource Guide, American Astronomical Society's Eclipse Portal, or the official NASA website.