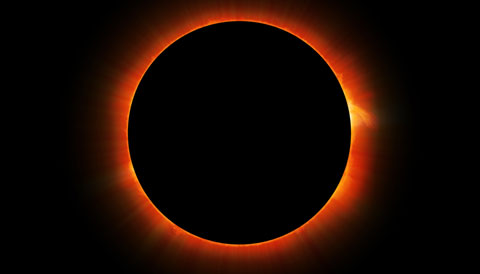 Monday, August 21, 2017, is a day that's probably already on the calendar of every amateur astronomer. It's the day the Moon will completely eclipse the Sun, its shadow crossing the continental U.S. for the first time since 1979. The path of 2017 total solar eclipse arcs across 14 U.S. states, and hotel spaces are already filling up. Taking an RV can provide a good alternative.
If you're planning on RVing your way to totality, be aware — you'll need to do some planning well in advance! Eclipse chasers from all over the world will be arriving on the eclipse path in the days and weeks before and after the main event. So book plane tickets and rent RVs and campsites well in advance. Follow this RV guide to the 2017 total solar eclipse to plan for the big event.

Find other resources for the eclipse, such as weather forecasts, events, and local circumstances: Guide to the 2017 Total Solar Eclipse.
Best Campgrounds for Viewing the 2017 Total Solar Eclipse
I've chosen the best campgrounds within the states in the path of the moon's complete shadow based on either the number of cloud-free days annually or proximity to highways so that you can move easily if clouds threaten your view of the Sun.
For local eclipse times at any of these locations, see eclipse2017.org.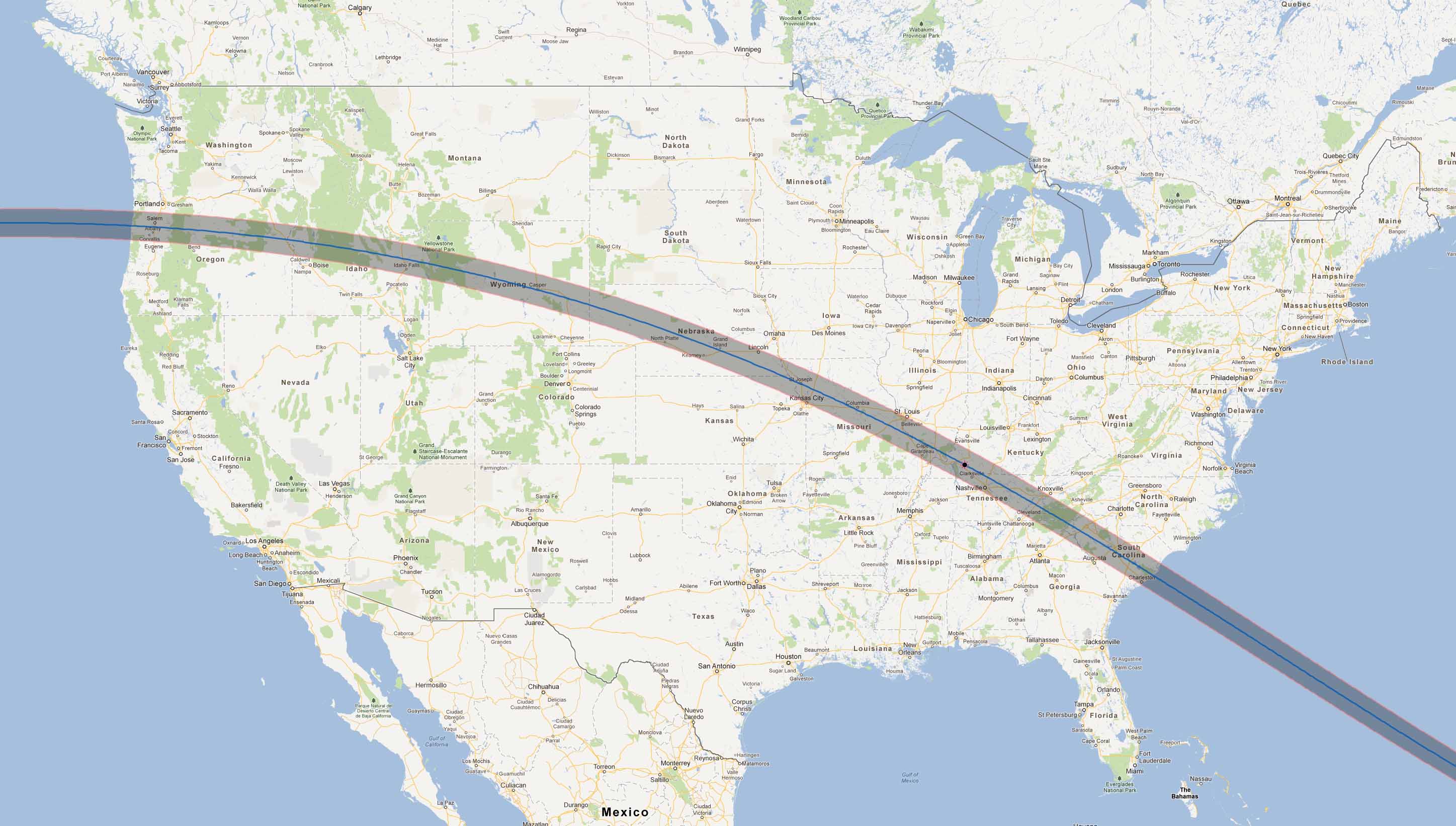 Oregon
The Oregon coast tends to be cloudy, so if you're hoping to be among the first to experience the eclipse, Central Oregon (just east of the Cascade Mountains) is your best bet for a cloud-free experience. The town of Madras will offer a unique experience for eclipse watchers: the Oregon SolarFest at Jefferson County Fairgrounds. They're booking RV campsites both at the fairgrounds and at "Solar City," a farm field exactly on the centerline of the path of totality near Madras.
Another public event planned for 2017 Eclipse Day that includes camping will be held at the Oregon State Fairgrounds in Salem: the Oregon Museum of Science and Industry will host the 2017 Eclipse Viewing Party. Tickets are on sale now and camping information will be available soon.
Idaho / Wyoming
Brigham Young University – Idaho in Rexburg, Idaho is welcoming eclipse watchers to reserve free viewing spots on campus for the event. If you arrive early enough to grab a parking spot, you can park your RV on campus as well.
Another good option for local RV camping during the eclipse is at Beaver Dick Park, run by the county. Those spots are first-come, first-served as well, and there's a five-day limit on camping there.
While the path of totality barely brushes the southern border of Montana, you're better off camping in Idaho or Wyoming. In Wyoming, the town of Casper lies in the optimal viewing path, with amateur astronomers from all around the globe flocking there next August for the yearly Astronomy League Conference. RV parks abound around Casper. A couple of good bets for superb viewing are Lodge Pole Campground on the city's south side and Fort Casper Campground along the North Platte River.
You'll also see the eclipse clearly from the southern end of Grand Teton National Park, especially in the Jackson, Wyoming area. There are too many campgrounds to name in the Jackson/Teton Village area, but here are a few to contact:
Hoback, Granite Creek or Kozy Campground – Bridger Teton National Forest (no reservations, so you'll have to arrive early)
Jackson Hole/Snake River KOA
Gros Ventre Campground, Jackson
Nebraska / Kansas / Missouri / Illinois
The Sandhills region of west central Nebraska will receive some of the longest viewing times of the entire solar eclipse. Towns around North Platte, including Stapleton and Tryon, are gearing up to welcome thousands of eclipse viewers next August. You'll even discover private landowners offering RV space for the event!
Easily accessible on I-80, this vast, isolated area of grass-covered sand dunes promises unfettered views. Start your planning by contacting these RV campgrounds for reservations: Lake Maloney State Recreation Area or Hidden Valley Campground in Arnold, Nebraska. You can find plenty more eclipse related info at these two websites: Eclipse on the Range and 2017 Nebraska Eclipse.
Like Montana, Iowa has just a whisper of the state in the path of totality. Travel to adjoining Missouri or Kansas for views of a lifetime. In Kansas, the towns of Atchison, Fairview and Sabetha near the Missouri border will enjoy more than two minutes of totality. Campgrounds in the area include Lewis & Clark Village State Park, just east across the Missouri state line from Atchison, or Ron's RV Park on Bean Lake at Rushton, Missouri
Following the eclipse path east into Illinois, you'll find yourself surrounded by throngs of fellow enthusiasts near Carbondale, near the point of the eclipse's greatest duration. Set up camp at Lake Murphysboro State Park, a few minutes west of Carbondale, or Little Grassy Lake Campground, also within 15 miles of the city. By the way, Southern Illinois University-Carbondale will be hosting an eclipse viewing at their football stadium in addition to two days of related events.
Kentucky and Tennessee
According to KYSolarEclipse.com, Hopkinsville is the best place in the state to view the 2017 solar eclipse, but several other good viewing spots lie nearby. Paducah, Bowling Green, and Russellville can also deliver a memorable view, and Land Between the Lakes National Recreation Area offers RV campers the chance to experience the eclipse in an enormous wilderness area straight west of Hopkinsville. Four developed campgrounds there will take reservations up to six months in advance, so add an alert to your February calendar.
If you prefer a setting closer to civilization for your eclipse experience, take your RV toward Nashville, also in the path of totality. RV camping at J. Percy Priest Lake's Seven Points Campground will situate you between Nashville and Lebanon, Tennessee, where the center point of the eclipse will cross. The town of Clarksville, Tennessee will also be under the moon's shadow, with Clarksville RV Park in a natural setting outside the city limits.
Georgia, North and South Carolina
With less than 15 miles of northeast Georgia crossed by the path of totality, you'll have to pick your campsite and viewing area carefully. Focus on the Blue Ridge Mountain towns of Clayton, Dillard, and Sky Valley. Here are some campgrounds to consider:
River Vista Mountain Village in Dillard, Georgia
Cross Creek Campground near Clayton, Georgia
Tate Branch Campground in the Chattahoochee National Forest
You should also know that North Carolina's eclipse path is brief but spectacular, crossing the far west side of Great Smoky Mountains National Park. The town of Franklin, North Carolina is slated to have more than two minutes of total eclipse time, so Mi Mountain Campground north of town on US-23 is a good bet for August 21st.
If you choose to camp in South Carolina next August, you'll be chasing the last views of the total solar eclipse as it leaves the U.S. From Abbeville to Woodford, there's the chance to experience the full eclipse for two minutes or more, with the city of Columbia, South Carolina, right in the heart of the action. Camp at Lake Murray's Siesta Cove near Columbia and enjoy the lake as you wait for the eclipse. If you're coming from North Carolina, you'll also find a pleasant Corps of Engineers campground at Lake Hartwell near Greenville and on the path of totality.
There you have it, a quick list of camping ideas to get you started as you plan your RV camping trip to view the 2017 total solar eclipse. Remember, some of these areas will fill up quickly, so don't delay in booking your RV rental, reserving your campsite(s), and planning for mobility in case you've got to chase good weather. It's going to be an adventure you'll never forget.