Astronomers have discovered a newborn neutron star in a rare pairing with an old red giant companion.
Astronomers working with the INTEGRAL (International Gamma-Ray Astrophysics Laboratory) satellite have recently observed a neutron star going aflame in a burst of X-rays, ignited by material from its companion, a red giant star.  The observations, which appear in February 27th Astronomy & Astrophysics, might mark the birth of a rare pair of stars.
Red giants are the evolved stage of relatively small stars — at most eight times the mass of our Sun. As a small star nears the end of the fuel supply in its core, its outer layers expand to millions of kilometers. As its stellar wind carries off these layers, they can collide with a stellar companion, in this case a newly observed neutron star.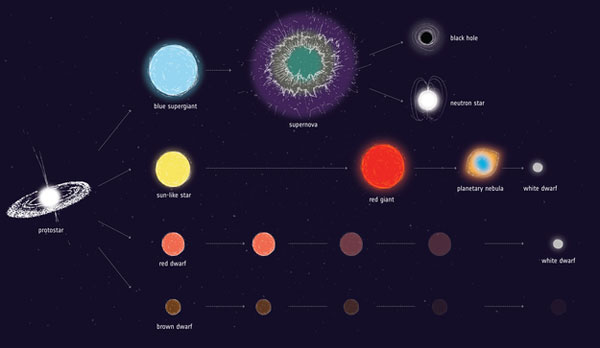 Researchers first thought that the slow-spinning neutron star, which revolves only once every 2 hours, was old — the remnant of a supernova explosion a few billion years ago. Likewise, its red giant companion is also a few billion years old. But the neutron star turned out to have a surprisingly strong magnetic field: 2.4 trillion Gauss (a fridge magnet has the pull of 100 Gauss). Because the magnetic field decays over time, the neutron star can't be more than a few million years old.
"In order to be together, the red giant and the neutron star should have a similar age," says Enrico Bozzo (University of Geneva, Switzerland), who led the study.
In other words, the neutron star's youth is deceptive. It probably started out as a white dwarf, the remnant of a Sun-sized star. For billions of years after its collapse, the white dwarf collected material from its companion's stellar wind. Eventually, the continuous addition of material overcame the white dwarf's internal pressure, and it collapsed further to become a neutron star. The recent formation of the neutron star would explain its strong magnetic field, while the stellar wind from its companion would have led to its slower spin rate.
Although stars often exist in pairs, less than 10 neutron stars have been discovered accreting material from a long-lived red giant companion, known as a symbiotic binary. "The evolutionary paths leading to such systems are rare and difficult," says Bozzo.
Interestingly, the previous15 years of INTEGRAL observations show no sign of X-rays from this system — neutron star must have began emitting X-rays only recently as it continued to collect material from its companion.
The X-ray emission from symbiotic binaries can last for many decades. For this particular pair, the X-ray burst began in August. Scientists will be watching this system with INTEGRAL to track its development.