Amidst the release of a treasure trove of astronomical data, scientists announce the most precise "standard ruler" yet for cosmological distances.
At the winter meeting of the American Astronomical Society, astronomers released more than 100 terabytes of data as part of one of the richest databases in astronomical history. Scouring the sky since 2000, the Sloan Digital Sky Survey (SDSS) now contains 470 million stars and galaxies, a number that boggles comprehension.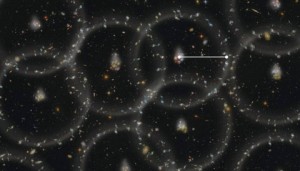 A significant chunk of that data set comes from the Baryon Oscillation Spectroscopic Survey (BOSS), an SDSS survey that covered 25% of the sky over the past seven years. The goal: detect the imprint of primordial sound waves, called baryon acoustic oscillations, which directly link the universe's infancy to its adulthood. (These are totally different from the primordial polarization imprint that's been in the news this last year.)
BOSS adds the third dimension to 2D sky pictures by measuring spectra of 1.4 million galaxies (relatively nearby) and 300,000 quasars (relatively far away), thereby revealing the objects' distances. That's a monumental effort best appreciated by realizing that for every one of SDSS's 5 million spectra, including the 1.7 million in BOSS, a man or woman hand-placed an optical fiber into a metal plate drilled with holes at that object's location in the sky. Two people can place 1,000 fibers in 40 minutes, so placing all the fibers took 417 workdays.
In the case of BOSS, this massive effort resulted in a 3D map of the universe that covers huge volumes of space. And that's exactly what's required to peer into the universe's past.
The Universe: From Infancy to Adulthood
The newborn universe was a vastly different place than what we see today. Photons and ionized matter mingled together in a hot, clumpy primordial soup. The photons were trapped in the clumps — they couldn't get far without encountering more of the dense plasma — and they exerted pressure from within. The pressure waves that rippled through the universe were akin to sound waves in Earth's atmosphere.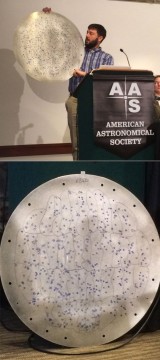 The waves sloshed around for a long time, roughly 380,000. But as soon as the soup cooled enough for electrons and protons to combine, photons made their escape. With no pressure to push matter apart, gravity took over. The remnants of the primordial ripples imprinted themselves on the collapsing clumps of gas and dark matter, which would eventually become galaxies and galaxy clusters.
These remnant ripples aren't self-evident when you look at a slice of sky. They only make themselves known in huge statistical samples by galaxies' slight preference to lie 500 million light-years apart, instead of, say, 400 million or 600 million light-years. Yet that tiny statistical effect provides a direct link between fluctuations in the primordial soup and the cosmic web of galaxies that we see in the universe today.
BOSS surveyed huge volumes of space to see this effect, and although the final data analysis isn't expected until later this spring, 85% of the data has already been analyzed. The primordial sound waves are detected to an extremely high precision: in technical terms, the total detection is 10 sigma. That translates as, "There's no real question anymore about whether [these waves] exist," says SDSS-III director Daniel Eisenstein (Harvard University).
BOSS detected ripples by looking at populations of relatively nearby galaxies, divided into two groups whose light has traveled for 3.5 billion and 5.7 billion years, respectively, and by looking at more distant quasars, whose light has traveled 11 billion years to Earth. These two data sets sandwich the era when the universe's expansion began accelerating.
Normally, astronomers need to calculate distances to these objects using their redshifts, measuring how far spectral lines shift due to the expansion of the universe. But that requires models of how fast the universe is expanding.
Primordial sound waves provide a ruler independent of cosmological models. If you know how big the ripples should be (information that can be found in cosmic microwave background fluctuations), and you measure how big they appear on the sky, you get a measure of distance. With the results announced at AAS, these distances are now known to an accuracy of 1%.
Alternatively, you can forgo the cosmic microwave background measurements and just calculate relative ripple sizes at different distances to see how quickly the ruler expands over cosmic time. Either way, both measurements provide excellent (and unsurprising) agreement with the leading cosmological model, including a mysterious dark energy whose nature has stayed constant since the Big Bang.
But perhaps the most interesting results from BOSS are yet to come, as astronomers continue to apply the enormous data set to quasar physics, galaxy evolution, and other science.