A high-resolution ALMA image of the HR 8799 planetary disk suggests undiscovered planet.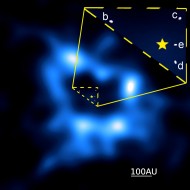 Astronomers have made the first high-resolution image of a cometary belt, a region comparable to the Kuiper belt, around the star HR 8799. In doing so, they discovered a clue that might point to a fifth planet orbiting this famous star.
They pointed the Atacama Large Millimeter/submillimeter Array (ALMA) in Chile at the system and uncovered unprecedented detail about the environment where planets form: the planetary disk. The distance from the star to the disk's inner edge lies farther out than previously observed. "[This] certainly suggests that another, smaller planet is present," says Brenda Matthews (National Research Council of Canada).
It's possible that a smaller, not-yet-detected planet is setting the inner boundary of the disk, she adds, as Neptune does in our own Solar System.
Detecting the Inner Edge
HR 8799 is young, a few tens of millions of years old, and about 1.5 times the mass of the Sun. The star is located 129 light-years away in Pegasus. Its youth and proximity make it a prime candidate for direct imaging of planets — in fact, it's the only star where astronomers have imaged multiple planets: HR 8799b, c, d, and e.
In direct imaging, a coronagraph covers the parent star and blocks most of its glaring light, while adaptive optics corrects for the Earth's turbulent atmosphere. The technique is useful because it enables astronomers to characterize a planet with spectroscopy and analyze the planet's atmosphere, including its temperature and composition. While infrared imaging may reveal a planet's composition, longer-wavelength observations are necessary to learn about the disk where it formed.
Previous observations of the HR 8799 disk — using the space-based Herschel Space Observatory, which observes the far-infrared and submillimeter portions of the spectrum — found that the disk extended from roughly from 100 to 310 astronomical units (a.u., the distance between Earth and the Sun). Astronomers had also found evidence of a cold belt beyond the orbits of the planets and a halo of small grains. With Herschel's far-infrared data, it was hard to tell the difference in emissions between the belt and the grains in the halo.
ALMA, on the other hand, images 1.3-millimeter-wavelength radiation from millimeter-sized debris in the disk. The data are not very high signal-to-noise, but they are enough to show that the inner disk actually lies anywhere between 133 and 166 a.u., resolving it for the first time.
"This is the very first time that a multi-planet system with orbiting dust is imaged, allowing for direct comparison with the formation and dynamics of our own solar system," said Antonio Hales (National Radio Astronomy Observatory).
References: 
M. Booth et al. "Resolving the Planetesimal Belt of HR 8799 with ALMA." Monthly Notices of the Royal Astronomical Society. March 17, 2016.