New simulation work suggests that galaxies like the Milky Way could be home to a dozen supermassive black holes.
A gigantic black hole sits at the dead center of the Milky Way. The same goes for most large galaxies in the universe. When they're not munching on gas and stars or spewing out plasma jets, these black holes stay relatively quiet.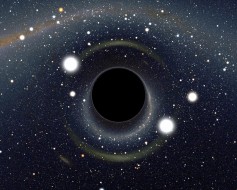 But they don't always stay in the center. When galaxies merge, their gas and stars redistribute, and their supermassive black holes can find themselves with an eviction notice, caught by the other galaxy's gravity. Over time, gravitational encounters can send the black hole toward the galaxy's center.
Astronomers have increasingly realized, however, that when galaxies merge the black holes don't always migrate to the core. In fact, only a small fraction of mergers will ultimately create close pairs of central black holes. The problem is especially acute when one of the galaxies is much smaller (less than a tenth in mass) than the other: The smaller galaxy's components can take longer than the age of the universe to sink to the big galaxy's nucleus.
By implication, then, big galaxies should play host to a large number of stripped-down galactic cores — and their black holes. Depending on how small a black hole we consider, astronomers have estimated that dozens of them could lurk at galaxies' fringes. How many might a system like the Milky Way have?
A Whole Lot of Black Holes
To better understand what's going on in this process, Michael Tremmel (Yale) and colleagues took a careful look at how these wandering black holes would move over billions of years. The team used the high-powered Romulus simulations set, which follow the growth of cosmic structure in a cube of computerized space some 80 million light-years on a side. In the simulations, the astronomers watched the development of Milky-Way-mass galaxies and their interaction with their fellow stellar metropolises from soon after the universe's birth to today. The long timeline is crucial because galaxy mergers were far more common in the first several billion years of cosmic history.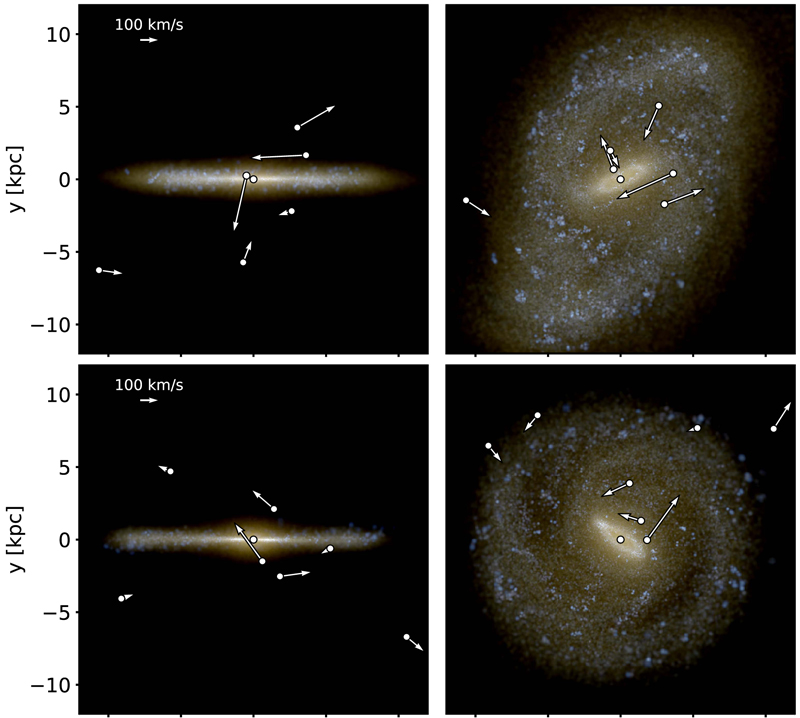 When two galaxies came together in the simulations, the smaller galaxy's black hole was caught in the outer reaches of the larger galaxy. After that, it's considered a denizen of the bigger galaxy, even if it's not embedded in its spiral disk. As the team reports in the April 20th Astrophysical Journal Letters, the 26 Milky-Way-mass galaxies the researchers followed ended up with an average of 12 supermassive black holes each. Five of the black holes (again, on average) lay roughly as far from the centers as the disks extend.
The team found that the galaxies picked up their black holes early, in some cases within the first few billion years of their existence, before their iconic spirals had fully formed. One might think that, with all that time to spare, the black holes would long have sunk to their galaxies' centers. But only some did. When a merger deposited a black hole near the plane of the galaxy's disk, it had plenty of stars and gas to gravitationally interact with and sank to the core rather quickly. Those that survived as wanderers, however, followed orbits that kept them far above or below the galaxies' disks, where there are few stars or gas. So the black holes never lost their orbital energy and never migrated toward the core — a result that jibes with previous work.
But Don't Panic
So does the Milky Way have "extra" giant black holes? That's hard to say. Recent observations have hinted that a middle-sized black hole — smaller than the ones explored here — might be keeping our galaxy's central one company, but other astronomers doubt the result. Preliminary Gaia data also suggested that the Milky Way hasn't gobbled up anything bigger than the Large Magellanic Cloud in the last 9 billion years. So if they're out there, they've been there for a long time.
If there are ancient wanderers, they wouldn't spend much time in the fluffy spiral disk, and so they probably don't have much gas to accrete. Without a food source, they'd be largely invisible. If they were still surrounded by a remnant of their old galaxy, that would help, but searches for such objects haven't turned up any conclusive examples. The team is working on ways to look for them.
Lest I end this blog on a sensationalist note, I'll add that there's no reason to fear that a marauding supermassive black hole has us in its sights. The team estimates that our solar system would come across one of these wanderers every 100 billion years or so. That's nearly 10 times the age of the universe. So barring a freakishly improbable encounter, we're safe.
Reference: M. Tremmel et al. "Wandering Supermassive Black Holes in Milky-Way-mass Halos." Astrophysical Journal Letters. April 20, 2018.