Scientists are considering whether the mysterious "force" accelerating the universe's expansion changes with time.
Of late there's been some scientific ado over a small but notable conflict in measurements of the universe's expansion rate. The present rate, called the Hubble constant or H0 (pronounced "H-naught"), connects the redshift in an object's spectra to its physical distance. It also tells us the universe's age and size, as well as the density required to make the universe geometrically flat.
It is, in short, a rather important number.
The universe's expansion was one of the biggest discoveries of the 20th century. But after nearly a century of study, astronomers still don't entirely agree on how fast the current expansion is. Those using the cosmic microwave background favor a value of about 67 kilometers per second per megaparsec (km/s/Mpc, where a megaparsec is 3.26 million light-years). Those using supernovae and other, more nearby cosmic tools home in on a value of about 73 km/s/Mpc (see graph).
The discrepancy is reminiscent of another debate toward the turn of the 21st century, with one side hotly advocating around 50 km/s/Mpc and the other roughly 100 km/s/Mpc. Careful work by Wendy Freedman (University of Chicago) and others using the Hubble Space Telescope resolved that controversy.
The current disagreement might be merely a matter of analysis and assumptions (maybe even a cosmic void). However, Freedman notes that part of the solution to the previous predicament was the mind-exploding discovery that, over the last half of cosmic history, the universe's expansion has been accelerating. Something identified by the placeholder term "dark energy" fuels this acceleration. Although we don't know what dark energy is yet, a favored view is that it's some sort of energy inherent to space itself. If so, then as space expands, dark energy will increase with it and maintain the same density, instead of diluting out.
Could new physics be behind the current conflict, too?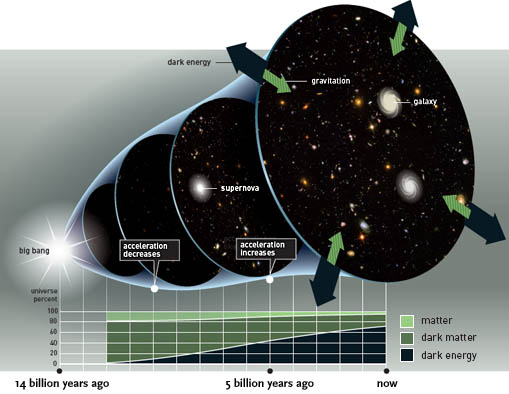 Gong-Bo Zhao (Chinese Academy of Sciences and University of Portsmouth, UK) and colleagues decided to explore this question. They investigated whether the latest controversy could be due to an evolving dark energy, one whose density not only changes with time but also changes in the way its density changes with time.
In mathematical terms, if dark energy's density remains constant, then its equation of state, w, is equal to −1. This would make it the cosmological constant — the lambda (Λ) in the lambda-cold-dark-matter (ΛCDM) paradigm, the official name of our modern cosmological framework. Observations support this value, with wiggle room. If w is greater than −1 (−0.9, et cetera), however, then dark energy's density slowly decreases as the universe expands. If w is less than −1, then the density increases with expansion.
What Zhao's team did was to check if, instead of staying one value, the equation of state actually changes over cosmic time, morphing across a range of w values. Amassing a large, diverse set of others' observations, the team cautiously analyzed it to see what kind of cosmos the data might describe. Writing August 28th in Nature Astronomy, the authors conclude that it is possible to relieve the H0 tension with a dynamic dark energy, one whose equation of state oscillates above and below the −1 value. However, the slight favoritism for this solution in their analysis is not statistically strong enough to prove it's the right answer.
The nice thing is, more data will solve this mystery. The team points to the upcoming Dark Energy Spectroscopic Instrument (DESI) survey, which aims to begin creating a 3D cosmic map in 2018.
References: G.-B. Zhao et al. "Dynamical Dark Energy in Light of the Latest Observations." Nature Astronomy. August 28, 2017.
---
Did the solar eclipse whet your astronomy appetite? Feed it with a subscription to Sky & Telescope.