A rare type of gravitational lens offers astronomers a close look at a young, dusty galaxy manufacturing hundreds of stars a year.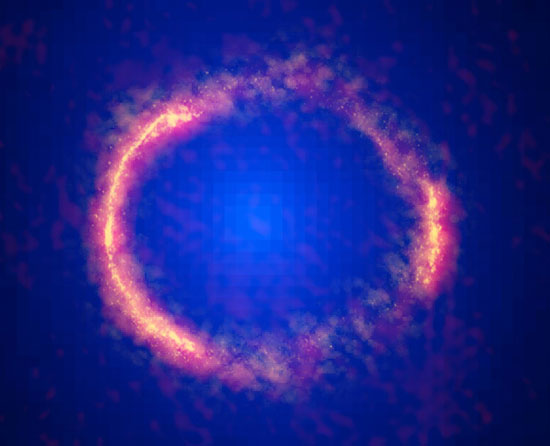 Within the Hydra constellation, now to the south in northerners' evening sky, there exists an almost perfect ring of light about 3 arcseconds across. This weirdly symmetric phenomenon is a rare gravitational lens known as an Einstein Ring, the result of a near-perfect alignment between a very distant galaxy, a not-quite-so-distant galaxy, and us.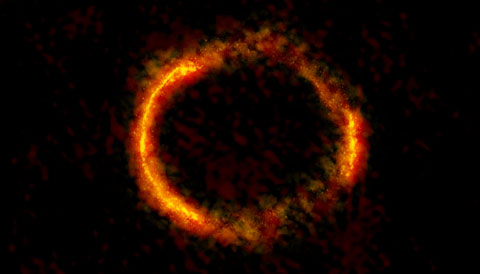 The background galaxy is informally known as SDP.81 (which rolls slightly more easily off the tongue than its formal name, H-ATLAS J090311.6+003906). Its light traveled for 12 billion years to arrive at Earth, but the journey wasn't uneventful — 8 billion years into its flight, it encountered a massive elliptical galaxy. The galaxy's gravity acted as a lens, bending the path of the background light to form a ring of emission.
Though these lensed rings are named for Einstein, Einstein himself declared in 1936, "Of course, there is no hope of observing this phenomenon directly." His pessimism was warranted since he was only considering stars, not galaxies — he reasoned that such perfect alignment would be too rare to glimpse in the real world, and even if visible, he thought the circles' small angular size was beyond telescopes' capabilities.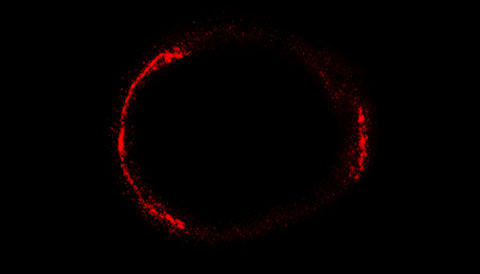 The lensed ring of SDP.81 is small. Your finger held out at arm's length covers 1°, or 3600 arcseconds. The best ground-based telescopes can make out details separated by 1 arcsecond under good conditions. The Hubble Space Telescope can resolve details 10 times finer, good enough to see the ring itself, but not enough to study it in detail.
Now the Atacama Large Millimeter/submillimeter Array (ALMA) has gone one step further, turning its dishes to SDP.81's known Einstein ring during testing of its "long baseline" capability. During this time, the antennas' maximum separation was 15 kilometers (9 miles), offering unprecedented magnifying power. ALMA spied submillimeter-wavelength details in the ring just 23 milliarcseconds (about a millionth of a degree) across.
Combined, the array's resolving power and nature's gravitational lens give astronomers a chance to see details spanning just 100 or so light-years — an impressive feat considering the galaxy lives in a universe just 1.8 billion years old. "This is exactly why gravitational lensing is so amazing!" says study coauthor Catherine Vlahakis (ALMA and European Southern Observatory, Chile).
Galaxy Collisions in the Early Universe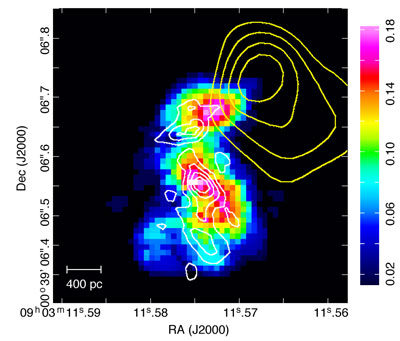 As the initial results on SDP.81 were accepted for publication in the Astrophysical Journal, another team led by Simon Dye (Nottingham University, UK) reconstructed the lensed galaxy's shape based on the distorted light that ALMA and Hubble imaged.
The reconstructed ALMA image shows a rotating disk of dusty gas. Oddly enough, the reconstructed Hubble image, which probes visible light rather than submillimeter-wavelength emission, shows something completely different — a blob of gas offset from the disk.
The disk and blob might be two distant galaxies coincidentally close together along the sky, the authors acknowledge. But just as likely for this crowded time period is that one galaxy has passed through another, leaving behind a dusty disk galaxy that's popping with stars — about 500 Suns' worth a year.
These types of merger-induced starburst galaxies were probably common in the early universe. Now with some of the highest-resolution observations to date, astronomers can study their makeup and learn about the earliest phases of galaxy evolution.