Astronomers have discovered a potentially rocky planet around a red dwarf star just 11 light-years away.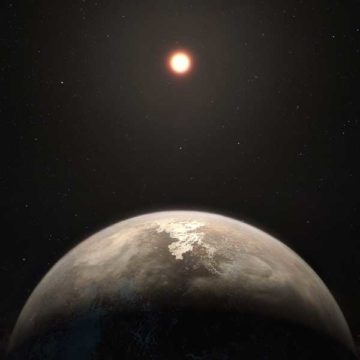 I spent countless nights as a child gazing up at the night sky and wondering what was out there. Did those stars harbor planets, and if so, were those planets anything like our Earth? Could there be other stargazers, looking up at an alien sky?
The exoplanet field, which has exploded in the last 20 years, is beginning to answer these questions. With thousands of planets identified around other stars, the field has moved beyond discovery to statistical understanding. We now know that small rocky planets like our Earth are common and that the most common type of star (M dwarfs) is one of the most likely hosts for planets. These statistics are evident in the recent discovery of Proxima b, a planet orbiting our closest stellar neighbor, but that's not the only planet around a nearby star.
At a distance of 11 light-years, Ross 128 is the 15th closest star to the Sun. Like Proxima Centauri, it's an M-class star with about 16% the Sun's mass. Xavier Bonfils (University of Grenoble-Alpes, France) and colleagues measured the star's movements using the HighAccuracy Radial velocity Planet Searcher spectrograph at the European Southern Observatory's La Silla Observatory in Chile, showing that Ross 128 is home to a planet. The results have been published online and will appear in an upcoming issue of Astronomy & Astrophysics.
The potentially rocky world circles its star every 9.9 days, with a mass at least 1.3 times that of Earth, making it the second closest Earth-size planet within the habitable zone of its star. This zone, defined as the region in which water could exist in liquid form on a rocky planet's surface, hugs its star more tightly than it would in the solar system because of the star's low luminosity. Ross 128b is 20 times closer to its host star than the Earth is to the Sun, but receives just 40% more light than we do on Earth. Because Ross 128 is small and cool compared to the Sun, that light would be much redder than sunlight.
Ross 128b is an exciting exoplanet because, unlike many low-mass stars, its host is relatively well-behaved. Our own star burps and coughs up charged particles, resulting in solar flares and storms that, at their worst, can severely disrupt electrical equipment such as GPS satellites and power grids. Most low-mass stars, on the other hand, are cauldrons of activity. They unleash flares more often and more energetically — the flares are typically an order of magnitude stronger than the Sun's. This behavior is thought to severely limit the development of life on these stars' planets. However, the activity decreases with the star's age, and fortunately for any potential inhabitants of Ross 128b, the star is old. It doesn't flare as often as its younger counterparts, such as Proxima Centauri and TRAPPIST-1.
So while our new planetary neighbor may have a dim, old, red sun, it is a welcome addition to the exoplanet census. In coming years, it will be the target of atmospheric studies, which are most efficient around nearby systems. Atmospheric composition, specifically signs of oxygen, methane and water, may just be the smoking gun that answers that Big question: "Are we alone?"