Jupiter and Saturn fashion the Great Conjunction of 2020 when they pair up on December 21st, the winter solstice. That evening they'll be closest in nearly 400 years.
While we're all trying our best to keep our distance from one another during the current pandemic, Jupiter and Saturn are defiantly doing exactly the opposite. Since September they've been drawing closer and closer as they inch toward their Great Conjunction on Monday, December 21st. That night the gas giants will shine shoulder to shoulder just 0.1° apart (1/5th the apparent diameter of the full Moon) in their closest conjunction since July 1623.
Every 20 years, Jupiter, the closer and faster planet, laps slower Saturn and the two pair up briefly in a Great Conjunction. The last occurred on May 31, 2000, when they stood 1.2° apart low in the solar glare at dawn.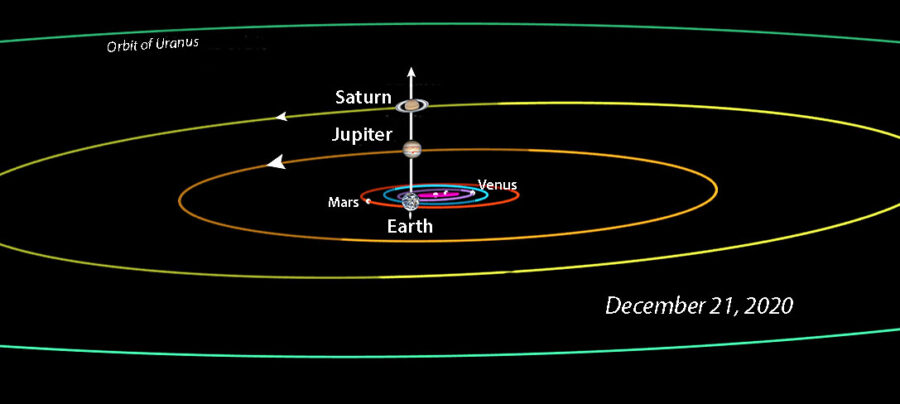 Conjunctions between planets occur because they all lie in approximately the same plane, like runners on concentric tracks. As we look across the plane of the solar system, defined by Earth's orbit, one or more can appear along the same line of sight, similar to seeing an airplane momentarily pass near the Moon.
If the line were exact, Jupiter would pass directly in front of Saturn and occult it. But this rarely happens because both Jupiter's and Saturn's orbits are tilted slightly with respect to Earth's, by 1.3° and 2.5° respectively. The last near-central occultation occurred in 6857 BC and the next will be in AD 7541. At every Great Conjunction the orbital deck is reshuffled, with the apparent separations between the planets varying from near zero during an occultation up to a degree or more.
On the first day of fall, 7.5° or four fingers held together at arm's length, separated the two giants. On Monday, December 14th, they'll be 0.75° apart and close enough to fit together in a telescope's low-magnification field of view. Come December 21st, they'll scrunch nearly eight time closer — just 6.1′or 0.1° apart (center to center), closer than they've been in nearly 400 years! Closest approach occurs around 18h UT (1 p.m. EST). By the time the duo makes its appearance at dusk over the Americas their spread will have increased slightly to around 6.3′.
Adding to the festive occasion, all four of the Galilean moons will shine in a neat row on either side of Jupiter viewed from the eastern U.S. (three in the western states) along with several of Saturn's moons. Due to the pair's low altitude at the time everything may look a little fuzzy, so low magnification will provide the best views. The conjunction also happens on the winter solstice, which occurs earlier that day at 5:02 a.m. EST. Our cups runneth over.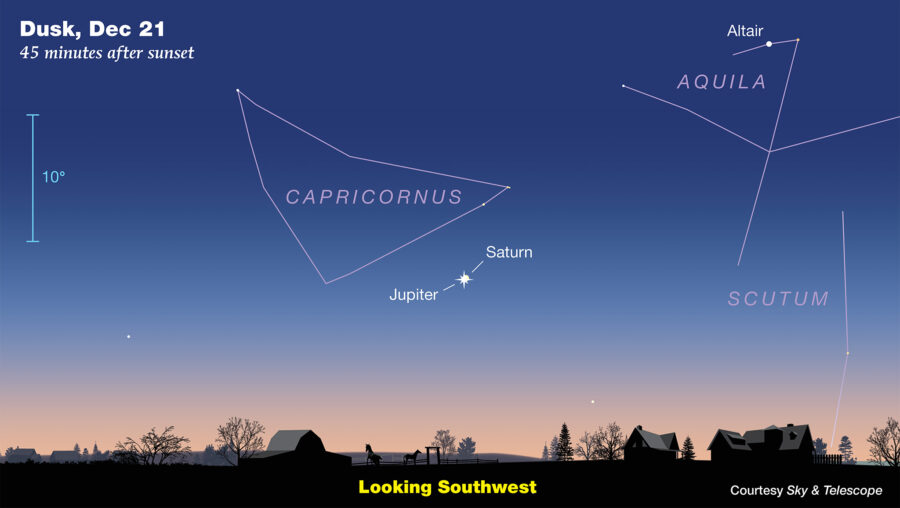 Because Jupiter and Saturn will hang low in the southwestern sky, find a location with a wide open view in that direction. They'll be about 14° high when they first become easily visible about 45 minutes after sunset. The pair sets around 7 p.m. local time, so best not be late. Forty-five minutes to 90 minutes after sunset is the prime viewing window. Click here to find your local sunset time and plan accordingly.
Will you be able to separate the double planet without optical aid? You can get a sense of how small their separation will be by directing your gaze 10° (one balled fist at arm's length) above Jupiter. There you'll see the 4th-magnitude stars Alpha (α) and Beta (β) Capricorni in the constellation Capricornus. The upper star, named Algedi, is an "optical" double star — not a real, physical binary sun but two separate stars seen along the same line of sight.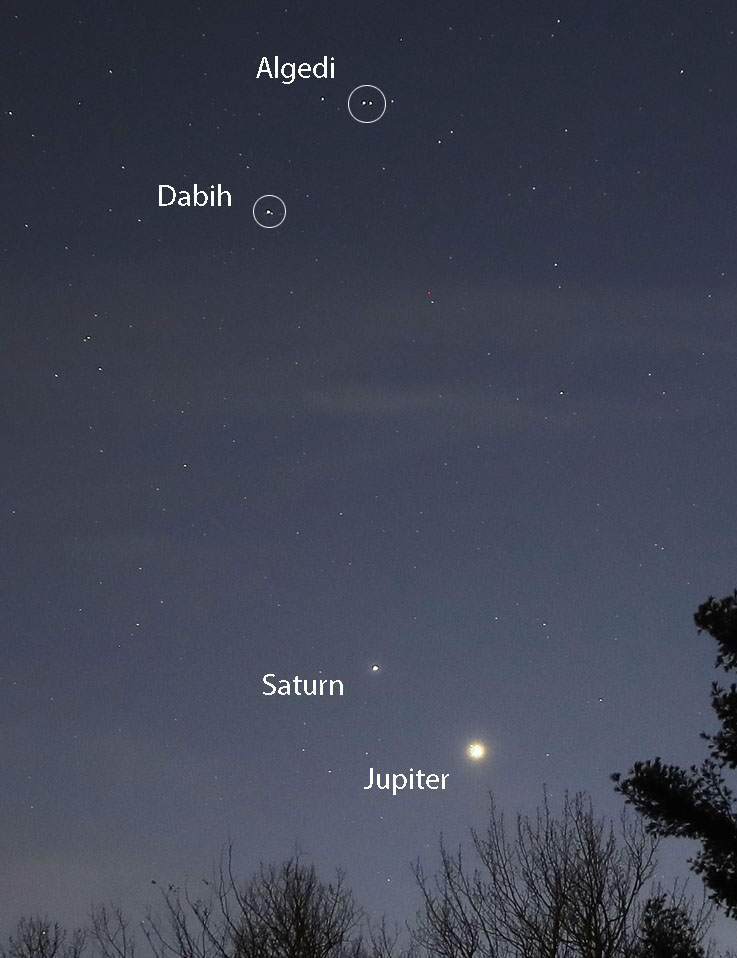 Serendipitously, the pair is separated by 6.6′ (0.11°), nearly equal to Jupiter and Saturn's spacing on the 21st. Although Algedi's stars are fainter at magnitudes 3.6 and 4.4, I can split them (with concentration) into two separate, closely spaced points. Give it a try yourself the next clear night.
I'm curious if Jupiter's extra brilliance (magnitude –2) might cloak fainter Saturn (+0.6) in its glare. Jupiter will be obvious while Saturn should appear as a small bump. Will some observers need binoculars to split them? We'll just have to wait and see — bring along a pair just in case! Although the two planets will appear to nearly merge, Jupiter dominates. Adding Saturn to the mix will only increase their combined light by 9 percent, a barely noticeable amount.
Jupiter and Saturn Through History
On July 16, 1623, 5.2′ separated the pair, but with a solar elongation of less than 13° they set soon after the Sun does and would have been extremely difficult to view without optical aid. Telescopes were around at the time, so perhaps someone did see it, but if so, observational records have yet to surface.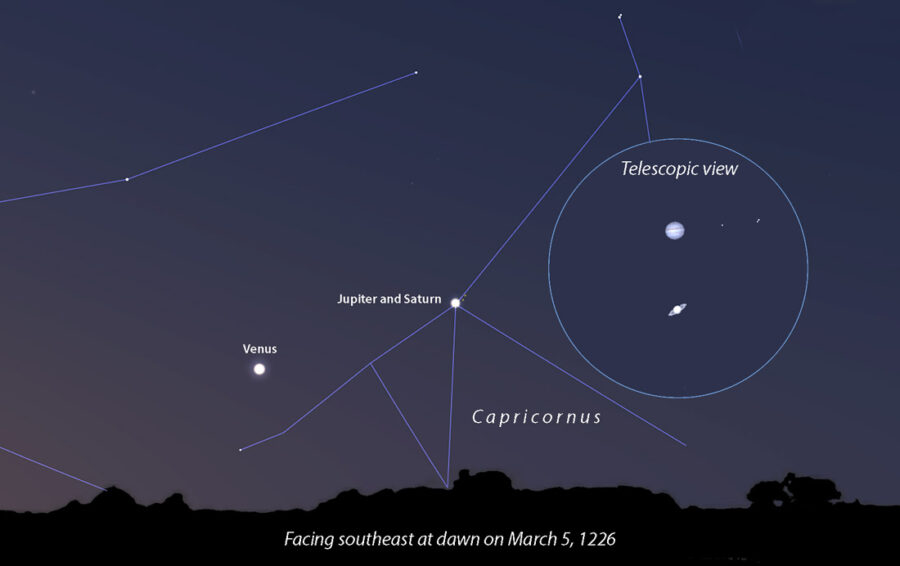 Jupiter and Saturn were nearly as close on August 25, 1563, at 6.8′ and easily observable in the morning sky. That would make this month's event the closest since 1563. But to find one closer we have to set our time machine chronometer to March 5, 1226, when the planets' separation tightened to just 2.1′. I like to imagine the people at the time watching the merger while describing the scene in archaic languages like Anglo-Norman and Middle English.
The next Great Conjunction occurs on November 4, 2040, at dawn with the planets separated by 1.2° in Virgo. To find an equal to the current event, we'll have to wait until March 15, 2080. That morning, the duo will be just 6.0′ apart in Capricornus at the start of dawn. Not until sometime after 2400 will we see Jupiter and Saturn approach so closely again.
For a detailed analysis of Great Conjunctions, orbital resonances, and much more visit Patrick Hartigan's Jupiter-Saturn Conjunction Series site.
A Christmas Star?
We often associate certain stars and constellations with the seasons or life events that have special meaning to us. It's inevitable then that some skywatchers will see the upcoming Great Conjunction as a modern version of the Christmas Star. More power to them. The Bible mentions that a bright star in the east heralded the birth of Christ. Assuming the description is more than symbolic, several explanations have been proposed for its origin, including a nova or supernova, comet, or a bright conjunction.
Based on available evidence the most likely event might be the strikingly close conjunction of Venus and Jupiter. On August 12th of the year 3 BC, the two brightest planets met at dawn in the eastern sky separated by 9′ as seen from Bethlehem. They were even closer together at dusk in the western sky on June 17 in 2 BC — just 1.4′ apart center to center — and would have appeared as a single brilliant "star." Scholars date Christ's birth as between 4 and 6 BC, though the date isn't definitive, leaving either conjunction as tasty food for thought.
I encourage you to make your own connection with this rare celestial alignment. And if it's cloudy on December 21st don't take it too hard. Jupiter and Saturn will be wonderfully close from the 19th all the way to Christmas. Have a merry and inspirational holiday!
---