The May 17th dawn pairing of Jupiter and the Moon may be one of the most amazing conjunctions you'll ever see.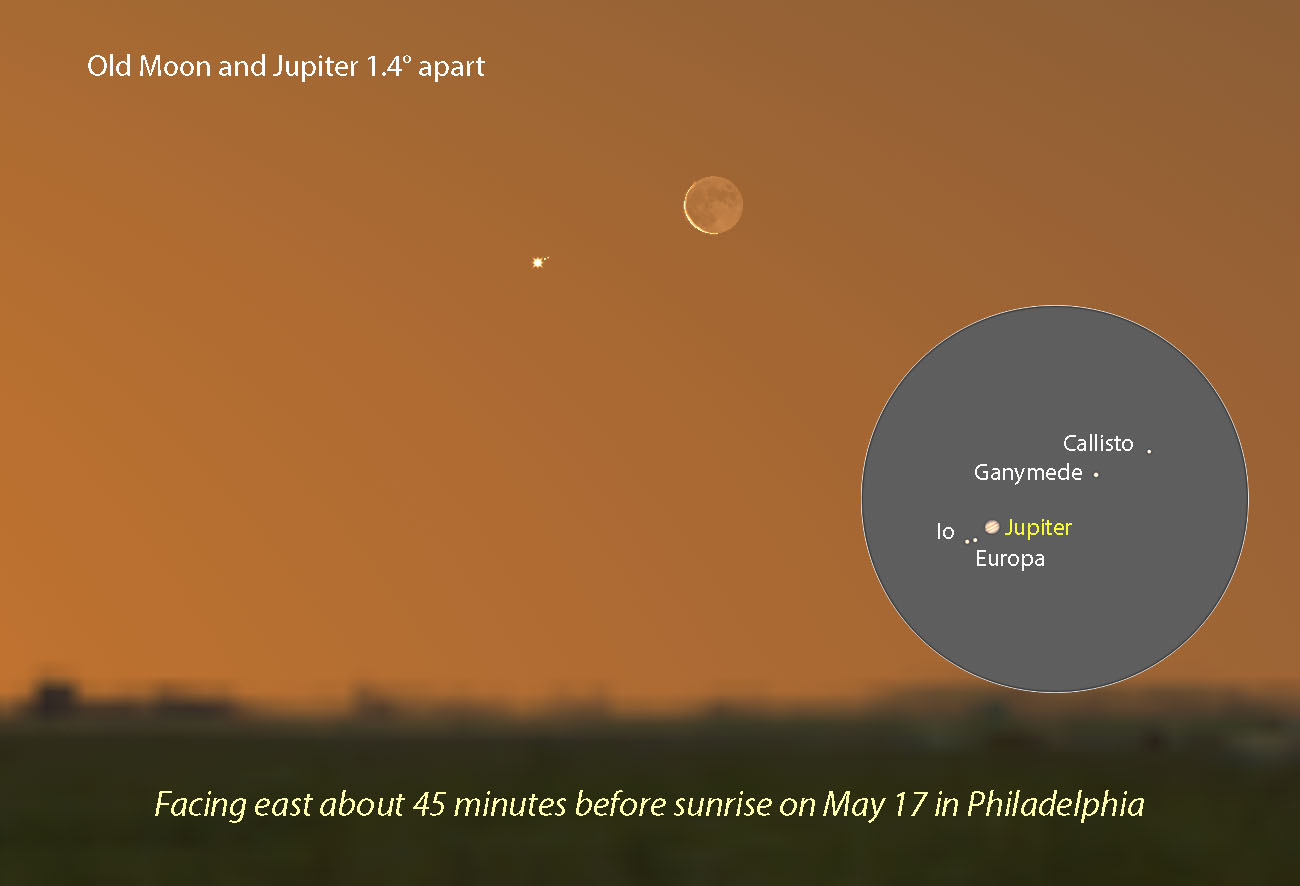 On the one hand, the Jupiter-Moon conjunction on Wednesday morning, May 17th, will be a routine if splendid pairing. From the East Coast, the two celestial objects will appear about 1.5° apart very low in the east-northeast sky 45 minutes before sunrise. In the Midwest, where the Moon rises later, less than a degree will separate them. But follow the conjunction to its conclusion and you'll discover that it's far from ordinary. Let's play it out.
The Moon continues moving east along its earthly circuit, approaching Jupiter ever more closely the farther west you live. Observers in Tucson, Arizona will see the duo rise with Jupiter glued to the lunar limb just minutes before being occulted. Beginning at 4:18 a.m. the crescent takes its first bite of the gas giant and finishes it off some 59 seconds later. Both binoculars and telescopes should offer compelling views of the disappearance. In addition, telescopic observers will spot the moons Io and Europa very close to the planet. Moments before Jupiter disappears, the Moon also occults Europa followed 24 seconds later by Io.
Callisto and Ganymede also get into the act. Like trumpeters heralding the king's triumphant return, Callisto reappears on the opposite side of the Moon at the dark lunar limb seconds before 5:00 a.m. followed by Ganymede 3 ½ minutes later. Finally, at 5:11 a.m. — 14 minutes before sunrise — Jove himself pokes his head from the lunar limb and swells to fullness a minute later. So we're all done, right? Not quite.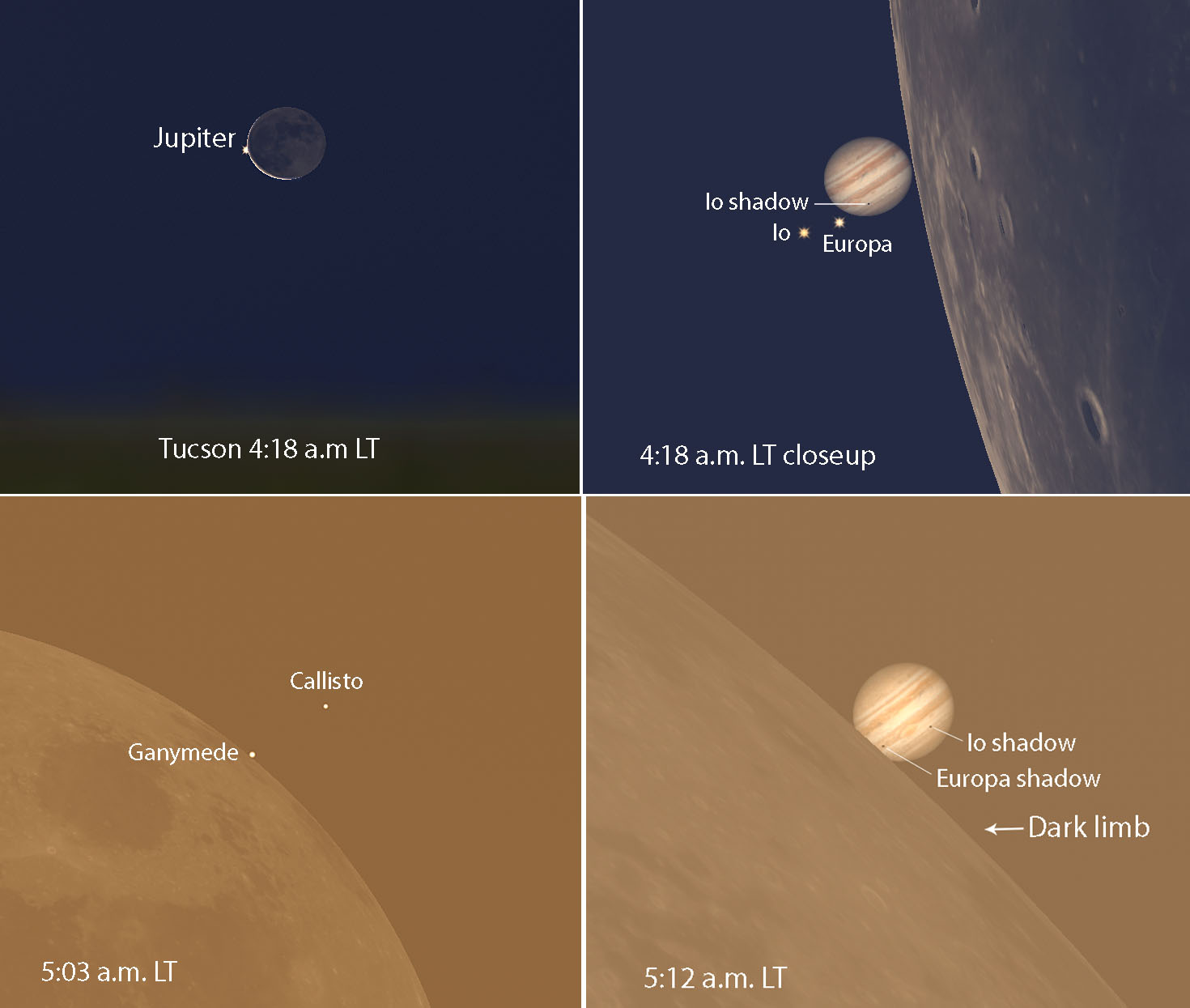 Jupiter entered occultation with Io's shadow in transit across its cloud tops. When it reappears at the opposite limb, Europa's shadow will also be in view for a double shadow transit! Although the planet's altitude will be only 15° at the time (for Tucson), observers with 6-inch or larger telescopes in excellent seeing may be able to discern both shadows as black pinpricks.
Farther west in San Francisco, the waning crescent will rise all alone until Callisto returns at the dark limb around 5:05 a.m. local time. Jupiter follows starting at 5:17 a.m. Given that this occurs 41 minutes before local sunrise observers can potentially watch Jupiter's reappearance with the naked eye. What a fantastic opportunity!
The eastern half of the country will have to work a little harder because the entire occultation takes place in bright daylight. For example, in Chicago Jupiter disappears at 6:36 a.m. local time more than an hour after sunrise and returns at 7:40 a.m. You can either locate the crescent Moon in daylight "manually" by sighting about 25° to the Sun's upper right, or better, use a stargazing app like Stellarium (Android / iPhone). Although Jupiter will be a pale, low-contrast dot, a telescope or even binoculars should coax it into view. Be sure to watch the reappearance when Jupiter will materialize out of a blue sky.
Check the May digital issue of Sky & Telescope for more details. (If you're a non-subscriber, look to the lower left for a "preview" option — and consider subscribing to support news like this!)
The occultation will be visible across most of the U.S., Central America, Canada and parts of northern Europe. For disappearance and reappearance times for your location visit the International Occultation Timing Association's (IOTA) site and search for your city. Note that the times shown are UT or Universal Time. To convert to Eastern Daylight subtract 4 hours; 5 hours for Central; 6 hours for Mountain and 7 hours for Pacific. You'll also find Sky & Telescope's Jupiter's Moons calculator useful.
---