Astronomers have discovered a spike in X-ray emission from galaxy clusters — "ordinary" interpretations don't hold up, so some are turning to dark matter for answers.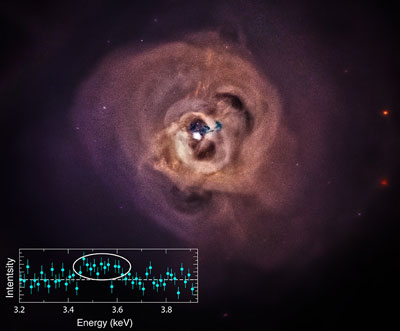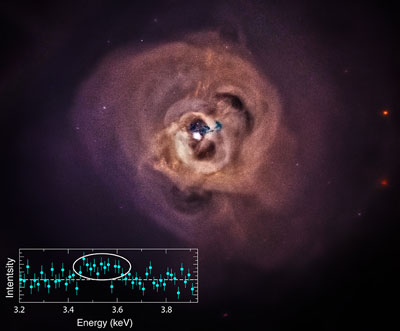 On February 10, 2014, Esra Bulbul (Harvard-Smithsonian Center for Astrophysics and NASA Goddard) and colleagues announced an odd discovery: long-exposure observations of galaxy clusters revealed a spike in emission at a particular X-ray energy, and Bulbul's team couldn't explain why.
Just four days later, another team led by Alexey Boyarsky (Leiden University, The Netherlands) posted the same result using independent methods and different observations.
Even before the Astrophysical Journal published Bulbul's initial results, papers flooded the arXiv online preprint repository (71 to date) serving up various theories to explain the source of the mysterious X-ray spectral line. Nearly all of them turned to dark matter. But is it really the answer?
Galaxy Clusters: A Whole Lot of Hot Gas
Galaxy clusters are the largest gravitationally bound structures of the universe. That means they're one of the best places to search for dark matter, which interacts with ordinary matter primarily via gravity.
But these clusters are also vast repositories of hot, ionized gas. Exploding stars, which forge heavy elements deep within their cores, eject the gas from individual galaxies. Over billions of years, this heavy-element-contaminated plasma collects in the rarefied space between galaxies. The gas glows brightly in X-rays, and the heavy element ions emit bright spikes of intensity at specific energies.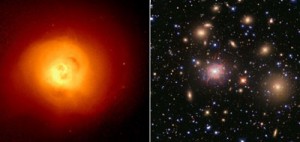 Fabian & others, MNRAS, December 2011Bulbul's team collected and combined archival XMM-Newton observations of 73 galaxy clusters, ranging from the brightest — the nearby Perseus Cluster — to fainter and faraway clusters.
The range in distances works to the team's advantage. Each cluster's distance corresponds to a different redshift, so the team first had to shift each cluster's spectrum by a different amount before stacking all the spectra together. The end result is that any instrumental bumps or curves smear out while the real, physical bumps remain.
And one bump in particular demands explanation. Bulbul and colleagues find a statistically significant, if somewhat ratty-looking, bump with an energy of roughly 3,550 electron volts (3.55 keV). The bump remains even when they divide the stacked spectrum from the 73 clusters into sub-samples and redo their measurements.
The team checked archival observations from Chandra, confirming the same detection with a different instrument. And Boyarsky's team sees the same bump at the same energy in a separate, not-yet-published study of the Andromeda Galaxy and the Perseus galaxy cluster.
Yet there shouldn't be a bump at that energy, at least not according to known plasma physics. The most likely explanation, a super-strong line from the element argon, is "physically impossible," Bulbul says. To produce the 3.55 keV bump, argon would also have to produce a line at 3.12 keV that is 30 times stronger than observed.
So Bulbul's team turned to the exotic for an explanation. They say the bump could be a signal from annihilating sterile neutrinos — in other words, dark matter.
We've long known about regular neutrinos, the tiny, neutral particles that barely interact with normal matter but speed around too quickly to be dark matter. Sterile neutrinos are a different story. Some theories predict their existence to solve some problems with the standard model of particle physics, but those theories only constrain their predicted mass to being "pretty big." So it's possible that the 3.5-keV signal seen in both studies might be due to the decay of a 7-keV sterile neutrino into two X-ray photons.
But there are two outliers to this explanation: the Virgo galaxy cluster and our own Milky Way. Virgo contains more than 2,000 galaxies and is the most massive galaxy cluster near us, 10 times closer than Perseus. Much of its mass is dark matter. So if the signal is from dark matter, researchers would expect Virgo to show a significant 3.55-keV bump. But NASA's Chandra X-ray Observatory stared at Virgo for nearly six days without finding anything.
There's also no similar line in X-ray data from our own Milky Way, which is odd if the cluster signal really is from decaying dark matter particles, says Daniel Hooper (Fermilab and University of Chicago).
"To be honest, I'm not sure exactly what I think about this," Hooper adds. "It might be evidence of some new physics (which would be exciting), but I worry that it might be some not-yet identified atomic line, or is the result of some problem with the modeling of the background."
An eXciting Alternative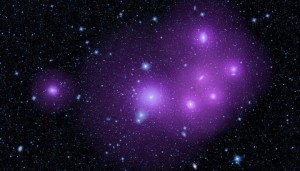 "[The sterile neutrino] model is not long for this world," Douglas Finkbeiner (Harvard and CfA) opined at the summer meeting of the American Astronomical Society. He proposed instead an alternative: eXciting Dark Matter (XDM). XDM could explain the detected signal, and also explain why it's not seen in Virgo or the Milky Way, he argues.
The XDM model hinges on "dark forces," that is, forces that act only on dark matter and not on ordinary matter. As such, XDM would be more difficult to detect than simpler forms of dark matter, requiring a hot, high-density environment that would allow dark matter particles to collide with one another at high speeds.
So XDM wouldn't be detected in dwarf galaxies, nor would it be found in the Virgo Cluster, which is young enough that it wouldn't have very dense dark matter in its core. But older clusters, such as Perseus, would have strong emissions from XDM because the dark matter has had time to settle into their centers.
Of course, XDM is only one of dozens of proposals that attempt to explain the mysterious X-ray signal, and it's hardly a shoo-in. Too little is known about the density of dark matter in these clusters to formally test XDM, Finkbeiner says. So while it hasn't been ruled out, it hasn't been ruled in yet either.
Still, the detection of this mysterious X-ray signal has provided fresh fodder for testing dark matter models, fodder that's badly needed after experiments such as LUX have severely limited them.
"We know that the dark matter explanation is a long shot, but the pay-off would be huge if we're right," Bulbul said in a press release. "So we're going to keep testing this interpretation and see where it takes us."
---
Subscribe to Sky & Telescope to get a monthly dose of the universe's mysteries!