The seven scientific instruments to be built for NASA's Mars 2020 rover will pave the way for human exploration of the Red Planet.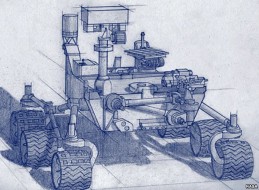 Six years from now, there will be a new NASA robot heading to the Red Planet: the Mars 2020 rover. On July 31st mission planners unveiled their picks for the rover's seven scientific instruments. What immediately stands out about these instruments is not just the high-tech science they'll accomplish, but that they're geared to pave the way for human exploration of Mars.
The Mars 2020 rover is a Curiosity 2.0. NASA's Mars Science Laboratory ("Curiosity") touched down in 2012 and has determined that Mars once hosted a habitable environment. (That's not the same thing as saying life lived there—just that it could have survived there if present.) Mars 2020 will expand that research by not only searching for potential signatures of ancient life on Mars, but also studying the environmental factors that will affect a future human presence on the planet. "This is really going to take our understanding of Mars to the next level," NASA Chief Scientist Ellen Stofan stated in the NASA press conference on Thursday.
In January, NASA received 58 proposals for the instruments onboard Mars 2020 from scientists and engineers worldwide. Since then, mission planners have weeding through the proposals to determine which ones will best enable them to pursue the mission's objectives. That process culminated in last week's announcement, when NASA representatives announced which seven instrument packages they decided will be built for the rover.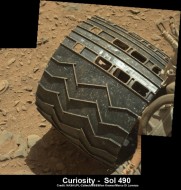 Each of the selected instruments for Mars 2020 is either an improved version of something used on Curiosity or is brand new to Mars. Although the new rover will have the same basic architecture as Curiosity, NASA scientists and engineers are working to improve that design however they can for Mars 2020—even down to the wheels, which they might redesign to better withstand damage from the Red Planet's rough terrain.
Much of the instrumentation on Mars 2020 is devoted to studying the planet's chemical composition and mineralogy, as well as detecting organic compounds that could hint at past life on Mars. The rover will also image the landscape, as well as the subsurface of Mars as deep as half a kilometer using a ground-penetrating radar.
Humans Breathing on Mars?
One particularly exciting function of the new rover is its Mars Oxygen ISRU Experiment (MOXIE), which will convert the carbon dioxide in Mars's atmosphere into oxygen. According to Michael Hecht, Principal Investigator of the MOXIE instrument, MOXIE will be like a "fuel cell run in reverse." Whereas normal fuel cells combine fuel with an oxidizer (usually oxygen) to produce electricity, MOXIE consumes electricity and carbon dioxide to produce oxygen.
MOXIE might serve as the prototype for a large-scale system of oxygen production on Mars, which would be crucial not only for the respiration of human pioneers, but also the rocket fuel for a return trip to Earth.
The information gleaned from Mars 2020's instruments will help scientists better understand the risks involved with human excursions on Mars and will certainly inform future mission designs. "Human exploration of Mars will be a seminal event for the next generation, the same way the Moon landing was for my generation," Hecht stated in an MIT press release. "I welcome this opportunity to move us closer to that vision."
Of Sample Collection and Boston Cream Pie
Mars 2020 will also collect samples of Martian rock to be retrieved on future (but as-yet unplanned) missions. Unlike Curiosity, which grinds Martian material to inspect its chemical composition, Mars 2020 will be equipped with a coring system that removes whole chunks of rock.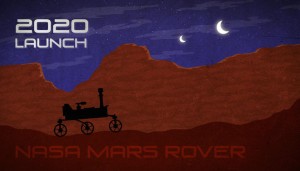 Michael Meyer, Lead Scientist for NASA's Mars Exploration Program, offers an analogy: Say you want to analyze a slice of Boston cream pie. The coring system would preserve the carefully laid layers of custard and chocolate, whereas the grinding system would provide you a light brown paste. By maintaining the structure of the rock, scientists can learn more about the history and environment of the rock's formation, explains Meyer. There are currently no definitive plans to retrieve the samples Mars 2020 collects, but sealed samples can be stored for upwards of 20 years.
Mars 2020 is an international effort involving more than 50 institutions around the world. The entire mission will cost approximately $1.9 billion U.S., with $130 million devoted to developing the seven instruments onboard. That's a big chunk of change, but it's worth noting that the Curiosity mission cost nearly $2.5 billion. NASA mission planners explain that reproducing the basic infrastructure of Curiosity for Mars 2020, including using leftover parts, will significantly decrease the cost of the new mission.
You can learn more about the function of Mars 2020's individual instruments in the NASA press release.
---
Interested in Mars? There's more to discover about the Red Planet inside Sky & Telescope's special "Mysteries of Mars" issue.