Dynamicists had predicted that Comet 209P/LINEAR would create an active meteor display in the early morning of May 24th. But reports from observers across the U.S. and Canada suggest that the Camelopardalid meteor shower was weak at best.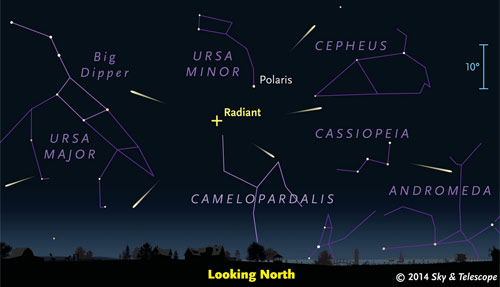 Meteor dynamicists had been unanimous in their prediction that skygazers would witness a new meteor shower — the Camelopardalids — last night. The sharp, brief peak was supposed to last just a few hours, centered at roughly 7:00 Universal Time (3 a.m. Eastern Daylight Time). This timing made the U.S. and southern Canada the prime real estate for meteor watching last night.
However, the predictions of how many meteors we'd see varied widely, ranging from a very weak, inconsequential display to a possible "storm" (1,000 meteors per hour under ideal conditions). The consensus view was that we'd see perhaps one or two meteors per minute, something akin to the best traditional showers like the Perseids and Geminids.
Now the dynamicists will have to recheck their calculations, because early reports from observers suggest that the Camelopardalids were weak at best. Typical is this report from S&T contributing editor Joe Rao, who made a long-distance trek with his wife from soggy New York in order to find clear skies:
"The 'Cams' were pretty much a bust as seen from here in Dunmore, West Virginia. Indeed, these meteors certainly could have done more. Renate and I watched from the comfort of two lounge chairs under a beautiful sky that conservatively was no worse than magnitude 6, with a spectacular Milky Way stretching from Cassiopeia to Scorpius. We were out from 1:45 to 3:30 a.m. EDT and saw 8 possible Camelopardalids. The best one by far was a slow moving dazzler of at least –5 magnitude at 3:20 a.m., which appeared below Arcturus. That was pretty much the highlight."
Astrophotographer Jerry Lodriguss, based in suburban Philadelphia, offered a more blunt assessment, tagging this as the "biggest disappointment of the millennium so far — much worse than Comet ISON." He used two cameras to shoot 455 frames that covered nearly 7,000 square degrees of sky between 6:07 and 8:12 UT. "I think I may have recorded one piddling little meteor . . . We had eight observers and we saw, maybe, 2-3 meteors per hour. And they were extremely unimpressive. No fireballs at all."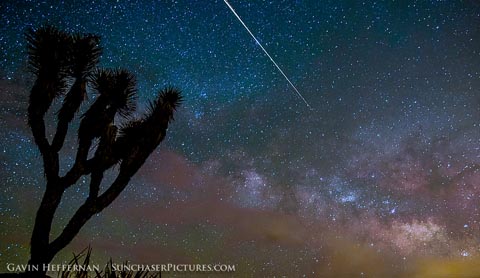 NASA's Marshall Space Flight Center, home to the agency's Meteoroid Environment Office, hosted a live event that garnered 2,000+ comments from participants. Among them was Gerald Loosehelm, observing near Madison, Wisconsin, who reports, "Went out with my wife for over an hour and we saw about 6 each." Robert Beyer Jr. adds, "I went to an observation point outside Augustus, Missouri. I did see 23 total meteors. About 8 of them were really nice with long tails."
But they were among the more fortunate observers. Others commented "Nothing here in Florida," "I have been waiting for 3 hours now and saw nothing," and "Nothing happening here in Rosemead, CA." Results compiled by the International Meteor Organization suggest that the 2014 Camelopardalids had a zenithal hourly rate of no more than 15. (ZHR is what you'd see under ideal sky conditions with the shower's radiant directly overhead. Your results may vary.)
Did you try to spot these meteors? What did (or didn't) you see? Let me know by posting a comment below.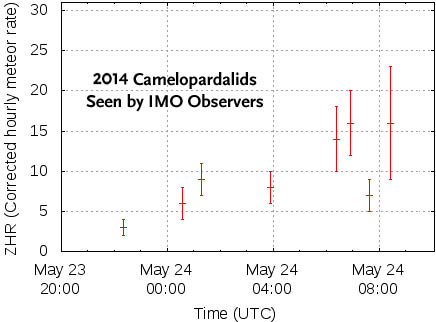 All told, it appears that the shower does exist, but its performance last night was weak at best. This matches the prediction of Peter Jenniskens (SETI Institute), who, with help from Finnish specialist Esko Lyytinen, first noted the possibility of a Camelopardalid shower based on Jupiter's perturbation of the orbit of Comet 209P/LINEAR in February 2012. Jenniskens was very conservative in his estimate — more so than his counterparts (including Lyytinen) — because this year's shower involved particles shed by the comet long ago. "We do not know what rate to expect," he told me earlier this week, "because the comet was not observed in the 18th, 19th and early 20th centuries. The present comet activity may not be representative."
Camelopardalid Science Results
Understandably, researchers want to know everything they can about last night's event, which is likely the only display of "Cams" we'll see until 2022 and 2045. "This comet is interesting," Jenniskens explains, "because the periodic disruption of this type of weakly active comets is responsible for many of our meteor showers."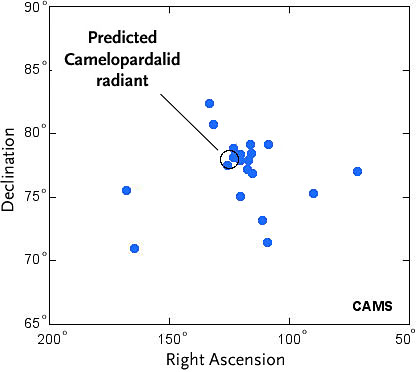 The various predictions involved using computer simulations to follow the orbital evolution of debris ejected by Comet 209P/LINEAR each time it neared the Sun. In the past 250 years, the comet has done this about 50 times, so it's no easy task. Foe example, last-minute predictions by David Asher (Armagh Observatory) suggest that the densest concentration of debris strands, those shed by Comet 209P/LINEAR at least a century ago, would miss Earth this time around. Only those shed in 1778 and 1903 would yield direct hits.
Figuring out just exactly which strands contributed will require careful analysis of when the meteors arrived and their exact trajectories. Sets of all-sky cameras positioned by Jenniskens at two sites in northern California recorded a broad range of radiant locations, suggesting that many debris streams were involved. Generally, it seems that the oldest surviving particles appeared first and the youngest ones later on.
Just two days ago, Jenniskens chartered a twin-engine Beechcraft King Air 90 to carry him and three other researchers over northern California and the Pacific Ocean to record the display from an altitude of 20,000 feet. Team member Ron Dantowitz, director of the Clay Center Observatory at Dexter Southfield School in Brookline, Massachusetts, raced cross-country to participate.
"It was a big relief when we saw the first Camelopardalids last night," Jenniskens said via email. "We could have seen nothing if the comet hadn't been active in the recent past. Our best meteors came towards the end of the flight when we traveled through the most recently ejected dust. If that result is confirmed, we may see an interesting display with the 2009 dust trail encounter in 2019." Check the website of Jenniskens' airborne campaign for additional results.
Rich sets of observations were collected using radio receivers and radar systems. A network of amateur radio telescopes, located mostly in North America and Europe, recorded a distinct pulse of meteor activity around 17:00 UT on May 24th — roughly 10 hours after the predicted time of the shower's maximum. Japanese radio observer Hirofumi Sugimoto has assembled some plots of radio-meteor activity.
The Canadian Meteor Orbit Radar operated by the University of Western Ontario. "Basically, the picture CMOR shows is that the Cams shower was rich in faint meteors," researcher Peter Brown told me, corresponding to visual magnitudes of just 6 or 7. "This is a consequence of (a) the slow speed of the meteoroids [about 20 km per second], (b) intrinsic dust population in the trail, and (c) dynamics of delivery to Earth for the trails — which seems to have somewhat favored mm-sized particles."
Monday-Morning Meteor Quarterbacking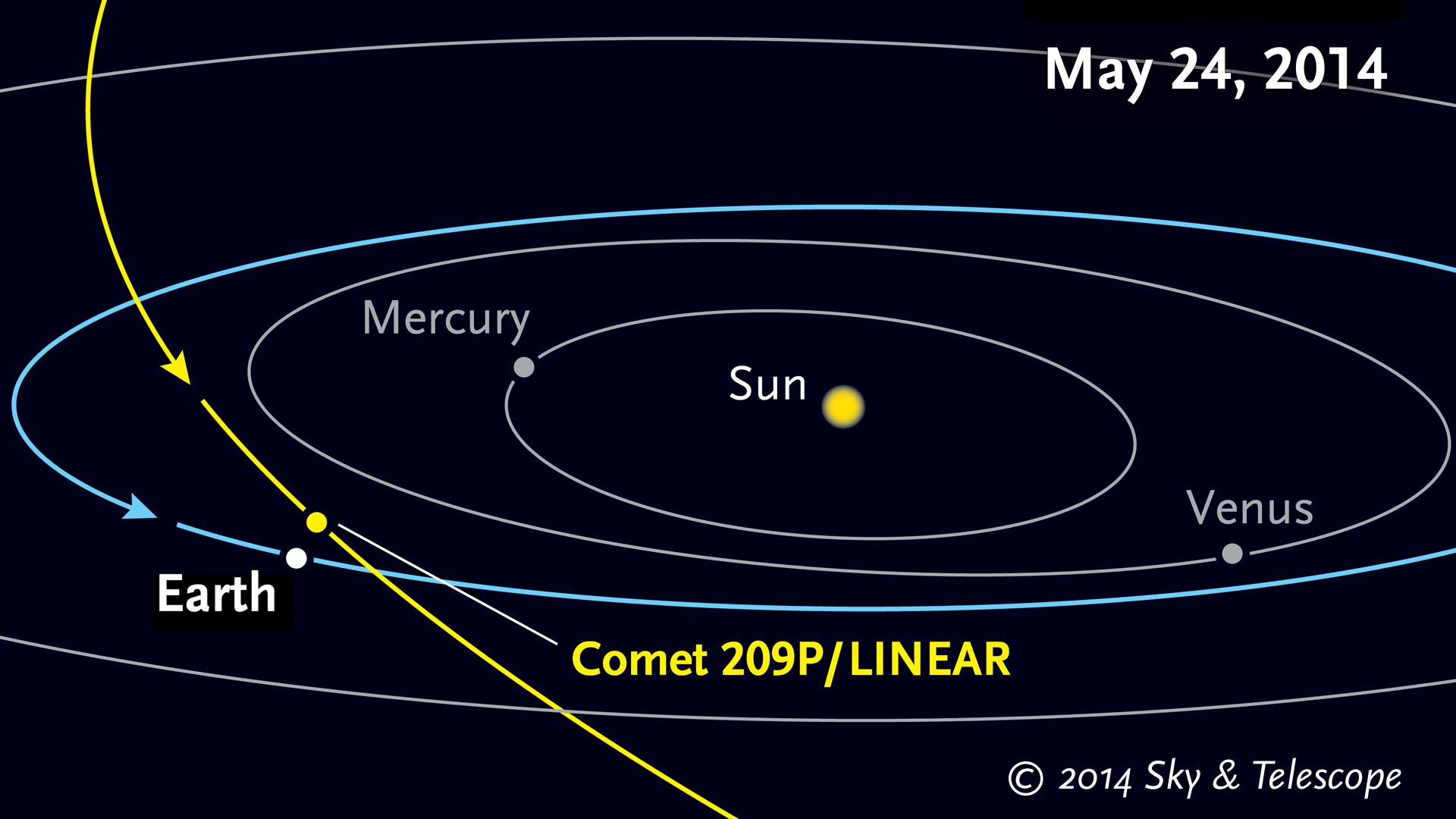 In hindsight, we all should have paid more attention to the slow arrival speed and, consequently, the low kinetic energy of the arriving Camelopardalid dust particles. After all, KE = ½ mv2 (emphasis on the v2). An incoming particle of just 0.1 gram barely registers when hits Earth's atmosphere at 20 km/s — but it becomes a –1-magnitude showstopper if it strikes at 60 km/s (the arrival speed of August's Perseid meteors).
Meanwhile, Comet 209P/LINEAR is cruising ever closer to Earth. On May 29th it comes as close as 5 million miles (0.055 astronomical unit) — the 9th closest approach of any comet on record. But the comet itself won't get any brighter than 11th magnitude at best. May's issue of Sky & Telescope has finder charts for tracking down the comet.