The media are abuzz over this summer's trio of "supermoons." The second of them, coming up on August 10th, will be the largest and brightest full moon of the year. Consequently, some have dubbed it a "super-duper moon."
But before you get overly excited, let's examine how super it really is.
Astrologer Richard Nolle first coined the term supermoon in a 1979 issue of Dell Horoscope magazine. A "supermoon," by his definition, occurs when either new or full Moon falls close to perigee, the Moon's closest point to Earth in its slightly elliptical monthly orbit. The astronomical term for this event has long been a "perigean" full or new Moon, but that wasn't as catchy. Myths have sprung up that supermoons trigger earthquakes and other Earthly misfortunes, but these claims have not withstood scientific scrutiny.
Nor does a supermoon look noticeably bigger or brighter than average, unless you measure it pretty carefully. The Moon's orbit is only a little bit elliptical.
Supermoon Specs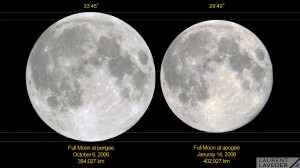 There are five supermoons in 2014: two when the Moon was new on January 1st and 30th, and three with the Moon full on July 12th, August 10th, and September 9th. The middle of these three is indeed somewhat special: perigee will occur at 17:44 UT (1:44 p.m. Eastern Daylight Time), just 26 minutes before the Moon is precisely full. Moreover, August 10th marks the moon's proxigee, or closest perigee of the year, 356,896 km (221,765 mi) from Earth.
But how special is special? The August supermoon is less than 1,500 km closer to Earth than its July and August counterparts, and only 27 km closer than the one in January.
Go out on the evening of the 10th, and if you didn't know in advance, you'd be hard pressed to tell whether this was a supermoon or the ordinary meh kind. It will appear just under 8% larger than the average full Moon, and about 15% larger than the "minimoon" at apogee. The difference is discernable in a side-by-side comparison like the one at right, but a glance up at the night sky isn't going to bowl anyone over.
The Moon Illusion
Media outlets advise their audiences to admire the supermoon when it's just above the horizon, because that's when it will appear the most augmented. In reality, you're actually 4,000 miles (Earth's radius) farther from the Moon when it's on your horizon than when it's overhead, an extra distance of about 1.6%. Nevertheless, the Moon looks bigger when it's low due to the famous Moon Illusion. The leading theory for why this happens is that we perceive the sky near the horizon as being farther away than the sky overhead, where we have no distant scenery to serve as a comparison. The same illusion happens to constellations when they're low.
---
Senior Editor Alan MacRobert also contributed to the reporting on this story.
Fascinated by the moon? Check out Sky & Telescope's beautiful moon globe.