With the help of the Solar Heliospheric Observatory you can not only keep track of the planets in the daytime sky but maybe even discover a comet.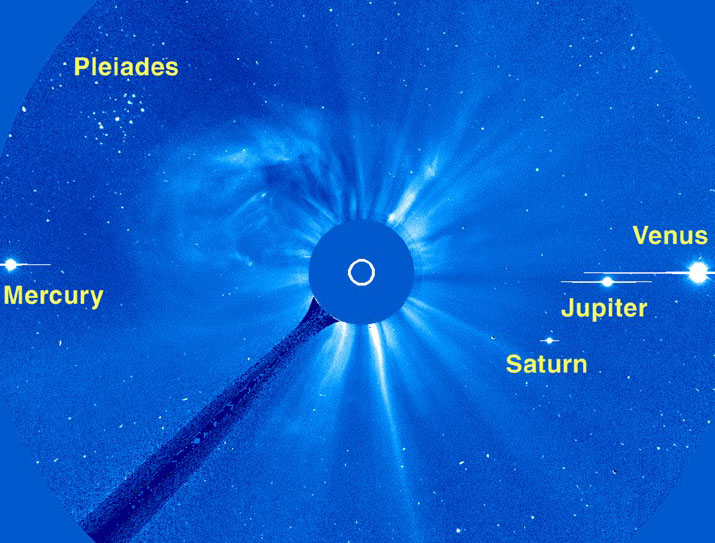 Nature is replete with rhythms. Earth spins, planets revolve, variable stars pulsate, and the moon waxes and wanes. Many of us watched Jupiter and Saturn squeeze together during the recent Great Conjunction, then followed them until they disappeared in the solar glare in January.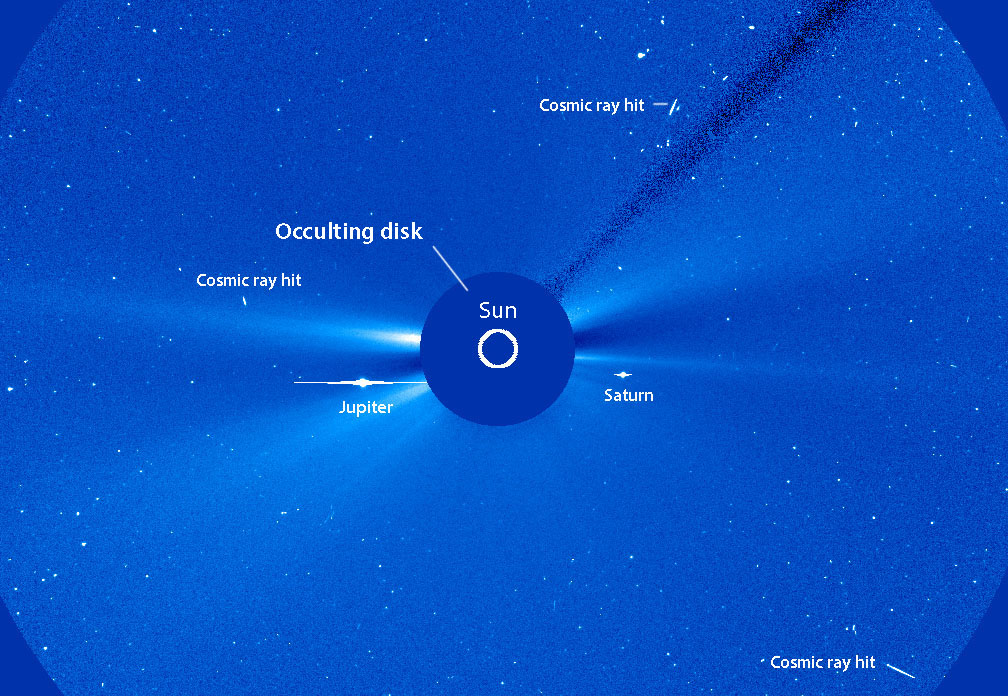 Proximity to the Sun during solar conjunction temporarily interrupted our view of the planets. Broke the rhythm as it were. Saturn and Jupiter won't return to visibility until the end of February at dawn. But why wait? I got on the web, dialed up the Solar and Heliospheric Observatory (SOHO) site, and watched each planet sidle up to the Sun during their transition from the evening to morning sky.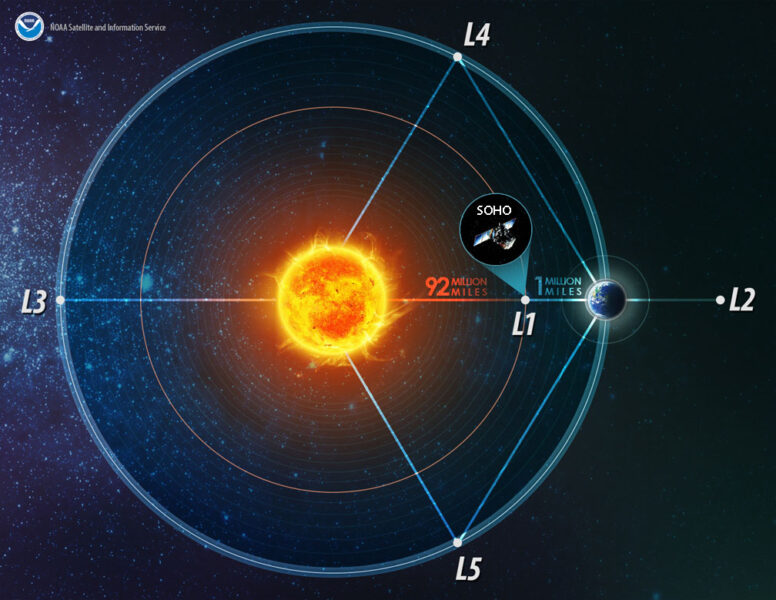 Launched in December 1995, SOHO is a joint venture between NASA and the European Space Agency (ESA). It orbits near the first Lagrangian Point (L1), a region where the gravitational tugs of the Sun and Earth are at equilibrium, providing a 'parking place' for the spacecraft. L1 is located 1.5 million kilometers inside Earth's orbit, an ideal spot for SOHO to keep a continuous watch on our tempestuous star.
Among its suite of instruments is the Large Angle and Spectrometric Coronagraph Experiment (LASCO) that comprises three telescopes dubbed C1, C2, and C3, each of which employs an opaque occulting disk to block the Sun from view. On Earth, the atmosphere scatters sunlight and makes the sky blue, but in airless space, the coronagraphs capture crisp views of the solar corona as well as coronal mass ejections — powerful eruptions of plasma that occur in the wake of solar flares and prominence ejections. They also record everything else crossing the field of view including stars, planets, asteroids, comets, and even a few deep-sky objects.
LASCO C1 went belly-up in 1998 after a bad command caused a loss of communication and other issues, but C2 and C3 came through unscathed. LASCO C3 has a field of view about 16° across, equal to 45 million kilometers at the distance of the Sun, or half the diameter of Mercury's orbit. The C2 coronagraph focuses in more narrowly; its field of view encompasses about 3°.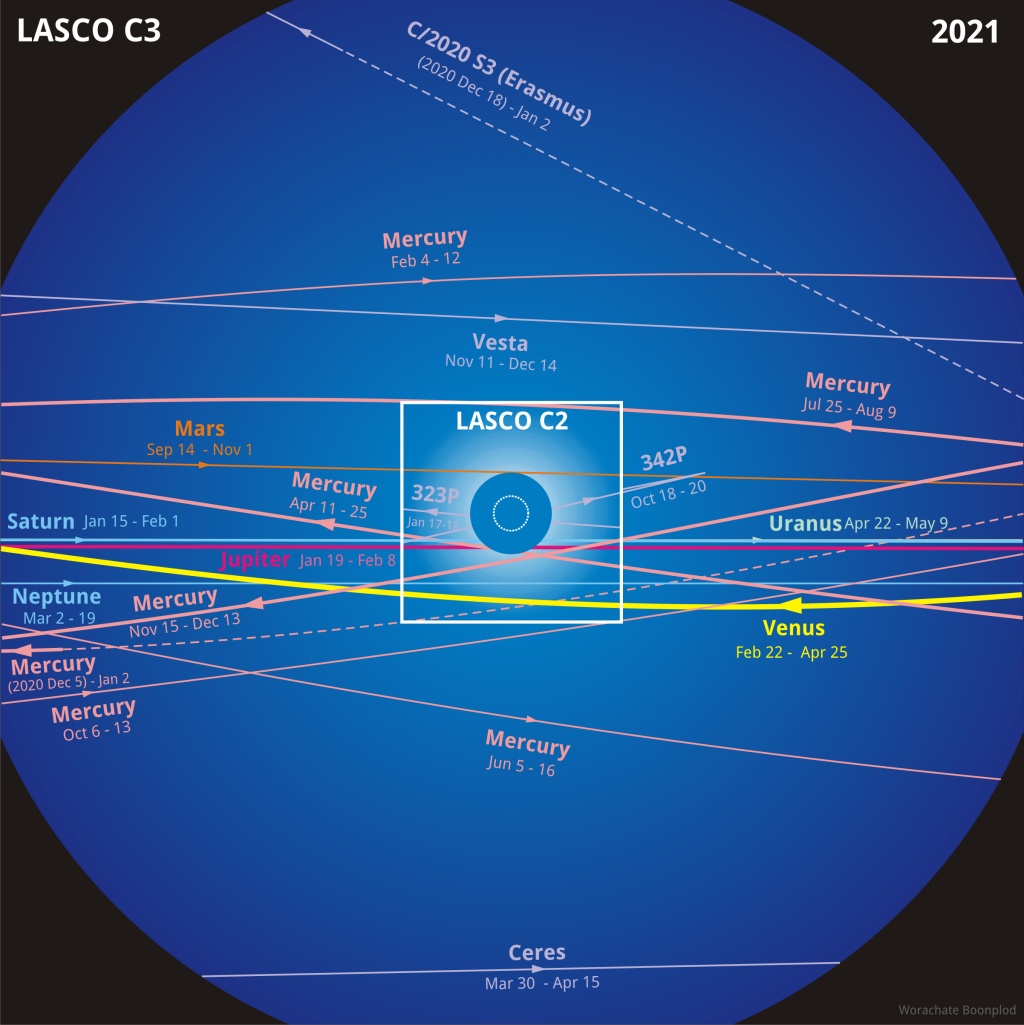 To anticipate what comes and goes under the coronagraphs' gaze, Thai amateur astronomer and SOHO comet hunter Worachate Boonplod created a 2021 coronagraph transit calendar and list of events (below). Each line in the image above represents the path of an object transiting either coronagraph's field of view. Arrows indicate the direction of motion. Objects labeled 323P, 342P, and C/2020 S3 are comets. The limiting magnitude for the LASCO C3 instrument is about 8.0 – 8.5 and 8.5 – 9.0 for LASCO C2.
| | | | |
| --- | --- | --- | --- |
| Visibility in LASCO C3 | Object | Magnitude | Direction |
| Jan. 19 – Feb. 8 | Jupiter | –1.9 | Left to right |
| February 4 – 12 | Mercury | +5 | Left to right |
| Feb. 22 – Apr. 25 | Venus | –4 | Right to left |
| March 2 – 19 | Neptune | +8.9 | Left to right |
| Mar. 30 – Apr. 15 | 1 Ceres | +9 | Left to right |
| April 11 – 25 | Mercury | –2 | Right to left |
| Apr. 22 – May 9 | Uranus | +5.9 | Left to right |
| June 5 – 16 | Mercury | +5 | Left to right |
| July 25 – Aug. 9 | Mercury | –2 | Right to left |
| Sept. 14 – Nov. 1 | Mars | +1.7 | Left to right |
| October 6 – 13 | Mercury | +5 | Left to right |
| October 18 – 20 | 342P/SOHO | +7 | Left to right to left |
| Nov. 11 – Dec. 14 | Vesta | +7.5 | Left to right |
| Nov. 15 – Dec. 13 | Mercury | –1 | Right to left |
This is a list of transits that will be visible in the C3 coronagraph in 2021.
Bookmark the SOHO images site, and when you're in the mood for some daytime observing or to see any of the events listed above, click on either the blue LASCO C3 or red LASCO C2 photo for the most current high-resolution image. To see archived photos, click on the orange More 512 × 512 links below the images. You can also watch an animation of each day's image-take at the LASCO coronagraph site.
A number of amateur astronomers routinely monitor SOHO images to find new comets in the Sun's vicinity that are otherwise invisible in daylight from the ground. More than 4,100 have been discovered to date including 600+ by Boonplod. Most of them are Kreutz sungrazers, fragments of a much larger comet that broke up centuries ago that continue to orbit the Sun.
To participate and potentially spot a new comet, check out The Official Guide to SOHO Comet Hunting or participate in The Sungrazer Project. If you regularly monitor the photos you'll also be among the first to catch sight of coronal mass ejections, massive outbursts of solar plasma launched into space that can spark spectacular auroras.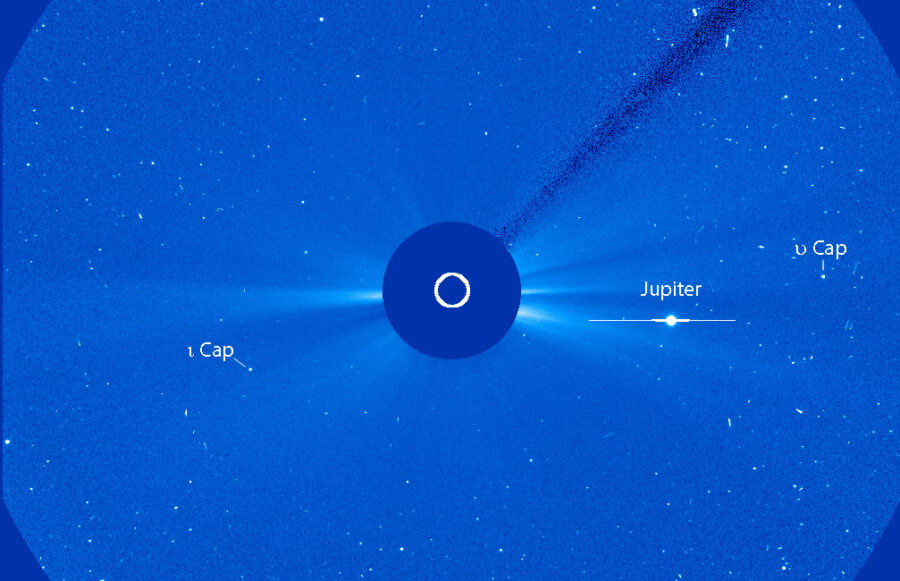 ---