Hawaiian Governor David Ige and the Thirty Meter Telescope International Observatory have announced that construction of the Thirty Meter Telescope will begin the week of July 15th.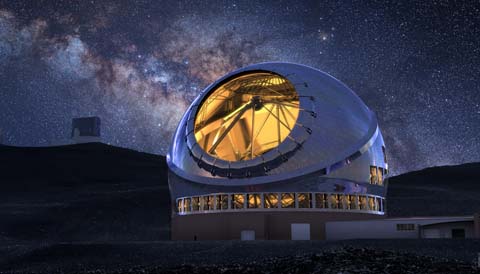 Four years after protests halted construction of the Thirty Meter Telescope atop Mauna Kea, Hawai'i, Governor David Ige has announced that construction will resume. The Mauna Kea Access Road, where protests took place in 2015, will be closed beginning July 15th, but it's not yet clear when construction itself will restart.
The megatelescope completed its design and development phase in 2009, but legal challenges from Native Hawaiian activists — who treasure Mauna Kea for cultural and religious reasons — have hounded the telescope. Thirteen telescope domes now dot the top of Mauna Kea, taking advantage of the clear seeing at 13,796 feet (4,205 m) above the Pacific Ocean. Some Hawaiians remain concerned that building another telescope — and a monster one at that — would disturb the shrines, altars, and other sacred sites on the dormant volcano. Their concerns extend to the environment as well.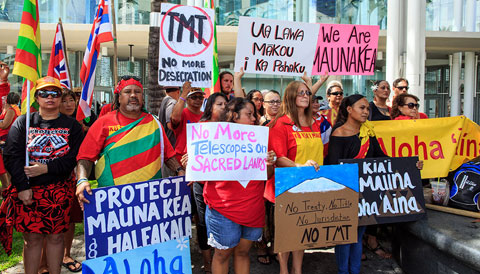 The new agreement that is now allowing TMT's construction to proceed includes specifications that three existing telescopes will be decommissioned and removed from the summit, and another two facilities must be removed by 2033. The plan also puts a number of environmental protections in place. (Read the full story about the agreement here.)
However, while a majority of Hawaiians appear to support the telescope and its construction (a 2018 newspaper poll showed that 77% of respondents support the TMT), some activists remain firmly opposed. The same day as Ige's announcement, the Mauna Kea Anaina Hou organization filed a fresh lawsuit and the Hawaii Unity and Liberation Institute issued a statement that they would "forever fight the TMT," but that they "stand firm in Kapu Aloha – peace and nonviolence."
On behalf of the TMT, Board of Governors chair Henry Yang says, "We have learned much over the last 10-plus years on the unique importance of Maunakea to all, and we remain committed to being good stewards on the mountain and inclusive of the Hawaiian community. . . . We acknowledge those who disagree with our project and express our respect for their views."