The bursting stars RS Ophiuchi and Nova Cassiopeiae 2021 continue to hover around magnitude 8½.
---
FRIDAY, SEPTEMBER 3
■ Before moonlight returns to the evening sky next week, trace out the Milky Way arching from horizon to zenith to horizon after nightfall is complete. Even through a fair amount of light pollution you can see subtle traces of it. The Milky Way runs from the low south-southwest (between Sagittarius and the tail of Scorpius) up through Aquila and then Cygnus high overhead, on down through Cepheus and Cassiopeia to Perseus low in the north-northeast.
Cygnus sports the Cygnus Star Cloud, one of the Milky Way's richest areas. Explore here in depth with binoculars or a small scope using Matt Wedel's "Touring Cygnus with Binoculars" in the September Sky & Telescope starting on page 34.
■ In the dawns of Saturday and Sunday, spot the thin morning Moon waning away as shown below.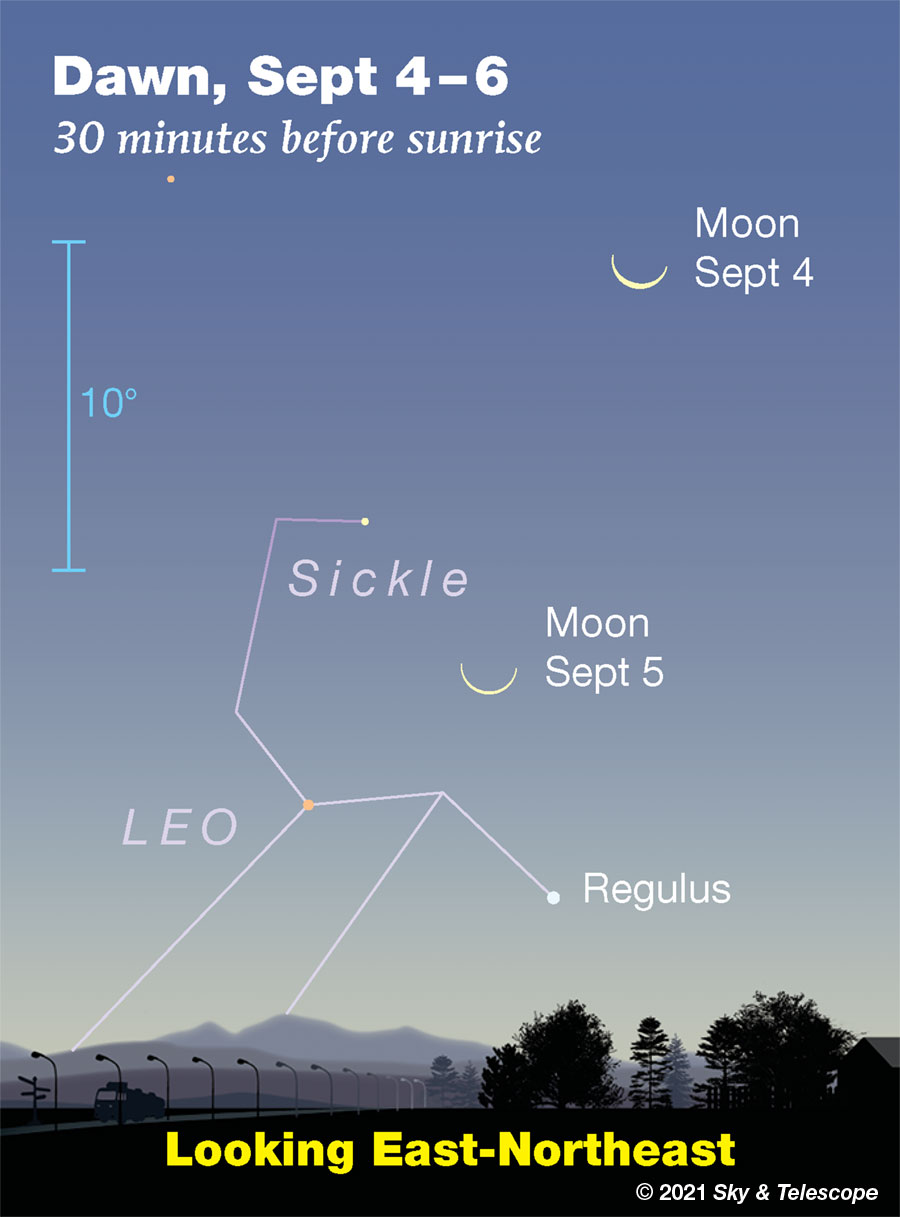 SATURDAY, SEPTEMBER 4
■ In early twilight, look for little Spica lower left of Venus by 1.8°. It's only 1/100 as bright. Tomorrow they'll be 1.6° apart.
SUNDAY, SEPTEMBER 5
■ Now in early twilight, look for Spica under Venus by 1.6° as shown below. And, can you manage to catch Mercury 15° (about a fist and a half) to their lower right?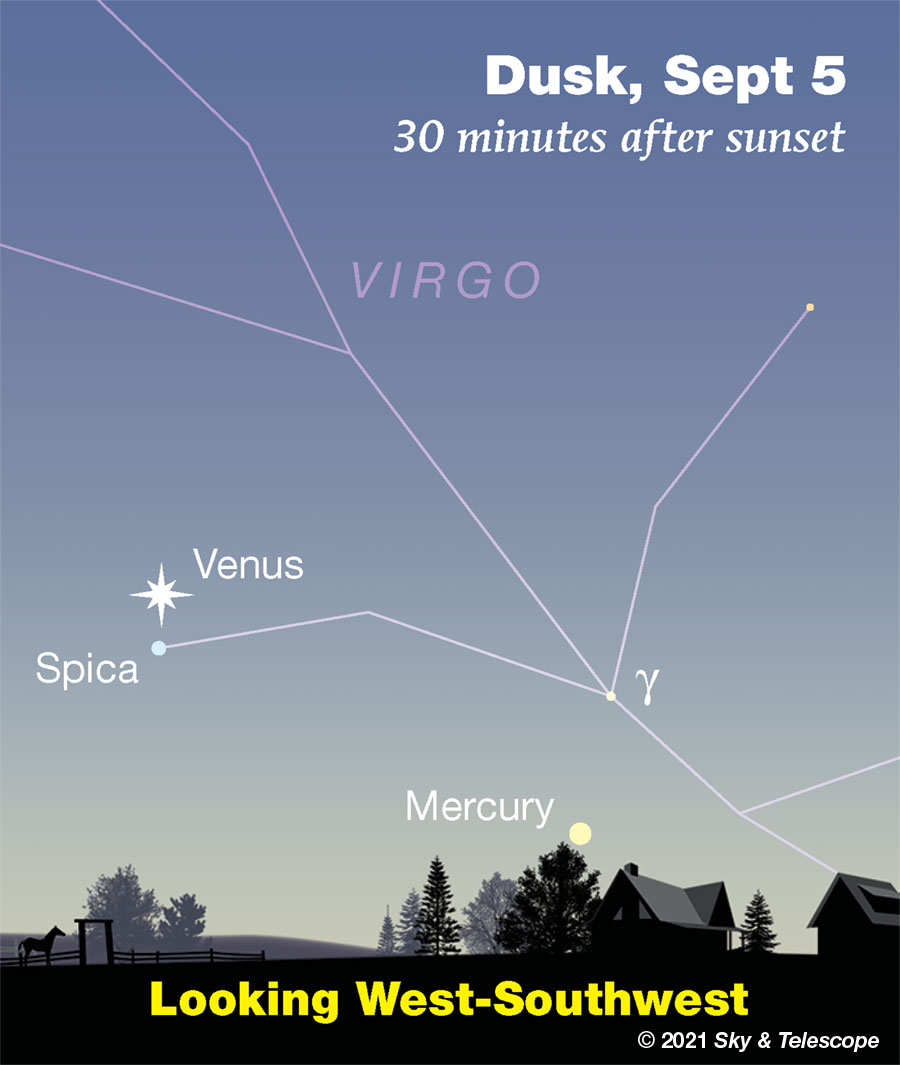 ■ As autumn approaches, Fomalhaut, the Autumn Star, makes its appearance above the southeast horizon in mid- to late evening. Its rising time will depend on where you live. But by about 10 p.m. you should have no trouble spotting it low in the southeast; just find an open view in that direction. This season Fomalhaut is easier to locate than usual: Look about two fists below Jupiter and a little left.
■ New Moon (exact at 8:52 p.m. EDT).
TUESDAY, SEPTEMBER 7
■ By 10 p.m. two of the best-known deep-sky objects, the Double Cluster in Perseus and the Great Andromeda Galaxy M31, are in high view in the east. Did you know they're only 22° apart? They're both cataloged as 4th magnitude but to the naked eye they look rather different from each other, the more so the darker your sky. See for yourself; they're plotted on the all-sky constellation map in the center of the September Sky & Telescope, which should be all the map you need to identify their locations. They're below Cassiopeia and farther to Cassiopeia's right, respectively. Sky too bright? Use binoculars!
The two clusters of the Double Cluster (NGC 869 and NGC 884) are at very similar distances about 7,600 light-years away. M31, at 2.5 million light-years, is about 330 times as far.
WEDNESDAY, SEPTEMBER 8
■ Early in twilight use the low, thin Moon to guide you down toward Mercury, as shown below. They'll be about 5° apart. Binoculars help.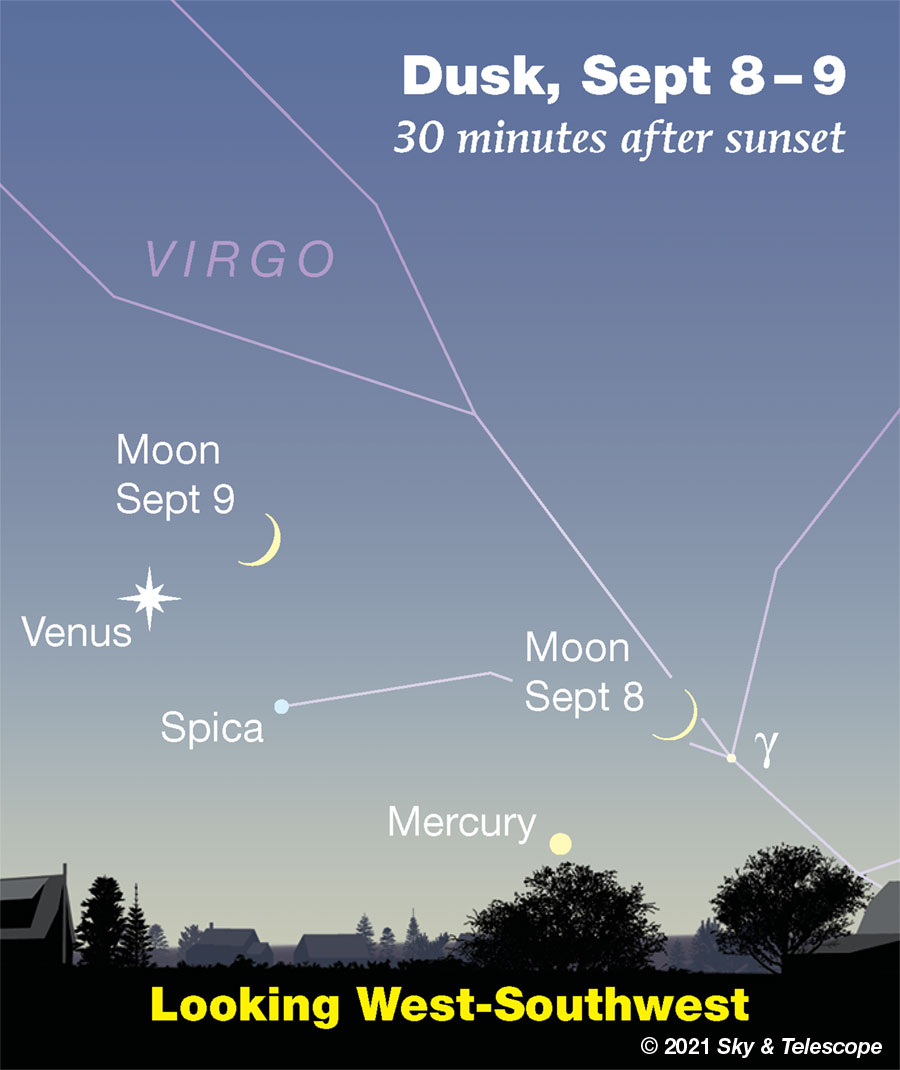 THURSDAY, SEPTEMBER 9
■ Now catch the more obvious crescent Moon paired with white-light Venus low in the west-southwest in twilight, as shown above. They'll be 4° apart for North America. Can you make out Spica below them?
FRIDAY, SEPTEMBER 10
■ The two brightest stars (not planets) of September evenings are Vega high overhead and Arcturus in the west, both magnitude zero.
Draw a line from Vega down to Arcturus. A third of the way down you cross the dim Keystone of Hercules. Two thirds of the way you cross the dim semicircle of Corona Borealis with its one modestly bright star: Alphecca, the gem of the crown.
SATURDAY, SEPTEMBER 11
■ Look left of the thick crescent Moon for the head stars of Scorpius, then orange Antares. Halfway between the Moon and Antares (for the Americas) is the brightest of the head stars, the long-term eruptive variable Delta Scorpii. It's been holding fairly steady at magnitude 1.8 since 2010.
---
This Week's Planet Roundup
Mercury (magnitude 0.0) is very deep down in the sunset, 15° lower right of Venus this week. You might have a chance at it with binoculars or a wide-field scope. About 15 or 20 minutes after sunset, scan for it just above your horizon due west. Good luck.
Venus, brilliant at magnitude –4.0, shines in the west-southwest during twilight. It still sets around twilight's end.
Jupiter and Saturn shine in the southeast to south these evenings. They're magnitudes –2.8 and +0.3, respectively, in dim Capricornus.

Jupiter starts the evening as slightly the lower of the two. lowest. Saturn glows 17° (almost two fists) to Jupiter's upper right. They level out around 10 p.m. daylight-saving time. By then they're about at their highest in the south, at their telescopic best. See "Saturnian Challenges" starting on page 52 of the July Sky & Telescope, also "Dog Days with the Gas Giants" on page 40 of August.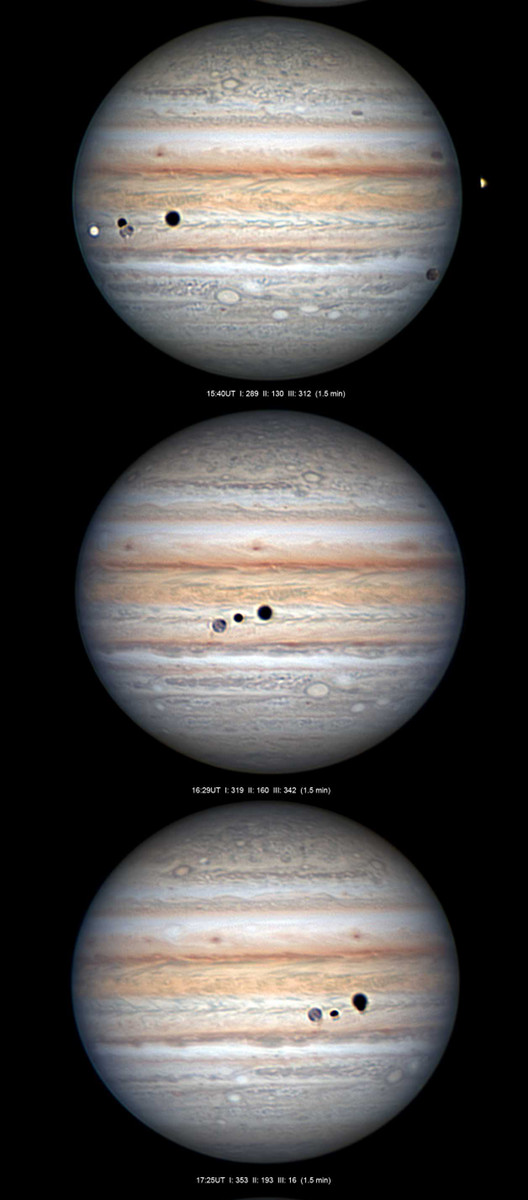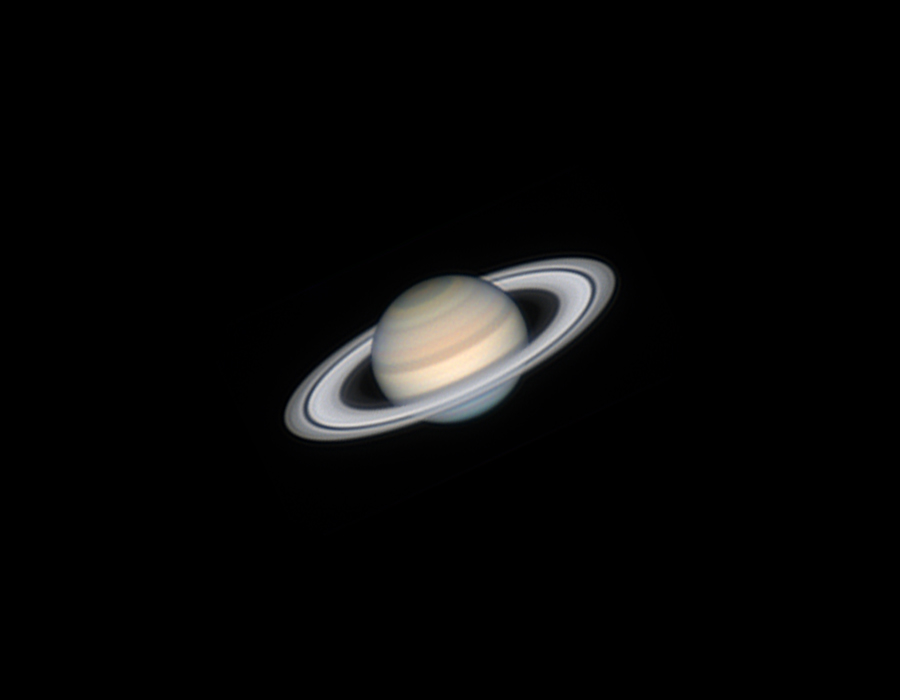 Uranus (magnitude 5.7, in Aries) gets high in the east after midnight.
Neptune (magnitude 7.8, at the Aquarius-Pisces border) is fairly high in the southeast as early as 10 p.m.
---
All descriptions that relate to your horizon — including the words up, down, right, and left — are written for the world's mid-northern latitudes. Descriptions that also depend on longitude (mainly Moon positions) are for North America.
Eastern Daylight Time, EDT, is Universal Time minus 4 hours. Universal Time is also known as UT, UTC, GMT, or Z time. To become more expert about time systems than 99% of the people you'll ever meet, see our compact article Time and the Amateur Astronomer.
---
Want to become a better astronomer? Learn your way around the constellations. They're the key to locating everything fainter and deeper to hunt with binoculars or a telescope.
This is an outdoor nature hobby. For an easy-to-use constellation guide covering the whole evening sky, use the big monthly map in the center of each issue of Sky & Telescope, the essential magazine of astronomy.
Once you get a telescope, to put it to good use you'll need a detailed, large-scale sky atlas (set of charts). The basic standard is the Pocket Sky Atlas (in either the original or Jumbo Edition), which shows stars to magnitude 7.6.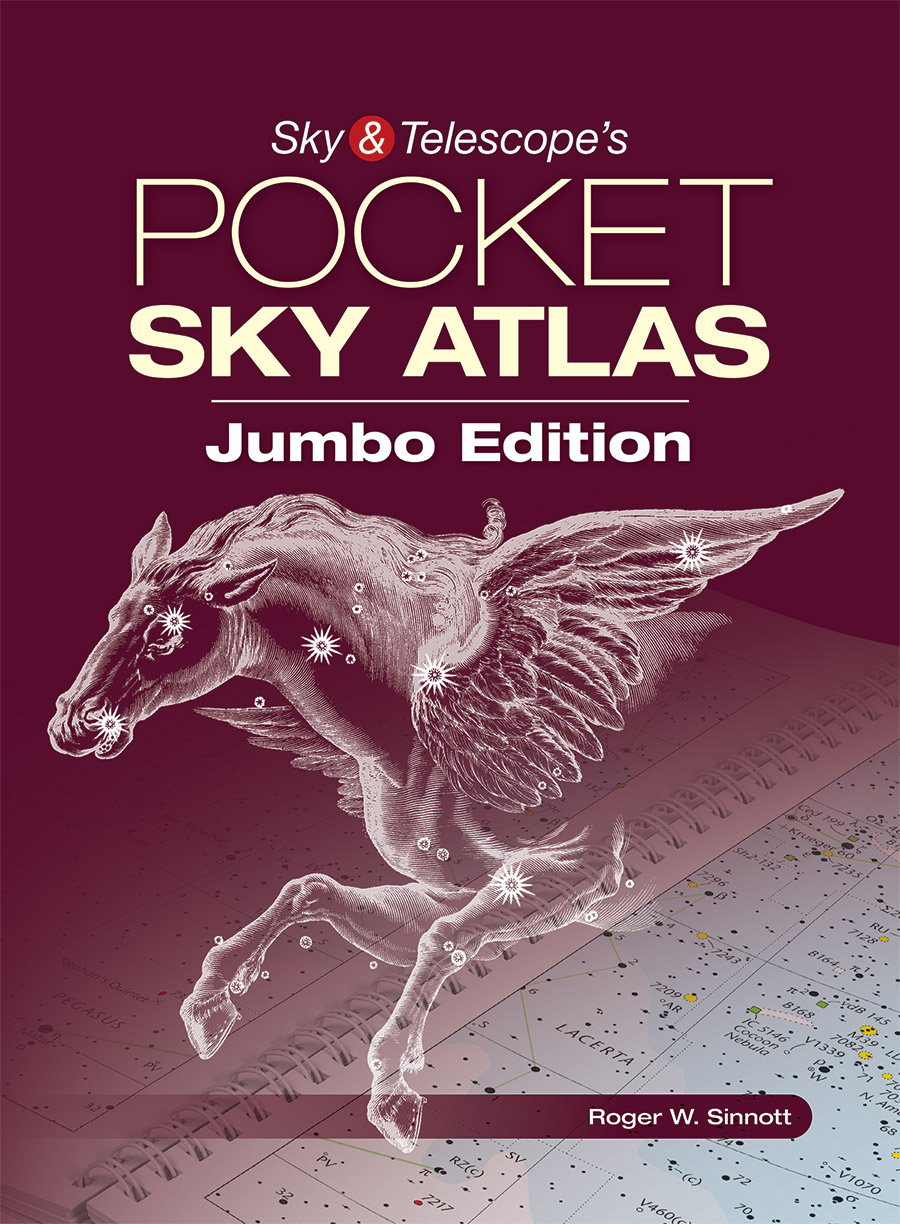 Next up is the larger and deeper Sky Atlas 2000.0, plotting stars to magnitude 8.5; nearly three times as many. The next up, once you know your way around, are the even larger Interstellarum atlas (stars to magnitude 9.5) or Uranometria 2000.0 (stars to magnitude 9.75). And be sure to read how to use sky charts with a telescope.
You'll also want a good deep-sky guidebook, such as the big Night Sky Observer's Guide by Kepple and Sanner.
Can a computerized telescope replace charts? Not for beginners, I don't think, and not on mounts and tripods that are less than top-quality mechanically, meaning heavy and expensive. And as Terence Dickinson and Alan Dyer say in their Backyard Astronomer's Guide, "A full appreciation of the universe cannot come without developing the skills to find things in the sky and understanding how the sky works. This knowledge comes only by spending time under the stars with star maps in hand."
---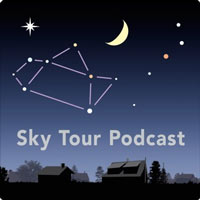 Audio sky tour. Out under the evening sky with your
earbuds in place, listen to Kelly Beatty's monthly
podcast tour of the heavens above. It's free.

---

"The dangers of not thinking clearly are much greater now than ever before. It's not that there's something new in our way of thinking, it's that credulous and confused thinking can be much more lethal in ways it was never before."
— Carl Sagan, 1996
"Facts are stubborn things."
— John Adams, 1770
---