Astronomers studying the water vapor around a newborn star find that it's chemically similar to ice in solar system comets, a possible source of Earth's oceans.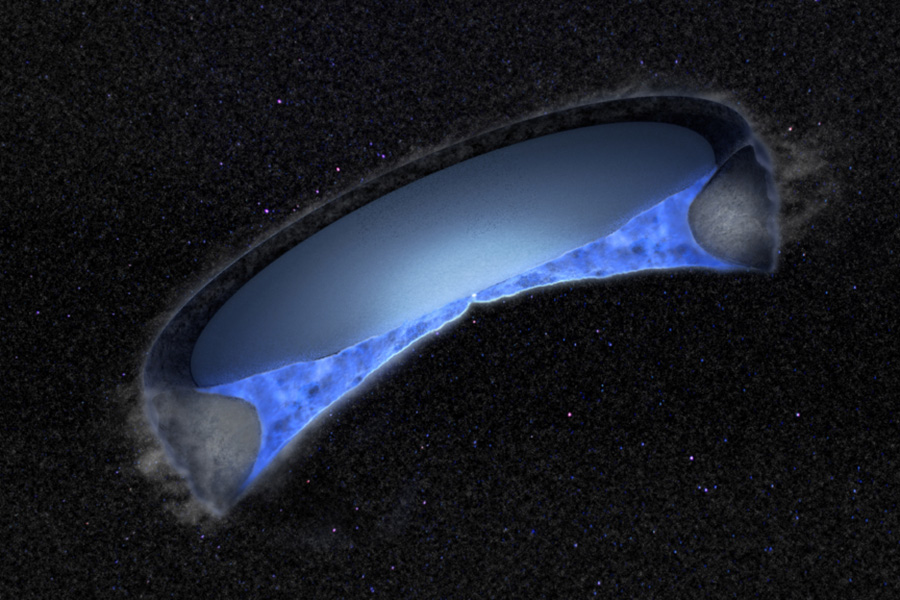 Astronomers have discovered that some of Earth's water could predate the Sun. They spotted gaseous water in a planet-forming disc around the infant star V883 Orionis, with a chemical composition that's a close match to the water found in the solar system's comets. Similar comets might have delivered water to early Earth. Their observations — made with the Atacama Large Millimeter/submillimeter Array in Chile — provide a missing link, showing that habitable planets can inherit a portion of their water largely unchanged from the interstellar medium. The disk around V883 Orionis, which sits some 1,300 light-years away, contains at least 1,200 times the amount of water in all of Earth's oceans.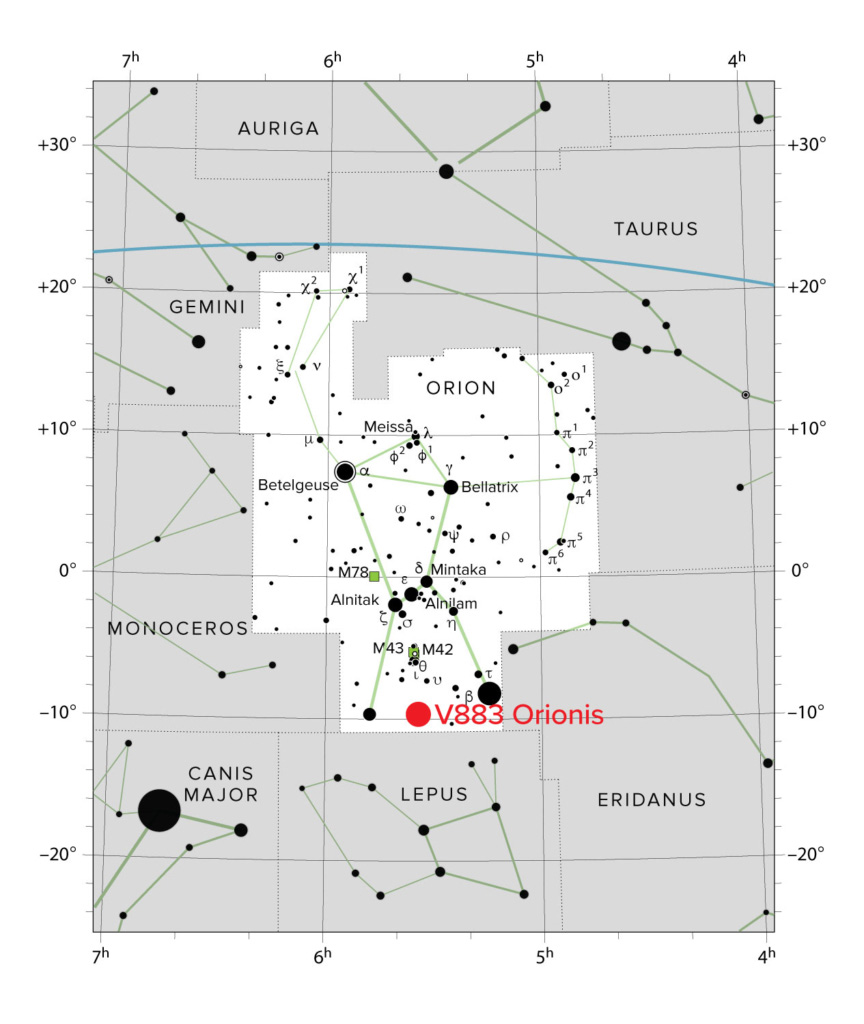 Water is arguably Earth's most distinctive feature. Much has been made about the search for water elsewhere the universe in the hunt for so-called Goldilocks planets, where temperatures might permit liquid water to exist. However, there's always been a gap in the story of how these planets ended up with vast quantities of H2O.
Astronomers have previously observed water in interstellar gas clouds and around young stars, and in the icy comets that patrol our solar system. However, it hasn't always been clear whether it's the same water along that whole journey, or whether there's another process that creates the cometary water at a later stage. "V883 Orionis is the missing link," says team lead John Tobin (National Radio Astronomy Observatory). The team's findings are published in Nature.
To make their discovery, Tobin's team took advantage of a rare atomic anomaly. Most water molecules are a marriage of two hydrogen atoms and one oxygen atom. Yet sometimes one of the hydrogen atoms is replaced by an atom of deuterium — an isotope of hydrogen that contains a neutron in its nucleus. The ratio of the two varieties of water is an important chemical fingerprint, as it relies on the conditions under which they formed.
"The composition of the water in the disk is very similar to that of comets in our own solar system," Tobin says. This implies that the water remains chemically unchanged as it passes from interstellar gas clouds, to new solar systems, and then to comets.
It might not just be water that survives the journey from interstellar space either. "An important consequence of this work is that other life-relevant species formed under similar conditions on [interstellar] dust grains, such as the amino acid glycine," says Sergio Ioppolo (Aarhus University, Denmark), who was not involved in the research. Glycine acts as neurotransmitter in the central nervous system.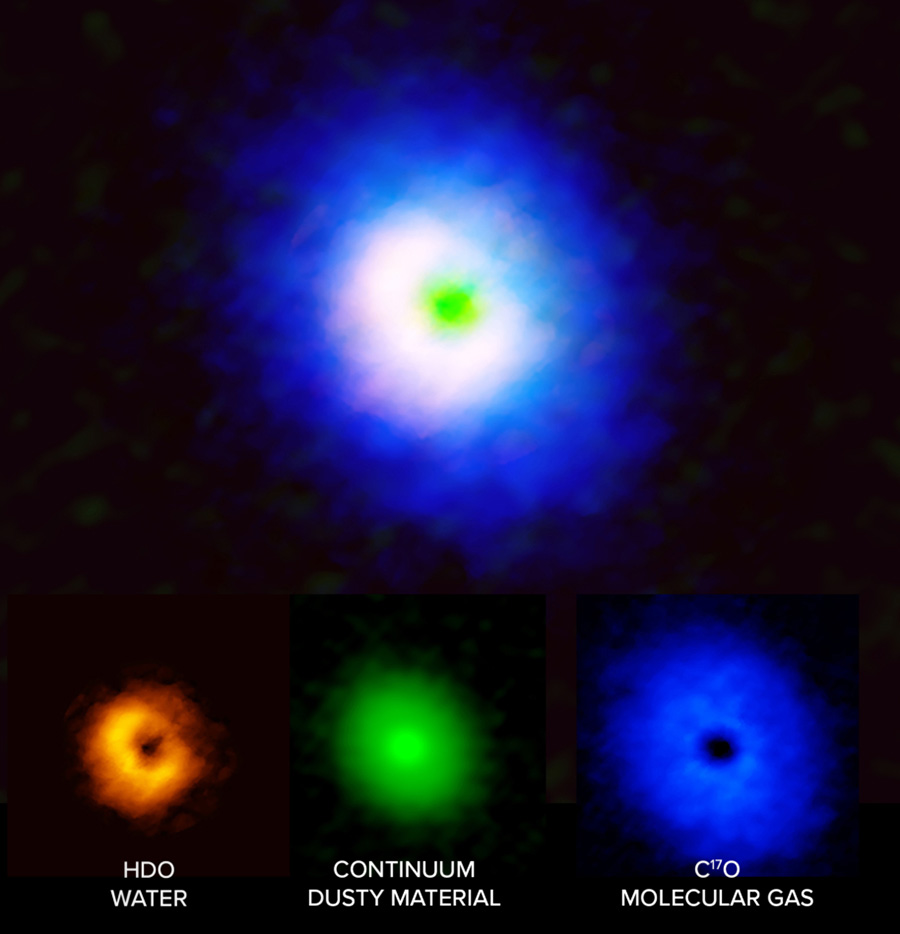 In order to make these measurements, Tobin's team had to find the right star. "Most of the water in planet-forming disks is frozen out as ice, so it's usually hidden from our view,'' says team member Margot Leemker (Leiden Observatory, The Netherlands). Astronomers detect water in space by observing the radiation it emits as it vibrates. In ice those vibrations are restricted. However, V883 Orionis lent Tobin's team a helping hand. A dramatic outburst of energy from the star heated the disk, turning the water from ice to gas.
If comets are the main source of Earth's water, then the team's findings imply that most of our water is older than the solar system itself. Yet it remains unclear is whether comets played such a major role, because Earth's oceans have a lower deuterium/hydrogen ratio compared with the water observed around V883 Orionis.
Tobin suggests two possible explanations. Either high temperatures lowered that ratio over time, or the bodies that delivered the water to Earth had an intrinsically lower ratio all along. Other studies have pointed the finger at asteroids as the main delivery mechanism, with comets being responsible for just 1% of Earth's water.
The next step for Tobin's team is to use the upcoming Extremely Large Telescope (ELT) and its Mid-infrared ELT Imager and Spectrograph (METIS) instrument to look at other young solar systems. According to Leemker, "This will give us a much more complete view of the ice and gas in planet-forming disks."
---
Editorial note (March 15, 2023): The role of glycine in biology has been corrected.
---