Mud cracks are evidence for sustained wet-dry cycles on ancient Mars, which might have provided conditions amenable to life (with caveats).

Planetary scientists analyzing data from the Curiosity rover have spotted the first evidence of wet-dry cycles on early Mars. Given that similar climatic cycles have long been linked to the advent of life on Earth, it could be an important step in understanding whether life-friendly conditions have ever existed on the Red Planet.
In a new paper released in Nature, a team led by William Rapin (University of Toulouse, France) describe mud cracks that Curiosity encountered back in 2021. "These particular mud cracks form when wet-dry conditions occur repeatedly — perhaps seasonally," Rapin says.
The rover team found the cracks while ascending Mount Sharp, which towers 5 kilometers (3 miles) over Gale Crater. They encountered a rock nicknamed "Pontours" sandwiched between a clay-rich layer and another layer enriched with salty sulfates. Clay-rich layers tend to form in water, whereas salty layers emerge when water dries up.
As the Martian mud dried out, it shrank and fractured into T-shaped junctions. Repeating wet-dry cycles — perhaps as many as 10 — softened the junctions, changing them to Y-shaped. Where several Y-shaped junctions meet they create a distinctive patchwork of hexagonal cracks; this is what Curiosity saw. On average each hexagon is 4 centimeters (1.5 inches) across, although their diameters range from 1 cm to 7 cm.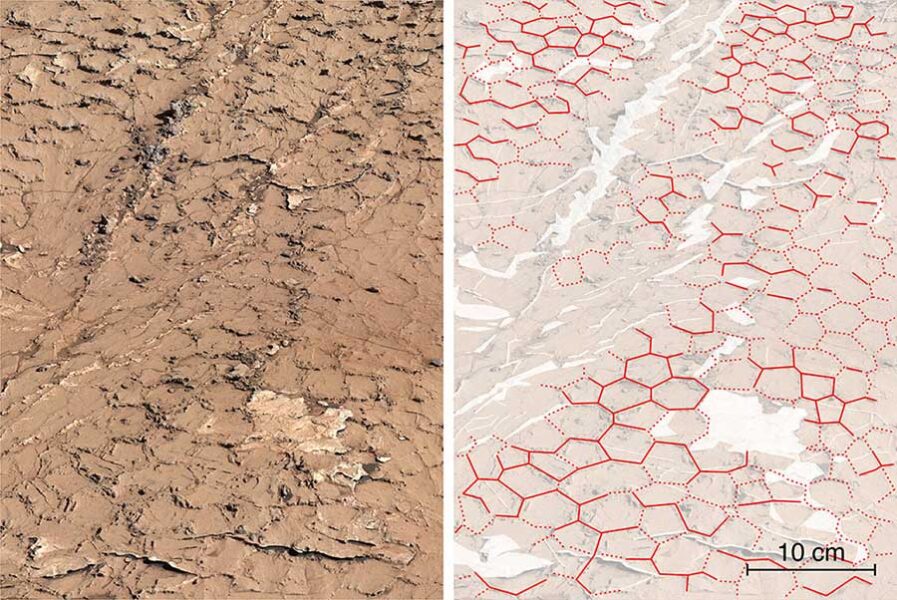 While similar patterns can be found in Death Valley, California, tectonic activity on Earth has buried the evidence of more ancient cycles. "It's pretty lucky for us to have a planet like Mars nearby that still holds a memory," Rapin says. He and his team think that the Martian hexagons have been preserved for billions of years thanks to a salty crust that runs along the edges of the cracks. The cracks date to the Noachian–Hesperian transition, which occurred 3.8 to 3.6 billion years ago.
"This is the first tangible evidence we've seen that the ancient climate of Mars had such regular, Earth-like wet-dry cycles," Rapin says. The pattern may have emerged as Gale Crater was repeatedly flooded or as ground water swelled upwards.
"We know that wet-dry cycles can drive chemical reactions to obtain the building blocks of life," says Sidney Becker (Max Planck Institute of Molecular Physiology, Germany), who was not involved in the research. "Finding those conditions on Mars is an exciting discovery."
As the water begins to dry up, it increases the concentration of soluble ingredients in the remaining water. This can boost chemical reaction rates and increase the chances of constructing the complex molecules that life relies on.
However, Becker also points out that wet-dry cycling isn't the only thing needed to assemble the building blocks of life — you also need the right atmospheric or mineral compositions. We don't yet know if Mars had those. And just because you have the building blocks doesn't mean they ever spark into life. "The conditions needed for the origin of life might be different to the ones that actually create the needed building blocks," Becker says.
Even if the wet-dry cycles did help to create ancient life on Mars, they could also have worked against it. "The conditions to sustain life over a long period of time again could be very different," Becker says. "Since first life was likely very fragile, wet-dry cycling might have caused too much external disturbance." Life's maker could ultimately have been its destroyer.
So, while these cracks are an important piece of the Martian puzzle, we are still a long way from being able to say whether the conditions were right on ancient Mars for life to spark out of the mud.