The launch of the Humanity Star has some fuming, others smiling, at the prospect of seeing a bright, new satellite. What do you think?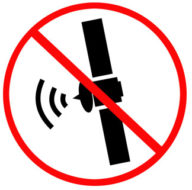 Despite their reputation for wantonly ruining deep-sky images, a lot of skywatchers enjoy watching satellites. The public sure does. Whenever I'm out with a group of people, they're thrilled to see the International Space Station (ISS) pass over. Satellites make us look up. Once we're facing the sky, our curiosity stoked, we can't help noticing all the other good stuff up there: planets, stars, meteors.
Tapping into that sentiment, Peter Beck, founder and CEO of Rocket Lab, created a meter-wide satellite named the Humanity Star and launched it into orbit from New Zealand on January 21st. The  geodesic sphere, made from carbon fiber with 65 highly reflective panels, spins rapidly, mimicking a disco ball. Because it reflects glints of sunlight back to Earth, viewers would expect to see a bright twinkling light crossing the sky during favorable passes.
"Orbiting the Earth every 90 minutes and visible from anywhere on the globe, the Humanity Star is designed to be a bright symbol and reminder to all on Earth about our fragile place in the universe," according to the Humanity Star website.
With an orbital inclination of 82.9° and a brightness advertised as rivaling the Iridium satellites, the object is expected to be visible from almost anywhere on the planet. Great news, right? Well, it depends. Not long after the launch became public knowledge, a tsunami of comments from amateur and professional astronomers hit Twitter, many critical of placing more "space garbage" in orbit to litter the sky and ruin astronomical observations.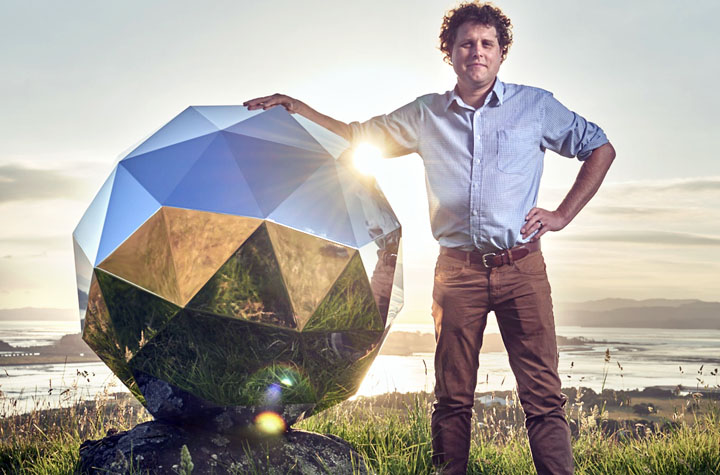 Yet based on information from the popular satellite site Heavens Above, we all might do well to step back and take a breath. The Humanity Star won't be visible from most Northern Hemisphere locations until early March. Even then, as I run the predictions, there won't a single pass brighter than magnitude 4.6. Most were in the mid-sixes and sevens. Despite the great expectations, the disco ball might only be seen by dedicated satellite watchers, not the average global citizen like my neighbor Frank. On the other hand . . . according to a recent posting on the SeeSat-L home page, the folks at Rocket Lab are estimating a magnitude of 0.7. That's bright but nowhere near the brilliance of a typical ISS pass.
You can also keep track of the satellite on Humanity Star's page. Go to thehumanitystar.com, click Track (upper right menu) and type in your city in the Find My Location box. In Heavens Above, there's a clickable link to the object under the Satellites column on the left side of the home page. Perhaps because it has yet to be deployed, observations of the object are as rare as Martian canals. I've yet to hear of a definitive sighting either with the naked eye or binoculars.
It's still early, and Humanity Star's orbit or other circumstances could change, but the way things look for the moment, it will neither fulfill its intended purpose nor tick off satellite haters. Either way, this Saturday Night Fever totem will burn up in the atmosphere sometime this fall. Beck is considering further iterations of the satellite for future launches, and therein lies a caution. Rocket Lab and other new companies specialize in launching small satellites relatively inexpensively. As those costs continue to drop, it won't be long before there's enough momentum for everyone from breweries to real estate companies to advertise their products and services with a "bright light" in the sky.
Witness the Mayak satellite launched in 2016 that was funded through a Kickstarter set up by a Russian ad agency and partly funded by banking startup RocketBank. I foresee school groups and artists teaming up with sponsors to loft all manner of aesthetic and educational satellites in the coming years. Indeed, the future is now. Artist artist Trevor Paglen, with help from his Kickstarter effort and in cooperation with the Nevada Museum of Art, may soon launch the first satellite sent up "as a purely artistic gesture." Called Orbital Reflector, it's a balloon that inflates into a giant diamond from a brick-sized satellite scheduled for launch aboard a SpaceX rocket this spring.
Those prospects may either make you grit your teeth or smile at human ingenuity, but there's no question, this is where we're headed. Both the Orbital Reflector and Humanity Star creators emphasize that their sole purpose is to get us to look up, to use satellites as portals into a deeper appreciation of the universe and our place in it. But let's be honest. We already have that in the ISS, not to mention dozens of other satellites bright enough to see with the naked eye. Predictions of their visibility are all over the Web and built into phone apps.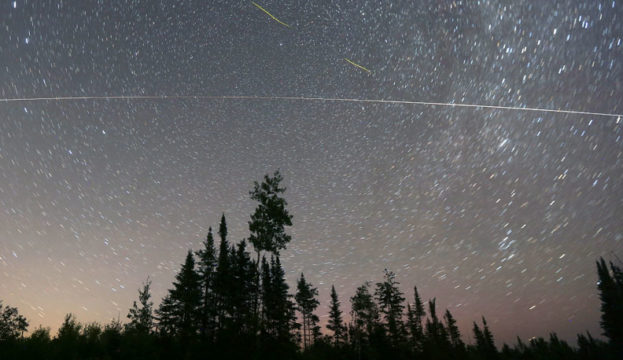 Our insatiable appetite for the new and love of pushing the envelope are rooted in curiosity. Can you fault that? While you're mulling that over, I've got more sanguine satellite news. The ISS, presently ferrying six souls around the Earth every 90 minutes, has returned to the evening sky for many Northern Hemisphere locations (dawn for the Southern Hemisphere) and will remain in view through about mid-February. If you haven't seen it yet or just want to share the sight with family and friends, you can easily get pass predictions at Heavens Above. Head over, find your city, then click the ISS link for a table showing times, altitudes, etc. If you click on a particular date, a map pops up showing the ISS's path across the sky.
You can also use NASA's Spot the Station website. Type in your town's name, then click the yellow circle to zoom into the pinned locations. Click a blue pin for sighting opportunities.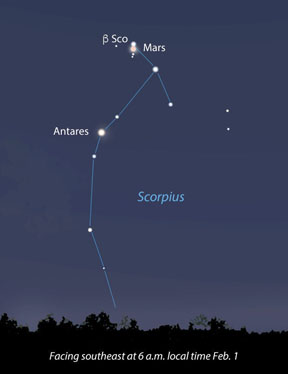 So much for the evening sky. Morning skywatchers can unwrap yet another Mars candy bar. On February 1st, the Red Planet passes just 24′ south of the beautiful double star Beta (β) Scorpii. They'll be only a little farther apart than Mars and Jupiter were in their recent conjunction. With the naked eye, the scene will look like an imminent collision, while a scope will reveal Mars as a tiny gibbous kernel alongside bright Beta and its 4.6-magnitude companion 13.6″ to the northeast.