Prime-time Jupiter viewing kicks off this month when the planet reaches opposition on June 10th.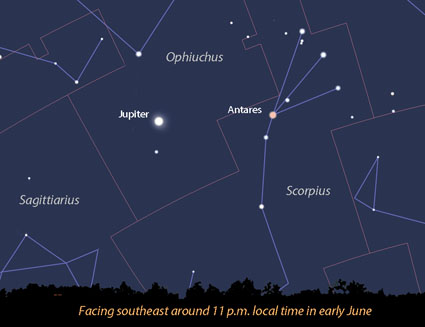 Over the past few weeks Jupiter has glared seductively in the southeastern sky. Before going to bed I'd gaze in its direction and debate taking out the telescope but stop short, convincing myself it was still too low for a good look. I finally caved this past weekend and observed it two nights in a row. Ha — the views were absolutely horrible! The big yellow planet rippled in the turbulent air like a flag in the wind, but that didn't matter. I finally had to respond to its invitation.
On June 10th, Jupiter will be at opposition and its brightest and closest to the Earth for the year. Shining at magnitude –2.6, it sports a plump equatorial diameter of 46″, only 4.1″ shy of its maximum apparent size. In observational astronomy, bigger and brighter almost always means better, the reason the next few months are the best time of year to swing your telescope the giant planet's way. Though it rises around sunset, it still takes time to climb high enough for a good view. For now, that's around 11:30 p.m. local time but come the end of the month, Jupiter stands 20° high before twilight ends.
It southerly declination this season means that low-altitude turbulence will hamper viewing for observers in mid-northern latitudes. Try to observe it every clear night if you can, the better to catch  nights of calm and steady seeing when the planet sits rock-steady and sharp.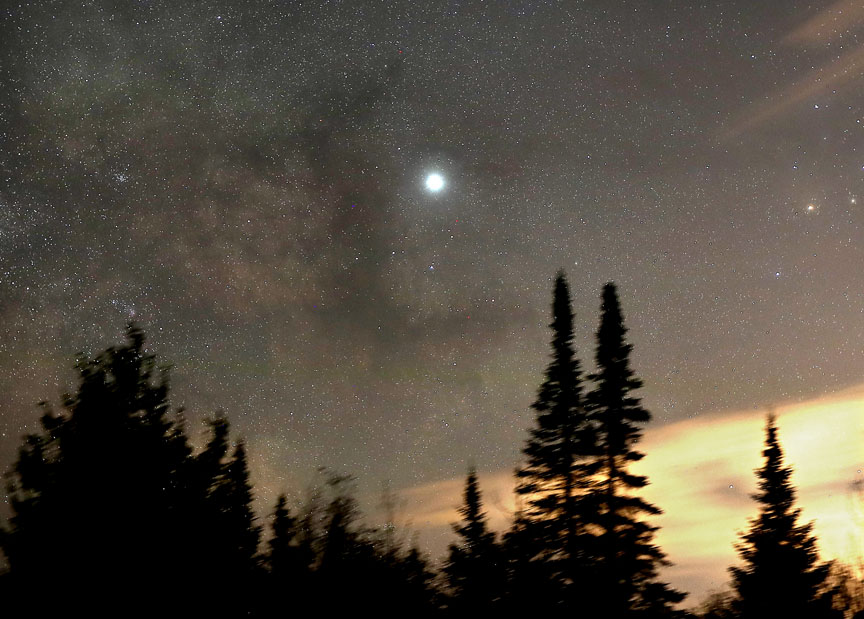 Something for everyone
In steadily-held 10× binoculars you can pretend you're Galileo and rediscover its four brightest moons — Io, Europa, Ganymede, and Callisto. They look like tiny stars "sticking" to either side of the planet. If you don't have a way to mount binoculars on a tripod, use the roof of your car or pivot them against a corner of a building to keep your glass steady.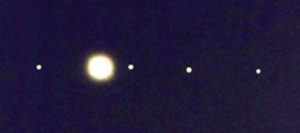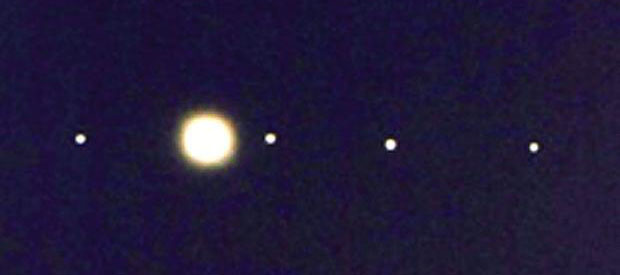 Jupiter truly shines in a telescope, and you don't necessarily need a big one to see a lot. Etched in my brain cells is an image of a sharp, gleaming disk striped with two dark belts and accompanied by four star-like moons through my 2.4-inch refractor in the winter of 1966. A 6-inch reflector will make you privy to nearly all of the planet's secrets.
When the air calms and seeing conditions allow, you can make out the prominent North and South Equatorial Belts (NEB / SEB) plus a half-dozen narrower cloud belts and the brighter zones that separate them. They're all nearly parallel, making the planet look like a slice of Greek baklava pastry, one of my favorite desserts. Zones define regions of colder air topped by white-colored ammonia ice clouds. Descending gas defines the darker belts; their dark red color is believed to be caused by trace amounts of sulfur, phosphorus, and other organic compounds.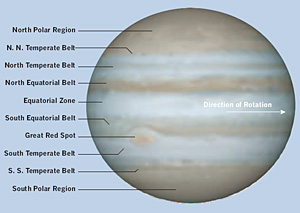 Jupiter's iconic Great Red Spot (GRS) has been shrinking over the past several decades and currently spans about 1.3 Earths, but it remains colorful and easy to see at 100× and higher in good seeing. This season, jet streams in the SEB and South Temperate Zone (STZ) have been peeling away at the GRS the way you might peel an orange. More on that in a moment.
Jupiter has no solid surface. Nothing but clouds and weather, so you never know exactly what you'll see when eye meets eyepiece. That's the planet's charm, and it's aided by the antics of its moons. When magnified at 150× or higher they lose their star-like appearance and show disks that range in size from 1.0″ to 1.7″ (current opposition). Europa's the smallest and Ganymede largest.

Ganymede also casts the largest shadow on the planet's cloud tops when it transits in front of Jupiter. Shadow transits are visible at least once a week with "double transits" — two moons casting shadows simultaneously — occurring once or twice a month. Ganymede's shadow looks like a bullet hole, while little Europa's more resembles a pinprick. Moons also fade away and then reappear over several minutes when they enter and exit Jupiter's shadow during eclipse. Or a moon may be occulted by the Jovian disk and hover at the planet's edge like a pearl before fading from sight.
You'll find a complete list of all eclipses, transits, and occultations for 2019 by downloading Sky & Telescope's Phenomena of Jupiter's Moons pdf. You can also gets daily predictions for the moons and a diagram showing their relative positions by consulting the online Jupiter's Moons Observing Tool. To predict when the Great Red Spot is best visible go to Transit Times of Jupiter's Great Red Spot.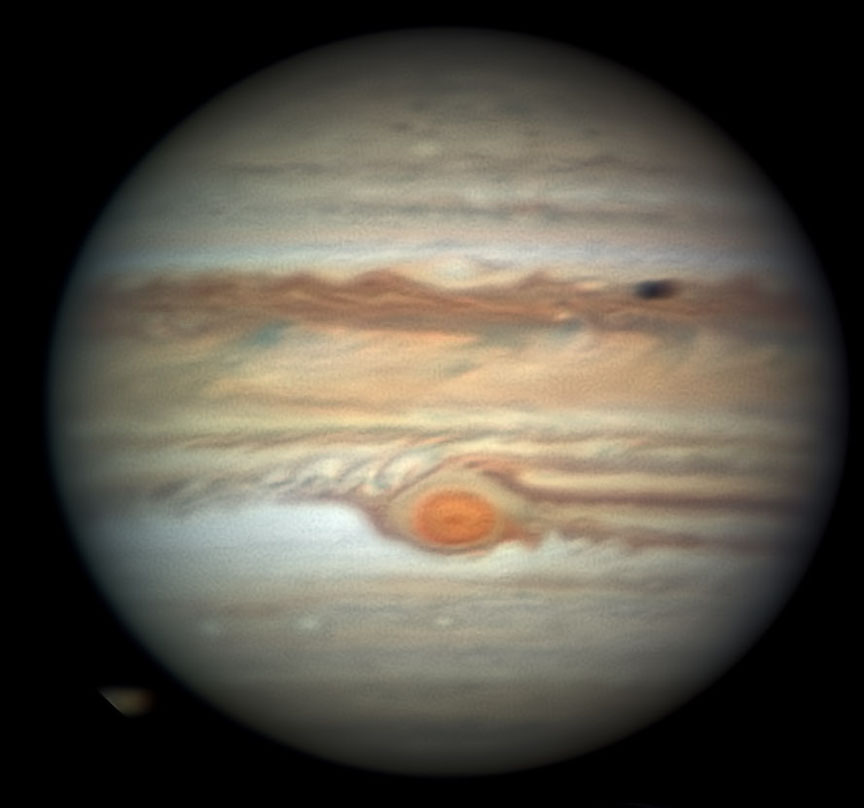 Jupiter's a colorful planet with belts various shades of red, rust, and gray. The Equatorial Zone (EZ) is normally white but is experiencing a clearing event this season that exposes a lower level of pale brown clouds. Using a magnification of 100× or higher, keep a lookout for dark festoons that resemble commas extending from the inner edge of the (very dark) NEB southward into the EZ. At first glance, the NEB might appear dark gray to your eye, but if you examine it closely at medium to high magnification you'll notice that it's actually a dark rust or even brick red.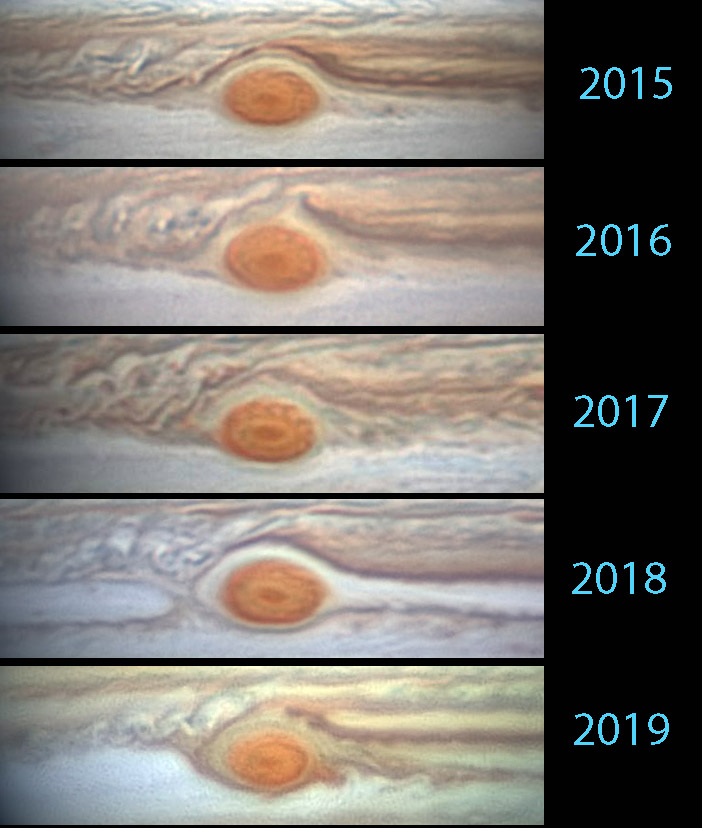 The Great Red Spot maintains its orange-red hue as in recent years, a color shared by the sulfur-encrusted, volcanic moon Io, the only of Jupiter's bright satellites to show a distinctive color. In poor seeing the GRS is just an orangey smudge and looks rather small. But in calm air you'll spy the "moat" of lighter clouds called the Red Spot Hollow around it. Preceding the spot (celestial west), the SEB divides into 3–4 closely-spaced parallel belts, but following the spot (east), we currently see one prominent belt riddled with turbulent textures paralleled by a thinner stripe to its north.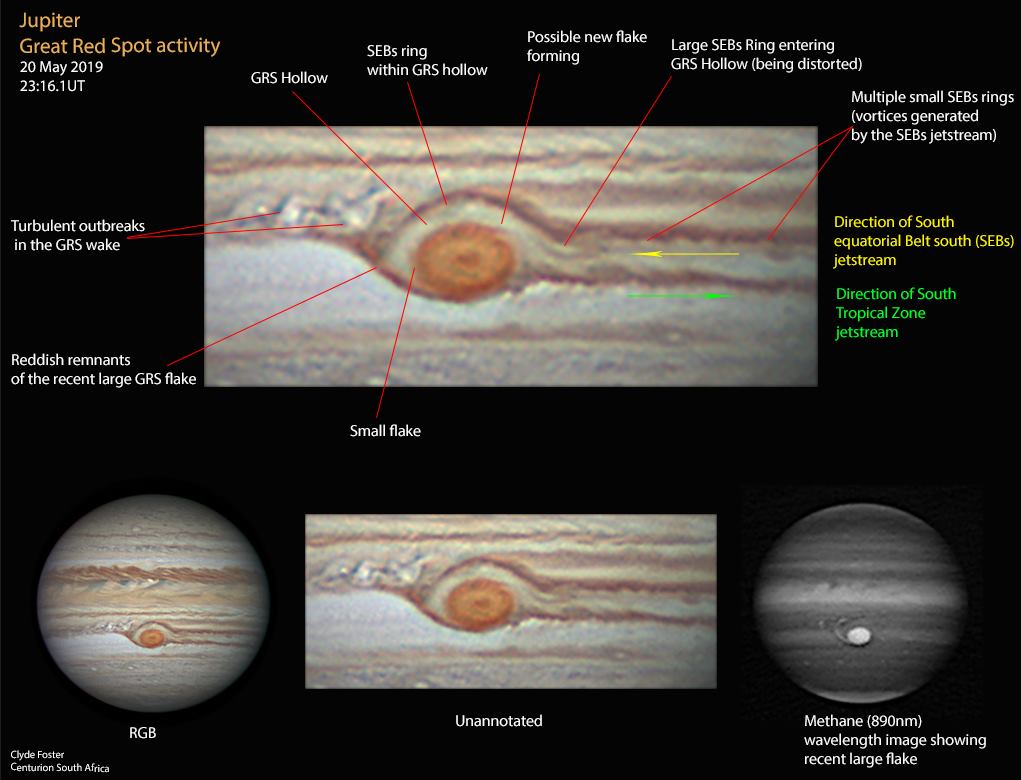 Changes in the Great Red Spot
Jet streams in the SEB and South Temperate Zone have been shredding bits and pieces from the GRS for the past few weeks, distorting the spot's shape from time to time. As of June 2nd, winds are carrying a snip or "flake" of the GRS to its southeast. While astronomers have observed activity like this before, it's happening at a much faster rate than usual. Combined with the spot's shrinkage, some of us wonder whether this centuries-old storm's days are numbered.
Larger telescopes show more details within and between the cloud belts and make it easier to see the moons themselves as they transit Jupiter's disk. If you own a 12-inch or larger scope, try to spot a 5th moon — Himalia. Himalia is Jupiter's 6th largest moon at 170 kilometers across but only reaches magnitude 15.0 at this opposition. Its extended and tilted orbit (29.6° to Jupiter's equator) puts it a long way out from the planet. On opposition night, the moon lies about 17 arcminutes south of Jupiter and is difficult to make out in the planet's glare. Wait till late July when its separation increases to around nearly 1° to have a go at it.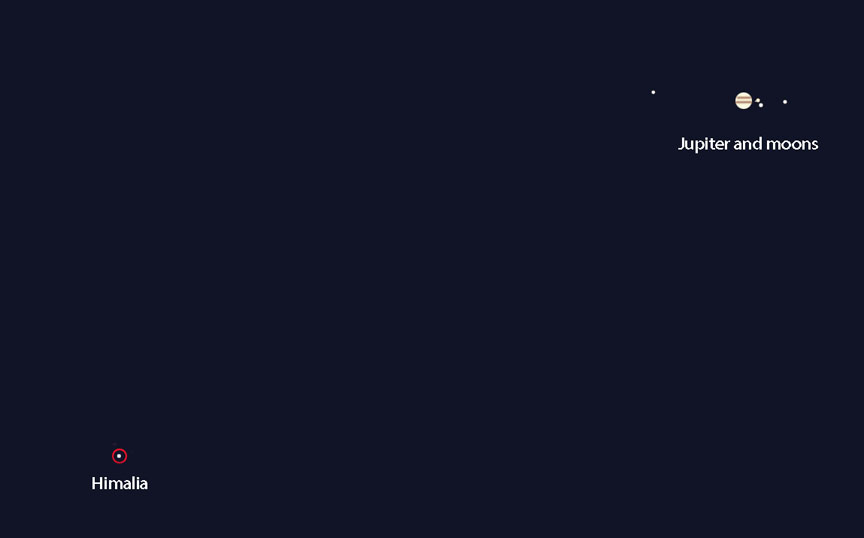 To find Himalia, create a map using a sky-charting software program like Stellarium. If you use that particular program, be sure to download the additional star catalogs to expand its magnitude range to 15.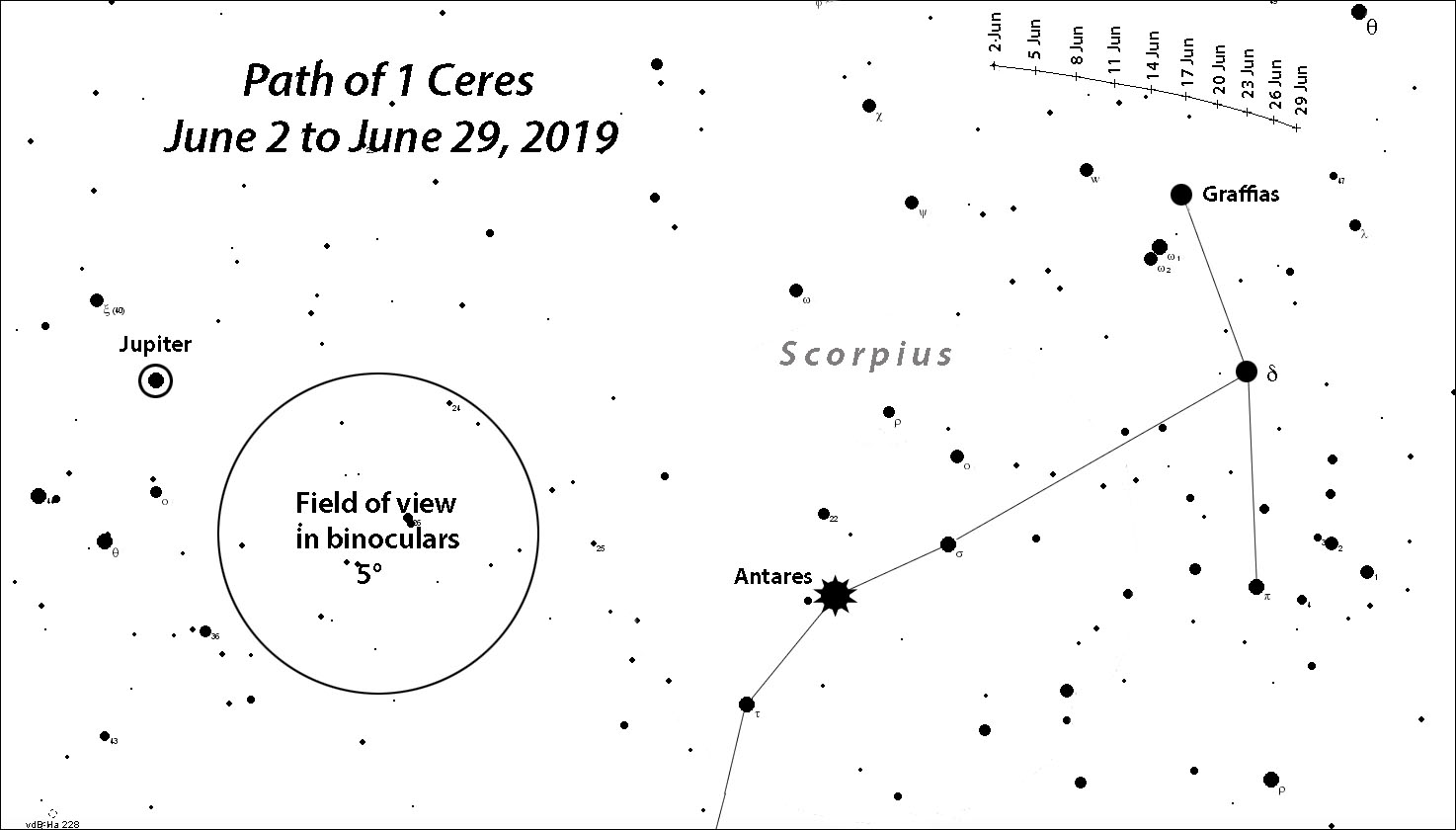 How about a little bonus while you're in the neighborhood? The brightest and easiest-to-see dwarf planet, Ceres, is only a week past opposition and shines at magnitude 7 some 15° west of Jupiter in Scorpius. You can easily find it in binoculars just a few degrees north of the beautiful double star Beta (β) Scorpii (a.k.a. Graffias) using the provided map.
Lather on the mosquito repellent and enjoy a peaceful night at Jupiter's knee.