Florence, one of the largest Earth-approaching asteroids, gets close enough to see in a small telescope this week and next. Here's how to find it.
Update (Sept. 2): Radar astronomers at NASA's Jet Propulsion Laboratory report that observations with the 70-m radio dish at Goldstone, California, have yielded images of two small moons orbiting 3122 Florence. We also have an additional map extending the asteroid's path (below). Click here for details.
The beat goes on! No sooner is the total solar eclipse over and here comes a big, bright, near-Earth asteroid to shake things up again. 3122 Florence, one of the largest near-Earth asteroids (NEAs), will safely fly past the planet at a distance of about 7 million km (4.4 million miles) around 8 a.m Eastern Daylight Time (12:00 UT) on September 1st.
I know what you're thinking. There's no way we'll see this given the time of day. Your skepticism is warranted. Lots of these Earth-approachers are only visible for a matter of hours in amateur scopes before they precipitously fade from view. They're just so tiny and move so fast. Not Florence. It's neither tiny nor in a terrible hurry. Matter of fact, it's a beast — at least for a near-Earth object — with a diameter of 4.4 km (2.7 miles). And it's not moving so fast that you need a handful of maps to tail it.
"While many known asteroids have passed by closer to Earth than Florence will on September 1, all of those were estimated to be smaller," said Paul Chodas, manager of NASA's Center for Near-Earth Object Studies at the agency's Jet Propulsion Laboratory in Pasadena, California. "Florence is the largest asteroid to pass by our planet this close since the NASA program to detect and track near-Earth asteroids began."
That's why I've got some great news. Florence shines at peak magnitude of 8.7 tonight (August 30th) and remains brighter than magnitude 10 through September 5th. That means that even with a semi-bright Moon in the sky, some of you will be able to pick it up in binoculars, and anyone with a 4-inch or larger telescope should kill it.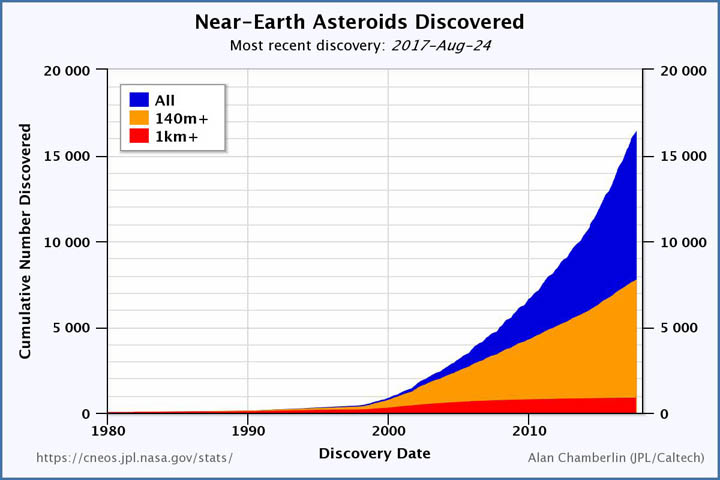 This is a rare opportunity to see what all the fuss is about when it comes to Earth-approaching asteroids. Not that 3122 Florence is expected to cross paths with the planet anytime soon, but this will be its closest approach since 1890 and the closest it will ever be until after 2500. That also makes it an alluring target for amateurs and ground-based radar observations, which are planned at NASA's Goldstone Solar System Radar in California and Arecibo Observatory in Puerto Rico.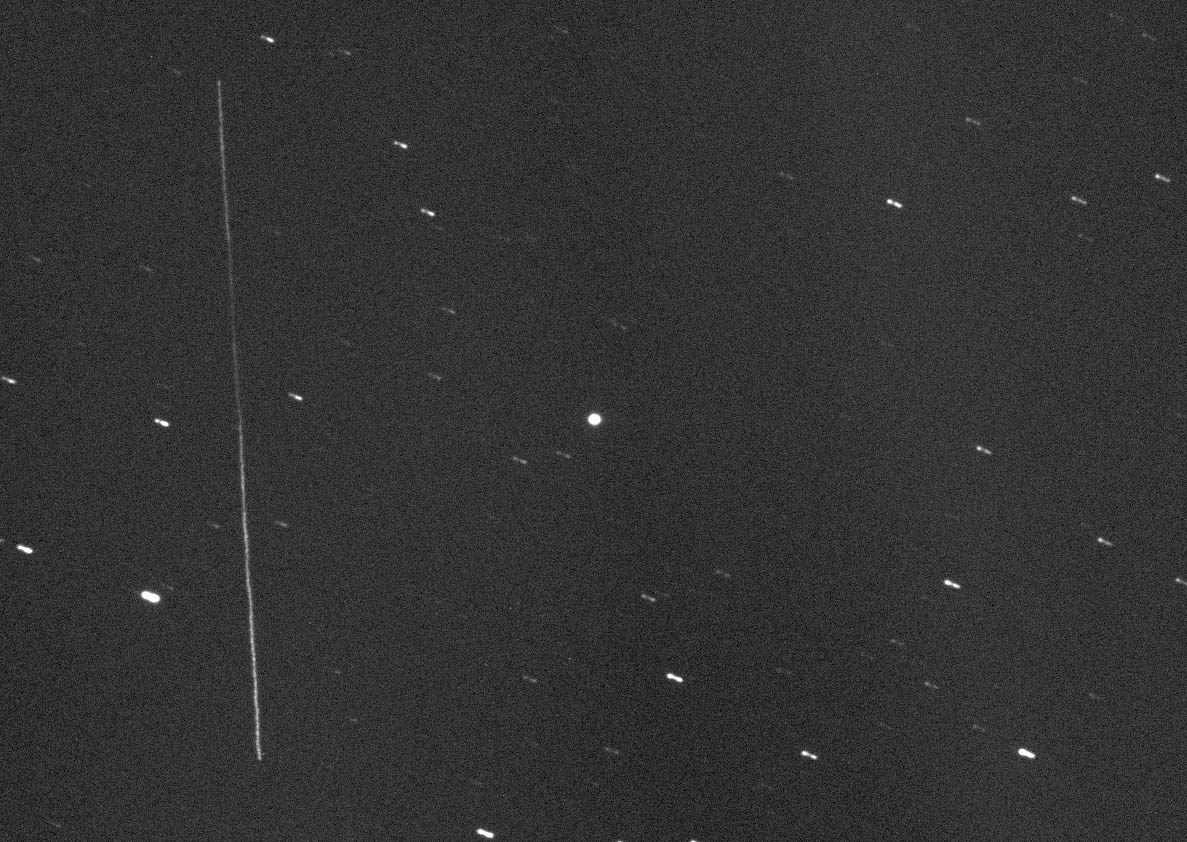 Imaging runs began on August 29th at Goldstone and will continue through September 8th, while those at Arecibo are scheduled from September 1st to the 5th. The radar images will pin down Florence's shape and size and could reveal details as small as about 30 feet (10 meters). Goldstone radar pix are already being uploaded to their website.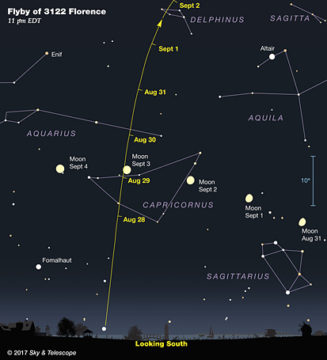 Florence swings northward from Capricornus across the nose of Delphinus and into the heart of Cygnus this week and next, making it an easy catch for observers across many latitudes. Its brightness and relatively fast (but not too fast) speed will quickly set it apart as traverses star fields at the rate of about 20 arcminutes an hour (20 arcseconds per minute) around the time of closest approach.
If you use a magnification of 150×-200× and the asteroid passes close to a star, you should be able to see it inch slowly along in real time.
Discovered by "Bobby" Bus in Siding Spring, Australia, in March 1981 and temporarily designated 1981 ET3, it's the 4th largest NEA after 53319 1999 JM8 (~7 km), 4183 Cuno (5.6 km), and 3200 Phaethon (5.1 km). Florence spins once every 2.36 hours during which time its brightness varies by 0.2 magnitudes.
Two-thirds of NEAs with this zippy of a rotation period have a satellite, but it's unknown if Florence does. According to Lance Benner, a research scientist at JPL who radar-images asteroids, if Florence does have a companion, chances are excellent they'll spot it with either the Goldstone or Arecibo antennas.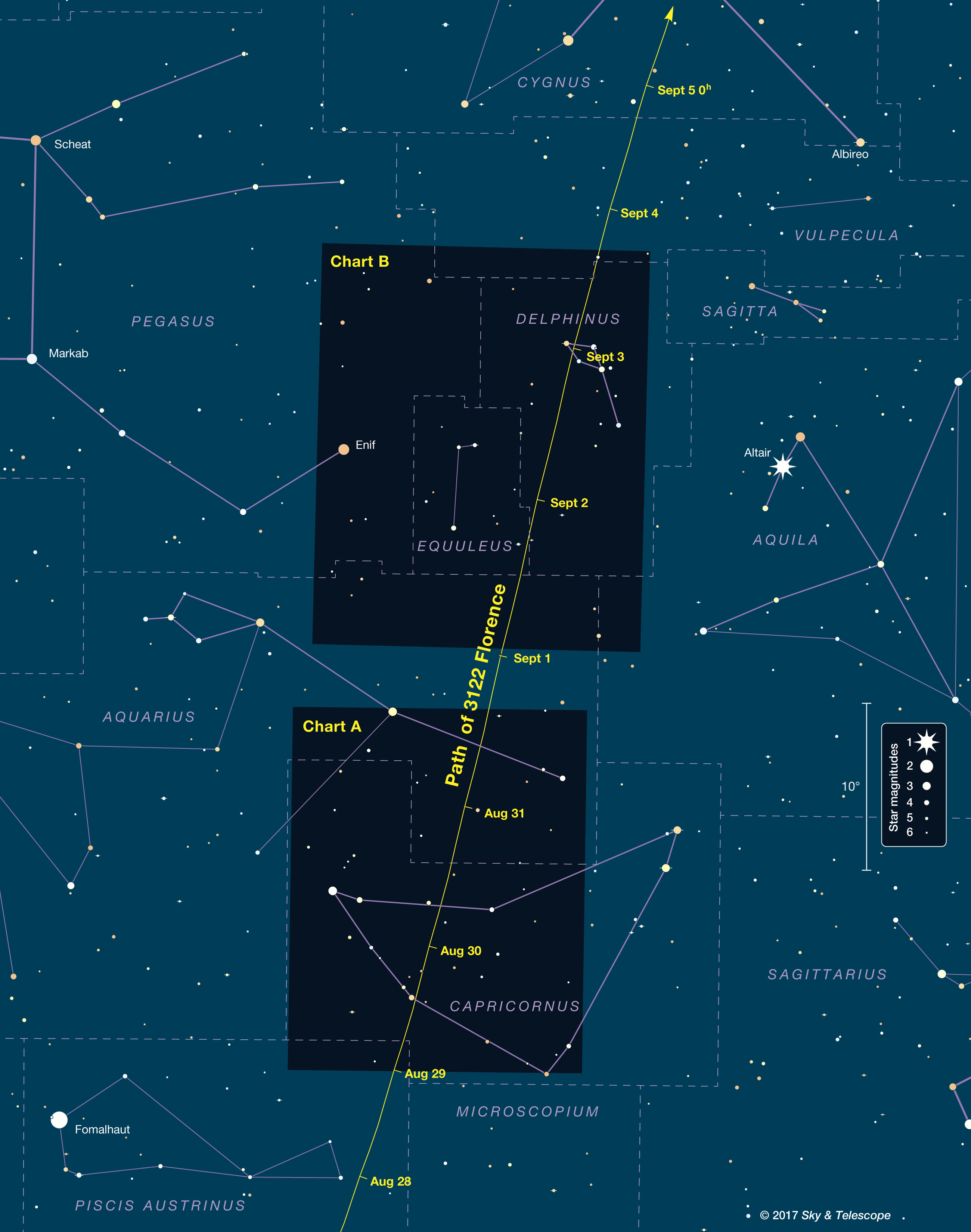 To find the asteroid, print out the appropriate chart, then interpolate between the marked positions for the time you plan to observe it. Set up your telescope with a low-power eyepiece and use the map to star-hop to the asteroid's position. Florence will be well placed for viewing starting about 9:30 p.m. local time.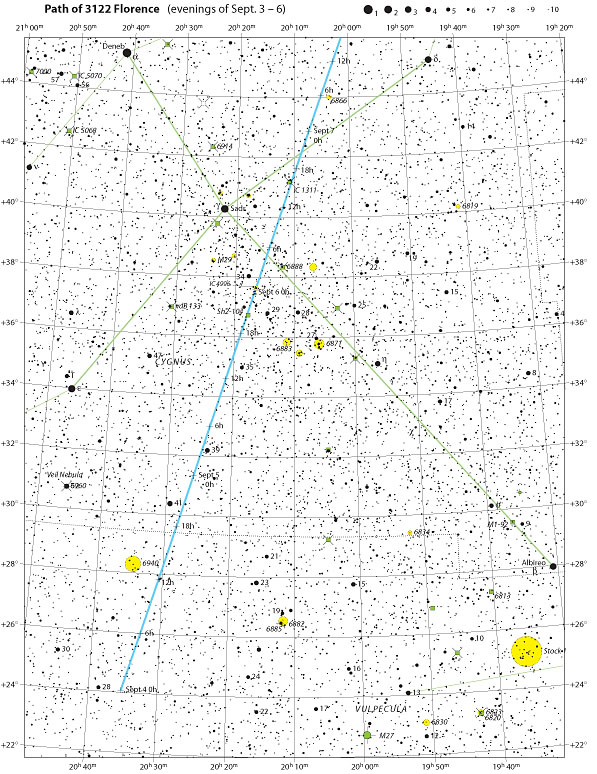 Even if you're hit with bad weather at closest approach, you'll probably still have a few nights left to join Florence for a ride-along. And if you're scope-less, you can watch the asteroid's travels in real time on Gianluca Masi's Virtual Telescope Project site on August 31st starting at 3:30 p.m. Eastern Daylight (19:30 UT). The Bareket Observatory in Israel will also webcast live views of Florence on September 1st from 3:00–6:00 p.m. Eastern Daylight (19:00–22:00 UT).
I can't wait. Good luck and happy hunting!