Green-glowing Comet 45P/Honda-Mrkos-Pajdusakova will make an unusually close pass by Earth on Saturday. Watch it boogie across the morning sky this week!
Green means "go," and you won't get any argument from 45P/Honda-Mrkos-Pajdusakova. This pedal-to-the-metal comet will zoom past Earth at 51,000 mph, making its closest pass around 8 UT (3 a.m. EST) on Saturday morning, February 11th.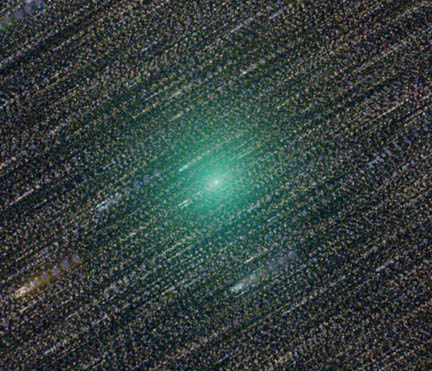 While it won't be coming in for a landing, Comet 45P will miss the planet by just 7.7 million miles or about 32 times the Earth-Moon distance. Because of its proximity, we'll see this frenetic fuzzball barrel across more than 2 hours of R.A. and nearly 20° of declination in the next five days.
The comet poses no threat, but the waxing Moon might. Back in late December and January, when Comet 45P huddled nearer the sun, it quickly grew into a bright, compact ball of aqua haze with a long skinny tail, resembling an onion yanked from your garden. Now outbound from the Sun, it's quickly losing its mojo — the comet is currently tailless, large, and diffuse.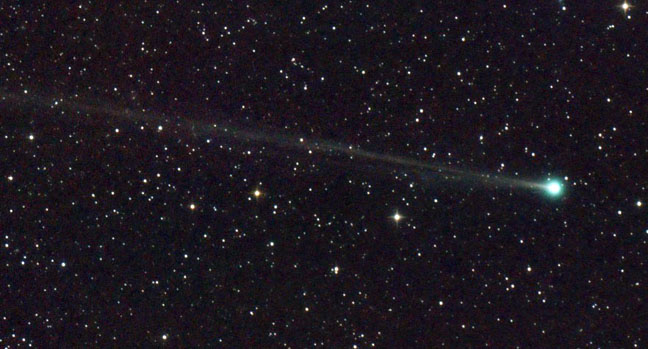 Astronomer Alan Hale observed it on Feb. 5th in 10x50 binoculars at magnitude 7.9 and noted a diffuse 10′ coma with a DC (degree of condensation) of 1-2. DC measures how the surface brightness of a comet increases toward the center. DC=0 indicates a totally diffuse comet; DC=9 means the coma is so concentrated that the comet appears star-like.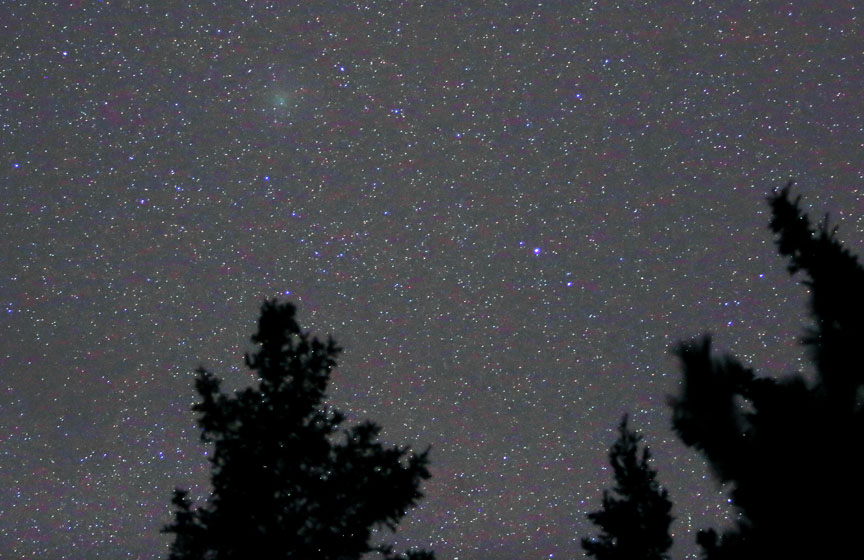 That agrees with my own observation on that same (for me) frigid morning. Through my 10x50s, I saw a soft, faint, hazy patch of light about two-thirds the size of the full moon, or ⅓° across. It wasn't obvious at first, but after I played my eyes around the field of view, I noticed what looked like a small puff of smoke at the comet's position in western Aquila.
Three mornings later on the February 8th, Comet 45P had climbed much higher in the sky and was even easier to see in binoculars. Larger, too. I estimated about half a degree across with DC=2. In a 10-inch telescope I noticed that a Swan Band filter helped some to improve the comet's visibility.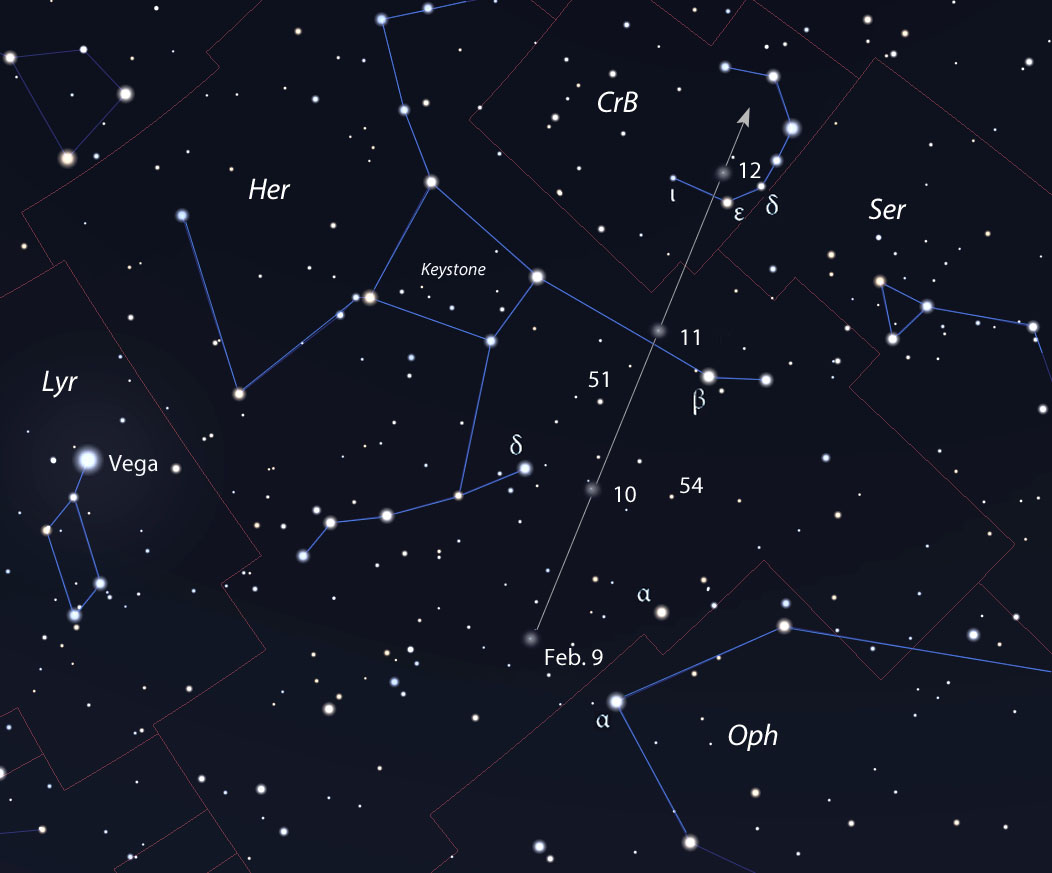 Ah, but all these observations were made under a moonless sky. Guess who's back throwing unshielded light around with abandon? Yep! Starting Thursday (Feb. 9), the waxing gibbous Moon pushes into the morning sky and remains there as the comet whirls west and slowly fades.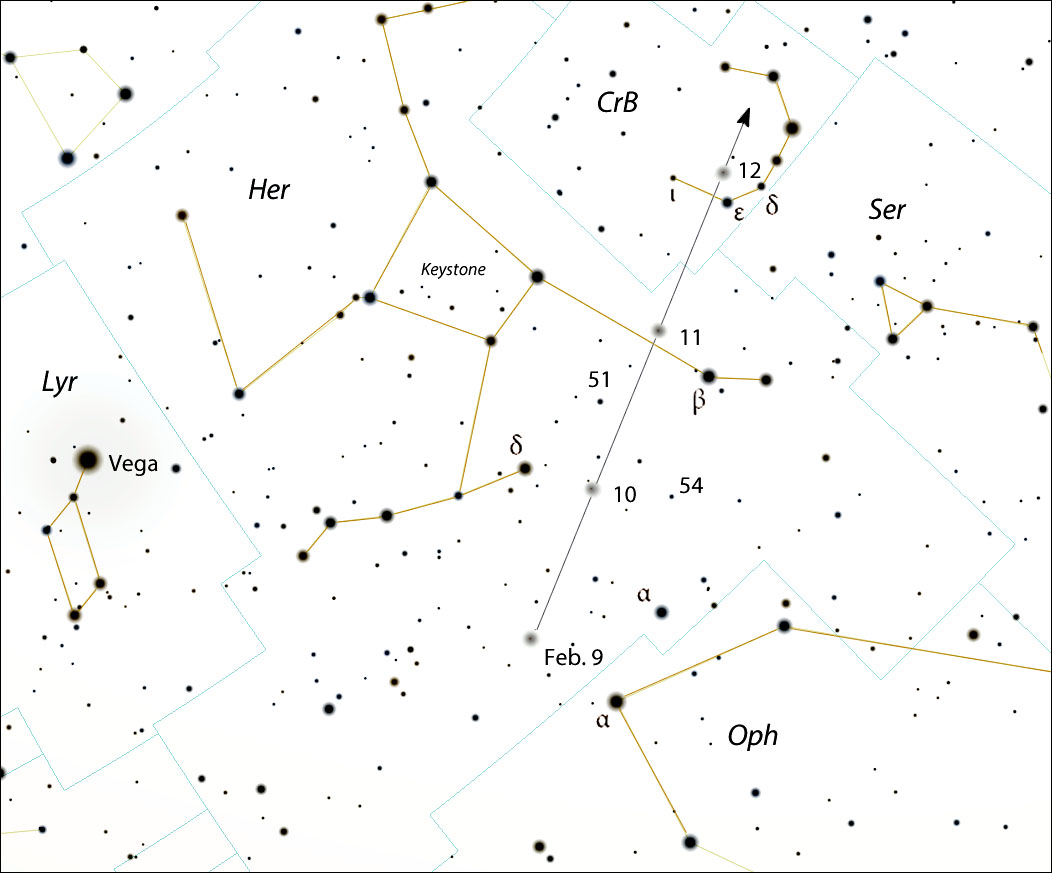 Were the Moon no factor, we'd be able to see this visitor from the Jovian realm in binoculars for at least a week or more, but moonlight will make finding Comet 45P a little trickier. Here's the good news — at least for the next few mornings, the Moon and comet will be far apart, reducing glare. Still, at magnitude 8, binocular viewing will be challenging because of the comet's diffuse appearance.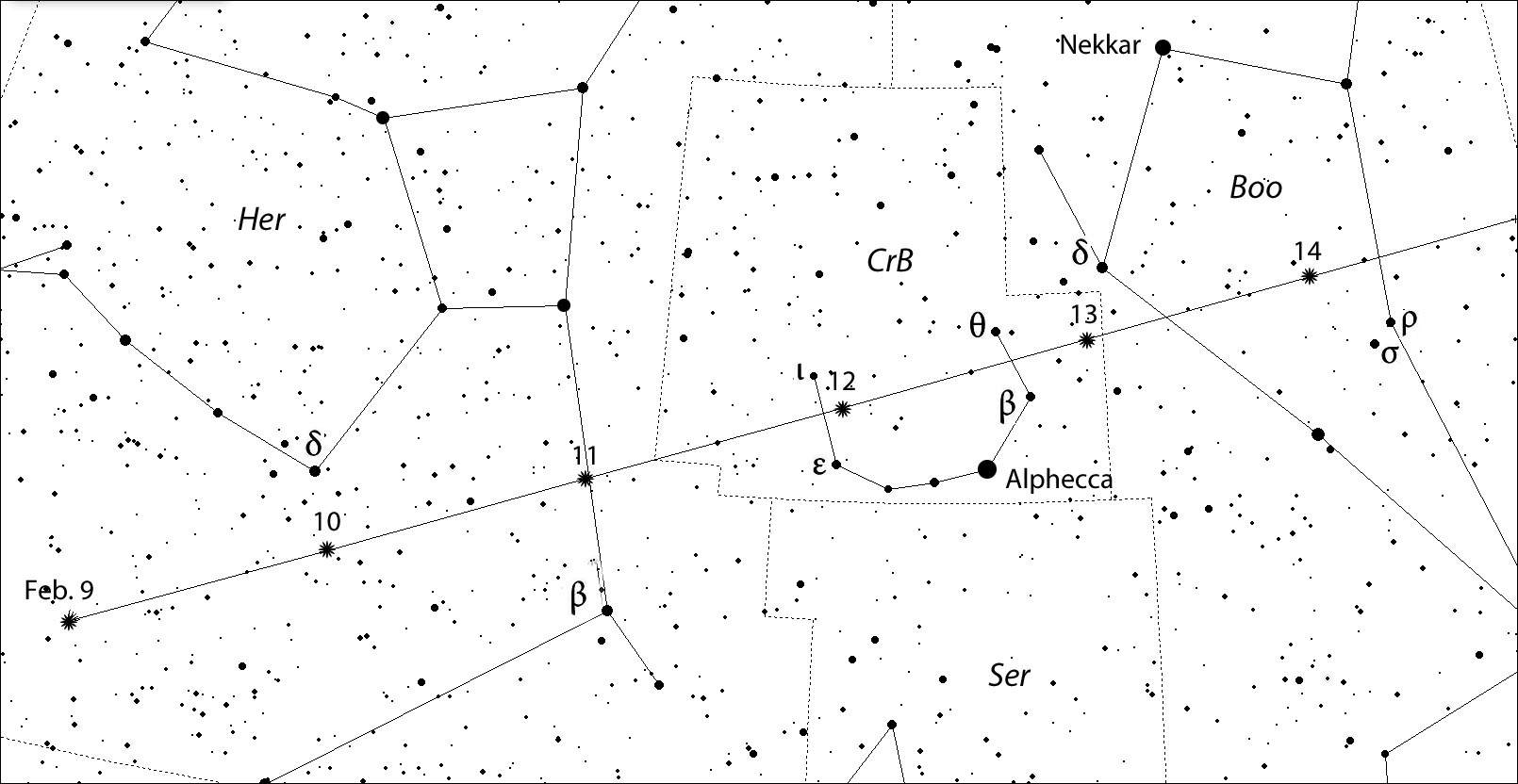 Telescopic observers will have better luck, especially those using short focus instruments with wide fields. Stick to low magnifications in the range of 30x to 75x when seeking this bloated bag of primeval dust. Because Comet 45P's speed compares favorably with that of a bat out of hell, if you suspect seeing it through the eyepiece, wait a bit and look again. You should be able to detect movement in a matter of minutes. That's half the fun of finding and following this comet — let it take you for a ride!
Even if you do end up cursing the Moon, take heart. And I mean that literally. Come Valentine's Day, Comet 45P will have motored into northern Bootes and appear in the east around 10 p.m. before moonrise. It will have faded to perhaps magnitude +9, but at least we'll get to see it in a dark dark sky until it fades from easy viewing later in the month.