A team of astronomers claim to have the most compelling case for annihilating dark matter yet.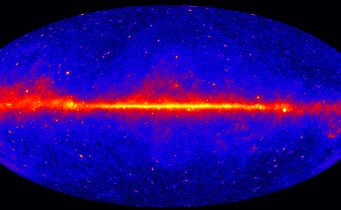 Dark matter is arguably one of the universe's most perplexing mysteries. Astronomers have gathered overwhelming evidence that it makes up roughly 84% of the universe's matter. Its extra gravity provides the most straightforward explanation for the rotations of individual galaxies, the motions of distant galaxy clusters, and the bending of distant starlight.
So what is this elusive matter? A popular theory is that it consists of a yet-undiscovered exotic massive particle that barely interacts with normal matter. These particles have so far eluded detection. But theoretically they act as their own antiparticles, and can annihilate to produce a cascade of familiar particles, including electrons and positrons. The collision should generate gamma-rays — the most energetic photons in nature.
NASA's Fermi Gamma-Ray Space Telescope has been scouring the sky in search of this tell-tale annihilation signature since its launch in 2008. While the telescope has spotted a large number of gamma rays pouring outward from the center of our galaxy, astronomers have not been able to determine if this detection is due to dark matter annihilation or other natural particle accelerators.
The most likely culprits for the latter alternative are undetected pulsars. These rotating neutron stars beam huge amounts of energy out of their poles, including matter-antimatter pairs that can annihilate in bursts of gamma rays.
A team of astronomers led by Tansu Daylan (Harvard University) has further scrutinized the excess Fermi signal, and has ruled out pulsars as the cause. This leads to the conclusion that the signal must be due to annihilating dark matter — a claim that would resolve one of the biggest mysteries in physics.
"If our interpretation is correct, this signal would constitute the discovery of an entirely new particle that makes up the majority of the mass found in the universe," says coauthor Dan Hooper (Fermi National Accelerator Laboratory). "I can't find words that are strong enough to capture the significance of such a discovery."
The problem is the galactic center is extremely bright and dense. Billions of stars give off an incredible amount of light alone, making the core hard to map precisely and uncover hidden sources of gamma-ray radiation, such as pulsars. The team was able to precisely comb through the data and subtract known sources of gamma rays, ultimately producing a sharp map that extends nearly 5,000 light-years in all directions away from the galactic center.
There are far fewer stars so far away from the galactic center, and if pulsars were indeed the cause of the gamma-ray signal, we would be able to see several as individual gamma-ray sources. But we don't. That fact is compelling evidence that pulsars do not exist at such a large distance away from the galactic center, and that the excess gamma-rays must be due to dark matter annihilation alone.
If this is the case and the glimmer of gamma-rays from the inner galaxy is the afterglow from annihilating dark matter particles then their detected energy levels indicate that they most likely originate from dark matter particles with a mass range from 31 to 40 GeV.
But others remain skeptical. " 'Extraordinary claims need extraordinary evidence,' as we said about the B-mode signal recently," says expert Kevork Abazajian (University of California, Irvine), referring to the discovery of inflation's fingerprint on the cosmic microwave background announced last week.
Abazajian argues that the population of pulsars located in the galactic center may be different than pulsars in the spiral arm near us. They could be dimmer, so we wouldn't necessarily pick them up as point sources like we expect to. This idea may seem far-fetched but "it's a basic principle of science: If you have something extremely novel you have to make sure you've taken into account every other possibility," says Abazajian.
To verify the gamma-ray excess, astronomers are pointing their telescopes toward less bright sources, particularly dwarf galaxies. Such dim sources are expected to be rich in dark matter but not in other natural particle accelerators, such as pulsars. However, there is currently too little data to determine whether there is a similar excess emanating from these dwarf galaxies.
Many scientists argue the most convincing evidence for dark matter particles will come from mine shafts deep underground or massive particle accelerators, where physicists are working hard to directly detect the impacts of individual particles. While no direct detection has been made yet, a particle mass of 31 to 40 GeV could be seen with the Large Hadron Collider.
It may take another few years, but astronomers are potentially on the verge of cracking one of the universe's most compelling mysteries.
Reference:
Tansu Daylan et al. "The Characterization of the Gamma-Ray Signal from the Central Milky Way: A Case for Annihilating Dark Matter." Physics of the Dark Universe, 2015. (Full text available here.)