Curious about astronomy? No plans for Saturday? Well, you're in luck! Saturday October 13 is Fall Astronomy Day and your local amateur astronomical community has all sorts of fun things in store for you.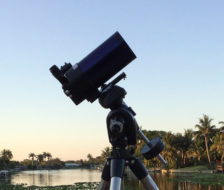 Astronomy Day — a celebration of all things astronomical — was first held in 1973 when Doug Berger, then president of the Astronomical Association of Northern California, wanted to take advantage of local resources to "bring astronomy to the people" through various outreach and educational activities. Since then Astronomy Day has blossomed not only into a worldwide happening but also a biannual event.
Spring Astronomy Day is celebrated on a Saturday closest to the new Moon to benefit from dark skies, but Fall Astronomy Day — introduced in 2007 — is scheduled to coincide with the first quarter Moon. This year's Fall Astronomy Day will be held on Saturday, October 13, and participants will be able to observe neat features on the crescent Moon, besides a variety of other celestial objects (provided skies are clear, of course).
Many science museums and planetariums host special programs for Fall Astronomy Day, and observatories offer open houses to the general public. Your local astronomy club might have some observing sessions lined up. Many of these events are often also scheduled for the daytime, so if you're not a night owl, you don't have to worry about staying up late. Browse through our directory of clubs, observatories, planetariums, and science museums in the U.S. and around the world to find an event near you. Bear in mind that some clubs might organize events on dates other than Saturday to best suit their schedules. Don't forget to also check local news outlets — your city park across the street might be organizing something. Events are aimed at all ages, and you don't have to be an expert to participate — just go out there and have fun!
What if you're already busy this weekend? No need to fret, 2019's Astronomy Days are scheduled for May 11 and October 5.
Happy observing!