In the JWST version of the Hubble Deep Field, astronomers are discovering what galactic life was like in the earliest years of the universe.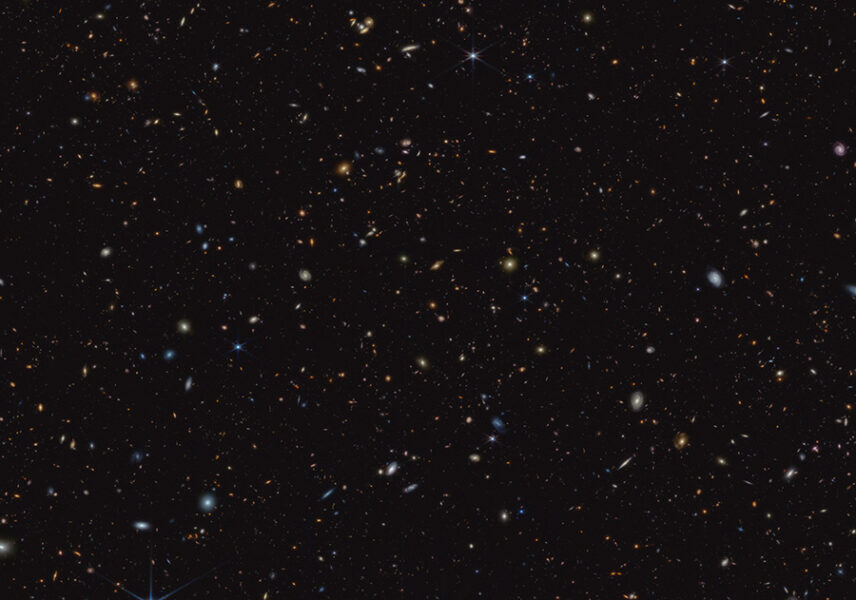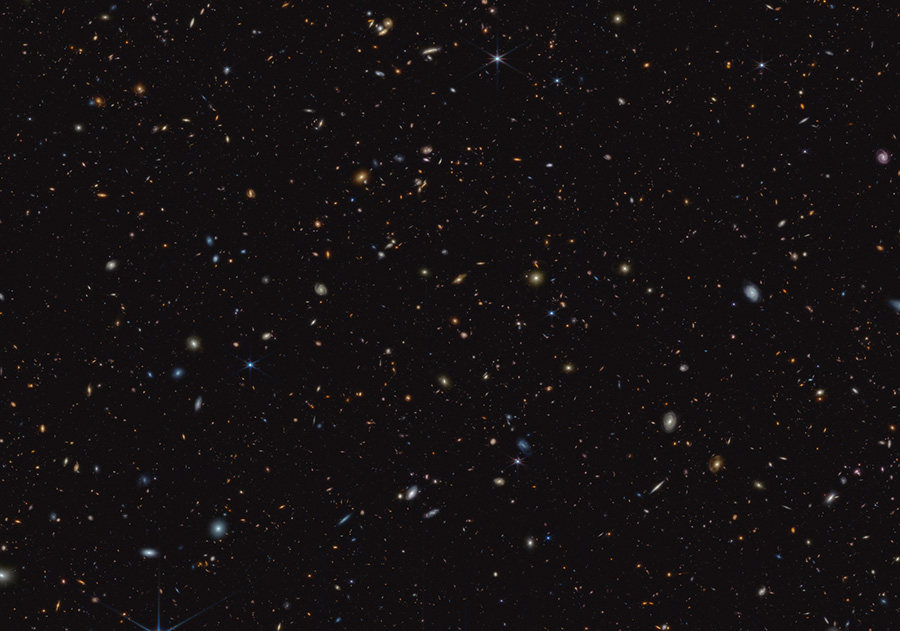 The James Webb Space Telescope (JWST) Advanced Deep Extragalactic Survey (JADES) is basically the next-gen version of the Hubble Deep Field. But this newest, deep-sky stare is on a whole different level, with 32 days' worth of telescope time, infrared wavelengths that allow JWST to see more distant galaxies than any telescope before it, and a much bigger viewing area than Hubble was capable of.
Even as the JADES program continues to collect data, team members Kevin Hainline (Steward Observatory) and Ryan Endsley (The University of Texas at Austin) announced at a press conference of the 242nd meeting of the American Astronomical Society the discovery of hundreds of early galaxies. These galaxies reveal the chaotic state of the universe as it was just hundreds of million years after the Big Bang.
Really Early Galaxies
The JADES team has so far discovered 717 galaxies at redshifts greater than 8, when the universe was just 600 million years old. The most distant of these — "the farthest galaxy humans have ever seen," Hainline says — is spectroscopically confirmed to be at a redshift of 13.2, or just 325 million years after the Big Bang. If the entire history of the universe were a two-hour movie, then these galaxies are enabling us to watch, for the first time, scenes from the first two to five minutes.
"This is important because we live in a universe of complexity, and the early universe was hydrogen, helium and light," Hainline says. "These are the galaxies that are starting the process of making the elements and the complexity that we see in the world around us today."
Before JWST, Hubble saw two luminous galaxies at such early times (redshifts greater than 10). Now, 93% of the galaxies JWST is picking up are new, never identified before. "This," Hainline declares, "is the rest of the iceberg."
The sample also provided opportunity for reassurance. Some in the community had been concerned that not all of these so-called early galaxies were really in the early universe. Astronomers first gauged their distances by a method that depended on measuring their brightness at each of several color bands. Using that method, it's possible for dusty, relatively nearby galaxies to masquerade as more distant sources. But the JADES team assuaged that concern: Of 42 galaxies followed up with spectra, from which astronomers can obtain more fool-proof redshift measurements, there were no masqueraders.
What Was It Like Then?
The hundreds of galaxies offer a view almost into the very opening scenes of the cosmos, and they show that things were different then.
About a sixth of early galaxies in the JADES sample are in the throes of star formation of a kind we don't see in the nearby universe, Endsley explains, marked by extremely bright emission at certain wavelengths. "Stars within very early galaxies are forming in these super-compact clumps," he adds, "forming hundreds, perhaps thousands of these very massive, young stars all at once, basically within the span of a couple millions of years."
But they weren't "on" all the time. The low fraction of galaxies with such emission suggests that individual clumps would suddenly light up with new stars and then rest for some time. This "bursty" mode of star formation could explain the unexpectedly bright galaxies announced by other astronomers — they were simply looking at the galaxies fired up with unexpectedly intense star formation.
However, while these findings explain too-bright galaxies, they don't explain the too-massive galaxies, another early, albeit controversial find from JWST data. Endsley explains that even as hot, massive newborn stars light up their galaxy, they're not necessarily associated with all that much mass. "We're not really finding evidence of these over-massive objects within our JADES sample," he states.
There's a lot more to be gleaned from the JADES sample as JWST continues its observations, such as a better understanding of the galaxies' shapes and sizes.
In addition, while stars (and associated dust) dominated the press conference, these galaxies' central black holes are waiting their turn for center stage. "I think that there are some really exciting examples of active supermassive black holes that people didn't necessarily expect to exist in this very early episode of the universe," Endsley says. "It is something we really need to start taking into consideration as we move forward."
In the meantime, JWST has already painted a chaotic picture of the universe's earliest years.